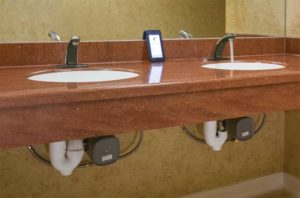 Reliable retrofitting
As essential facilities 'COVID-proof' their restrooms as quickly and efficiently as possible, understanding the retrofit options available to them becomes of the utmost importance.
When it comes to flushometers, there are various retrofit options for facilities to consider when converting from manual to touch-free sensor operation, and retrofit kits are the fastest way to go about these conversions in just a matter of minutes.
Top mount retrofit kits are an attractive method, as they replace the cover and diaphragm assembly. This option comes in battery or solar-powered options and provides the flexibility to change flush volumes over time. Top mount retrofits require about a five- to seven-minute conversion time. Side mounts are the most popular flushometer retrofit, as they simply replace or fit right over the handle assembly, all without having to shut off the facility's water supply. The flush volume remains consistent with this option, and it can be installed in as quickly as one to five minutes. Yet, in the instance batteries are depleted and the sensor can no longer operate, true mechanical override (TMO) technology allows the user to continue to flush manually. Facilities like the University of Wyoming, Laramie, Wyo., realized a quick and easy installation and enjoyed the peace of mind that comes with TMO.
Considerations when retrofitting lavatories include the level of retrofit. If the facility does not plan to open up the wall for a full retrofit with new supports the options for retrofit will be limited to the current category of product the site has. Any type of sink is possible if the wall is opened up, allowing for new supports. Another consideration is the power needs of the new selections. The faucet, soap dispenser, and deck-mounted hand dryer (if applicable) may require power previously unavailable near the sink. If the wall is not being opened, the facility can choose battery-powered faucets and soap dispensers.
If the facility is interested in adding an all-in-one sink they must be willing to open the wall to provide the needed support for the sink and electrical circuits. A deck-mounted hand dryer would require a dedicated 20A circuit per device. The faucets and soap dispensers can share a 15A circuit for each station.
This is certainly not the start of the touch-free era, but it is a catalyst for increasingly prevalent touch-free restrooms in the future. With hundreds—if not thousands of users—going through commercial restrooms each day, these touch-free solutions can play a major part in helping keep society safe.

Mark Lawinger is Sloan's senior product line manager for flushometers and fixtures and works to ensure Sloan products work in unison with restroom design vision and provide an optimal user experience. He can be reached at idmark.lawinger@sloan.com.

Control the content you see on ConstructionCanada.net!
Learn More.