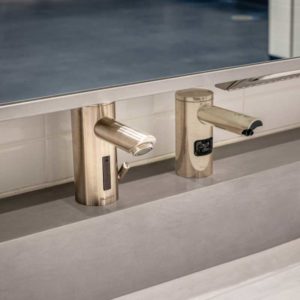 Do-it-all sinks
Sinks are at the centre of the commercial restroom's touch-free movement. As they are now able to encapsulate every step of the handwashing and drying process, sinks now deliver benefits to end-users and maintenance teams alike.
At the epicentre of this renaissance are integrated sink systems. These sink basins combine a faucet, soap dispenser, and hand dryer that work together as one touch-free and highly efficient system—all within an arm's reach. This all-in-one sink design allows users to streamline the handwashing process within the confines of one station, making it conducive to high-traffic restrooms. When the Upper Canada Mall in Newmarket, Ont., conducted its recent renovation, it opted for integrated sinks to cater to the more than seven million guests it receives each year. These sink systems are now enabling visitors to expedite the handwashing process in a sanitary method to quickly return to their shopping. Given the fact the touch-free hand dryers remain within the sink basin, it removes the need for guests to walk across the restroom with wet hands. This takes the burden off facility maintenance teams by eliminating water dripping from hands and ultimately decreases the potential of a slip-and-fall hazard.
Speaking of hand drying, not only do paper towels add an extra task for maintenance teams to attend to, they also include a potential risk for bacteria to spread. According to the American Journal of Infection Control (Vol. 40), researchers at Laval University in Québec City found 17 species of bacteria on unused paper towels, with the most common being Bacillus, which causes food poisoning. Touch-free hand dryers eliminate the concerns about paper towels. Specifically, high-efficiency particulate air (HEPA) filters increase handwashing effectiveness in touch-free hand dryers and remove 99.7 per cent of particles with a diameter of 0.3 μm (12 µin) or larger.
Lastly, not all sink materials are created equal in terms of ensuring optimal hygiene. The best hygiene comes from nonporous materials, such as vitreous china and quartz. Vitreous china surfaces are easy to clean and resistant to corrosion and discolouration. Solid surfaces and quartz are resistant to staining, scratching, and heat. They are available in a wide array of colours compared to vitreous china. Solid surface is also a repairable material, thus suitable for facilities with high levels of vandalism.

Control the content you see on ConstructionCanada.net!
Learn More.