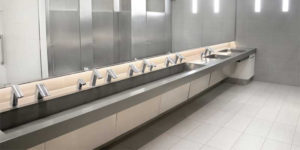 by Mark Lawinger
The COVID-19 pandemic is creating a new normal across all walks of life. The reality is certain elements of society and infrastructure will forever be changed due to the measures that have come along with the virus—increased levels of sanitation, minimized hand-to-hand contact, and the rise of work from home culture, to name a few. The commercial restroom is no exception to these overhauls.
Users now expect touch-free restroom products, as improved hygiene is first and foremost on the hearts and minds of people all across the world. In fact, as one of the most visited places in any commercial building, the restroom is playing a leading role in mitigating the spread of viruses, bacteria, and other germs.
There was already a movement toward specifying sensor-operated restroom products even before COVID-19 and social distancing entered our vocabulary, but the hazardous effects of cross-contamination on products in public spaces have only amplified the need for these automatic fixtures. Germs spread after they have been left on a surface and are then touched by a healthy person. When one takes into account the fact thousands of users go in and out of public restrooms each day, 'high-touch' faucet and flushometer handles can be breeding grounds for bacteria.
To combat these concerns, touch-free products—from motion-activated door sensors and light switches to touch-free faucets and flushometers—are being installed across all areas of the commercial restroom. However, it is important to understand which sensor-activated products are most conducive to specific environments. Additionally, as more facilities scramble to convert their existing restrooms from manual to touch-free operation, it is critical to understand the retrofit process and what it entails.
The perks of touch-free faucets
Consistent handwashing is one of the best ways to remove germs, avoid getting sick, and prevent the spread of germs to others. However, it is important to conduct the handwashing process correctly, following the guidelines of public health officers. It also goes a long way if the faucet does not need to be touched.
Hence, sensor-operated faucets are critical to mitigating cross-contamination in the restroom. In fact, automatic faucets are literally guiding users through the handwashing process by providing step-by-step instructions via liquid crystal display (LCD) screens. These faucets are popular in health-care facilities and walk the user through an initial rinse, a soap and scrub process, and an additional rinse by providing a countdown for each step. This information can also be stored to provide health-care facilities with actionable information on handwashing statistics right down to the specific faucet to determine compliance with public health guidelines.
Maintenance teams across the world are also able to enjoy the perks of automatic faucet shutoff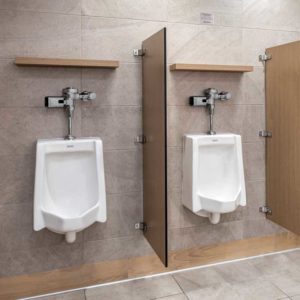 by simply twisting the solenoid on many models, and no special tools are required to access or change components. Typically, maintenance personnel must lie down on the floor or stoop underneath the sink to turn off the water supply valve. It is more convenient to turn it off at the faucet, and saves time (and knees and backs).
There are two touch-free faucet sensing types—infrared and capacitance (proximity) sensors. The former senses the reflection of infrared light when a valid 'target' is within range while the latter picks up the electrical field surrounding a 'target.' In both cases, the range can be adjusted. For infrared sensing an infrared beam of light is sent out from an emitter. Once the light hits a target (user of the fixture) it reflects or bounces back to a receiver. The faucet then processes whether or not it has sensed a valid target before it decides to turn on or stay off. All of this 'thinking' occurs within milliseconds and is imperceptible to the average person. With capacitance sensing the sensor can detect the small electrical 'signal' all living things emit from their bodies. Once a person comes within range, it arms the sensor, preparing it to flush.
The hygienic benefits of sensor-operated faucets speak for themselves, but there are numerous other advantages of automatic faucets. Thanks to the Internet of Things (IoT), automatic faucets are smarter than ever. Facilities teams can now adjust settings, monitor fixture and water use, and diagnose wirelessly—all right from their fingertips. The Vanderbilt University Medical Center (VUMC), Nashville, Tenn., is seeing these benefits firsthand, as its new faucets feature an underdeck control box that reduces the service time needed by its maintenance team and provides the ability to remotely monitor each individual unit from an interconnected smartphone app. With the ability to conduct weekly check-ins on specific fixtures throughout the facility, VUMC's team is able to accurately measure and report water use.
Sensor-operated faucets also deliver sustainability benefits through their energy harvesting capabilities. These faucets can provide solar energy harvesting by using ambient light to extend battery life up to 10 years in low-to-moderate use facilities, while turbine energy harvesting uses the energy of moving water to extend the battery life up to 10 years in moderate-to-high use venues. The current battery life for flushometers is six years and three years for faucets (they tend to be activated more frequently).
While hygienic benefits are first and foremost when it comes to faucet specification, as facilities respond to the coronavirus pandemic, the design elements coming along with them are an added bonus. Commercial restroom manufacturers have created a range of special finish options—from graphite and brushed nickel to brushed stainless and polished brass—to leave a positive, lasting impression on users. These sleek finish options can be matched with touch-free soap dispensers and hand dryers to create a unified and cohesive esthetic across the entire restroom. The customization does not stop there. Organizations are now able to bring their brand into the restroom. Take Chicago's Shedd Aquarium for example, where the facility was able to engrave its logo on several of its faucets to bring an added level of visibility to its brand.

Control the content you see on ConstructionCanada.net!
Learn More.