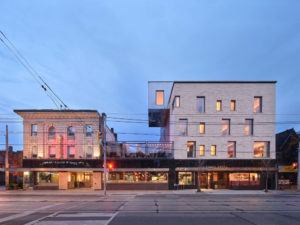 The U.S.-based Brick Industry Association's (BIA's) 2022 Brick in Architecture Awards have honoured the Drake Hotel's Modern Wing in Toronto. Earning silver designation in the commercial category, it is among 45 other winning projects from the U.S., Australia, Canada, China, and Germany.
"Brick can create virtually anything as an inherently sustainable material with limitless design options, superior durability, fire resistance, and energy savings," says BIA's president and CEO, Ray Leonhard.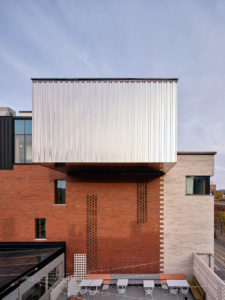 The Modern Wing's striking facades were designed by architect Diamond Schmitt with various construction methods and materials to suit the surrounding environment. The masonry contractor, Limen Group, provided the construction services, while the structural engineer, Blackwell, was involved in a consulting role.
The south facade, which faces Queen Street West, uses articulated masonry to showcase unique craftsmanship. The white brick used in the facade, handmade in Denmark by the manufacturer, Petersen Tegl, visually connects the new addition to the existing hotel.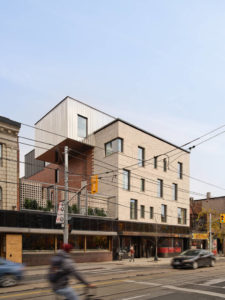 The facade's texture and brick size draw attention to its unique nature, while the incorporation of a palimpsest, or ghost image, of the Victorian homes that once stood on this site add another layer of depth. The new facade features the details in brickwork, incorporating unique definitions achieved through indentation, setbacks, and archways.
The imprint, which is only 40-mm (1.6-inches) in size, allows the facade to be perceived differently, depending on the time of day and weather conditions, from full window shadow depression in the morning light, to sharp and crisp shadow edge definition in the midday sun.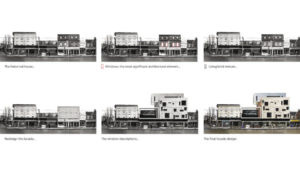 Conversely, the west facade faces the existing hotel and the Sky Yard, the hotel's lively rooftop patio. The masonry expression there incorporates a brick lattice construction technique that promotes permeability and visibility by connecting the interior public corridors to the rooftop scene. The use of red brick pays homage to the original 19th century structure.