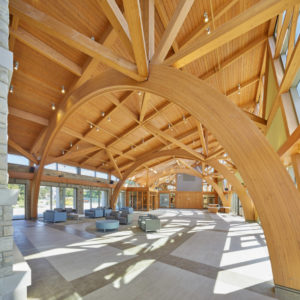 Ahead of its 60th anniversary, Toronto Montessori School unveils a new Bayview campus lobby and atrium, designed to encapsulate nature using wood structural elements and natural light to welcome students, teachers, staff, and parents.
Designed by architects Farrow Partners, the facility was designed to be sustainable, using glued laminated fir timber and insulated metal panels by Kingspan providing thermal efficiency during the cold Ontario winters.
To create an engaging design, Farrow Partners created a mix of circular and triangular shapes. The wooden atrium features a ceiling supported by large semi-circular arches, creating plays on lights and shadows throughout the interior.
The firm chose a soft semi-circular shape using wooden arches to support the ceiling and secondary straight beams that create a triangular pattern. The side of the building adjacent to the existing school includes 957.5 m2 (10,500 sq-ft) of Kingspan insulated metal panels. The use of a triangle aluminum accent allowed architects to continue incorporating a triangular pattern
The semi-circular design features a wall of glass and insulated metal panels, providing different visuals depending on the angle. Incorporated into the metal panels is Kingspan's aluminum accent in a triangle shape, which further elevates the intriguing design.
With architects looking to invoke a sense of curiosity, the accent's vertical integration allows the wooden support beams to stand out from the panels, providing an even greater contrast.
The insulated metal panels' all-in-one assembly and need for only an installer allowed for swift construction that ensured the building envelope was closed ahead of winter.
The project took 19 months from groundbreaking to opening this fall.