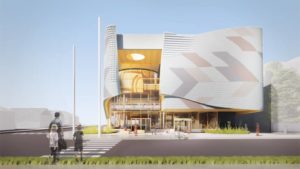 Perkins&Will and Smoke Architecture will soon reveal the redesign for the Dawes Road Library and Community Hub. The firms will be hosting a webinar with the Toronto Public Library on Wednesday, February 2.
The redeveloped library is slated to become a hallmark building celebrating Indigenous values of living on the land, sharing gifts of knowledge, and supporting creativity, while also providing a range of community programming.
The three-storey building's façade is inspired by the cultural star blanket, wrapping around the building as a symbol of respect and admiration for everyone in the community. A new roundhouse will form the heart of the building, visible from the streetscape, which will host ceremonies for Indigenous communities and become a central space for knowledge sharing.
The building will also feature a makerspace, a community kitchen, an outdoor courtyard with Wi-Fi and shelter space, and a rooftop garden.
The design reveal webinar will begin at 2 p.m. Speakers will include Andrew Frontini, design principal and design director of Perkins&Will; Eladia Smoke, principal architect and owner of Smoke Architecture; and Susan Martin, manager of capital planning and implementation for the Toronto Public Library.