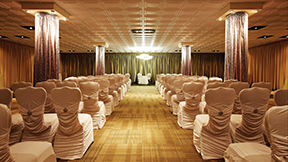 By Eric Marino, CSC, Ed Davis, and Michael Chusid, FCSI
Thermoformed plastic ceilings have been manufactured since the mid-20th century, and their utility has recently increased due to product innovations, rigorous testing, and certifications from leading building product evaluation services. The growing acceptance of these types of products is evidenced by the addition of a new MasterFormat number and title, 09 54 29–Suspended Plastic Ceilings that will be part of the next update in early 2016.
Formerly made only with white plastic, thermoformed elements are now available with various colours and faux finishes and with light-transmitting properties that expand lighting design opportunities. Other innovations address building sustainability, resilience, hygiene, acoustics, and construction economy to satisfy a wide range of design and building requirements.
While ceilings can be made with various types of plastic and in myriad configurations, this article discusses ceiling panels and tiles made from rigid vinyl or polyethylene terephthalate (PET) sheets 0.33 or 0.76 mm (0.013 or 0.03 in.) thick. Flat sheets are thermoformed under heat and pressure to create decorative surfaces. Forming also imparts depth to the thin material, sufficiently stiffening panels to span between conventional ceiling suspension grid members.
Fire safety
It is appropriate to consider fire safety first because of plastic's combustibility. Thin plastic has such little mass it provides insignificant fuel load relative to the other combustible materials in a building.
Surface burning characteristics are more relevant to life safety; there are now thermoformed ceilings with flame spread ≤ 20 and smoke developed ≤ 200; with certain limitations, these products can be specified for all but the most critical occupancies.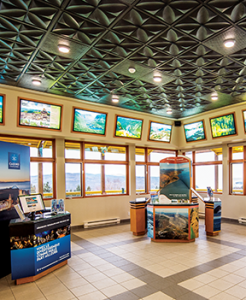 Ceilings can be made from plastic rated 'V0' under Underwriters Laboratories (UL) 94, Standard for Safety of Flammability of Plastic Materials for Parts in Devices and Appliances Testing. These materials are self-extinguishing—flaming combustion stops within 10 seconds after removal of heat source, glowing combustion stops within 30 seconds, and materials do not drip flaming particles that could ignite cotton.
Unlike most types of ceilings, some thermoformed assemblies can be installed above or beneath fire sprinklers without interfering with sprinkler function when used in accordance with listings and approvals. When exposed to heat from a fire, panels soften, deform, and drop out of suspension grids at temperatures well below the activation point of commonly used sprinklers.
Referred to as 'drop-out ceilings,' such assemblies can simplify sprinkler installation and significantly reduce construction costs by being installed beneath them. Sprinklers are not visible from below, making ceilings less cluttered and more attractive, while also protecting sprinklers against accidental impact or tampering and the water damage that results from sprinkler activation. Drop-out ceilings can be especially useful for suspended ceiling 'clouds' that could otherwise require sprinklers to be located both above and below the cloud.
To avoid falling panels from getting hung up on sprinklers and preventing their operation, pendent-style sprinklers must be installed through over-sized openings in panels.
Installed with or without sprinklers, drop-out panels regain stiffness when they fall to the relatively cooler floor. Since they are thin and lightweight, they do not significantly impede egress or access by firefighters. However, some authorities having jurisdiction (AHJs) may not permit drop-out ceilings to be used in exits or stairs.
Acoustics
Thermoformed tiles set directly against a hard substrate provide insignificant noise reduction. Suspended panels, however, are diaphragms that transmit acoustical vibrations into the above-ceiling cavity where the noise can be dampened. Depending on panel thickness, noise reduction co-efficients (NRCs) of 0.25 can be obtained.
The noise reduction can be increased in three ways:
Acoustical backer panels create an additional air cavity, typically 76 mm (3 in.) deep, that further dampens sound and produces 0.30 NRC. Some backers are approved for use in drop-out ceiling systems.
Acoustical insulation can be placed above panels to produce 0.50 NRC. Instead of glass or mineral fibre insulation, consideration should be given to special polyester fibre batts, typically 38 mm (1.5 in.) thick, as their light weight and stiffness does not cause thermoformed panels to sag. Polyester fibres do not irritate skin and, because they are less brittle than glass or mineral fibres, are less likely to release fibres into a room environment. Fibrous insulation, regardless of type, is not approved with drop-out ceilings.
Recent testing has determined small perforations through the face of thermoformed panels in combination with polyester fibre batts can boost noise reduction to an outstanding 0.85 NRC, suitable for use in classrooms, offices, healthcare, and other occupancies with stringent noise control requirements.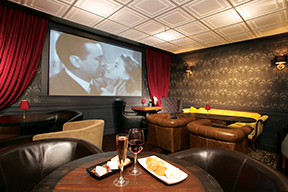 Moisture, mould, and hygiene
Vinyl and PET ceilings are not affected by moisture and can be used in wet or humid locations. Examples include natatoria, shower and bathing rooms, spas, laundries, kitchens, and areas subject to washdown. Moisture resistance is also a concern in normally dry spaces due to ever-present risks of rapid snowmelt, roof leaks, and ice dams, plumbing breaks, condensation from sweating pipes, or compromised vapour barriers, HVAC equipment, and spills. From Atlantic storms to thunderstorms in Thunder Bay and rampages on the Red River, floods "are the most frequent natural hazard in Canada.
Moisture resistance is closely associated with mould resistance. Thermoformed ceilings neither hold the moisture required for fungal growth nor provide a source of nutrition. They satisfy criteria for flood-resistant materials that:
can survive wetting and drying and may be successfully cleaned after a flood to render them free of most harmful pollutants. Materials in this class may be exposed to and/or submerged in floodwaters in interior spaces and do not require special waterproofing protection.
In suspended ceilings, uplift prevention clips reduce the likelihood panels will be dislodged.
Moisture resistance makes it feasible to install thermoformed ceiling elements before a building is fully enclosed. This feature also helps meet project deadlines because installation of many other types of ceiling products must be delayed until interior wet work is dry and interior humidity has stabilized. Plastic's moisture resistance also abets final cleaning of a jobsite because vinyl and PET are easy to clean.
Many culinary, healthcare, veterinary, lab, industrial, and cleanroom facilities require hygienic ceilings that are fibre-free and allow for good industrial hygiene. For example, the Canadian Dairy Product Regulations are similar to those of other segments of the food industry. They require:
(2) Every registered establishment shall… (b) be constructed of material that is durable and free of any noxious constituent," and, "have, where an exposed dairy product is prepared, …ceilings that are (i) of a hard finish that is suitable for cleaning, (ii) smooth, (iii) impervious to moisture, (iv) free from pitting, indentations, cracks, crevices, and ledges…[and] (f) have rooms and areas… that are constructed so as to facilitate the cleaning and disinfection of those rooms and areas…
Thermoformed ceiling elements can be cleaned with a damp cloth and, if necessary, mild detergent or compatible cleaning agents. To meet these requirements, panels or tiles with low surface-relief patterns should be used.
While standardized stain-resistance tests have not been conducted on thermoformed ceilings, their long record of use demonstrates plastic's resistance to the grime and stains that typically disfigure ceilings. For example, the proprietor of a cigar lounge told one of these authors thermoformed ceiling elements in his establishment do not absorb odours from tobacco smoke and stains can be removed by washing.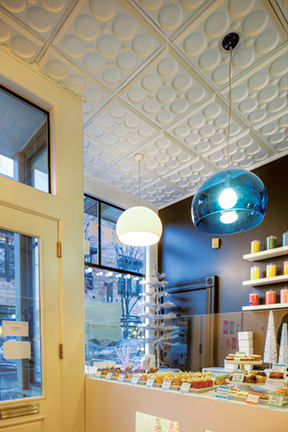 Lighting
Available in three levels of optical transmissivity, thermoformed ceiling panels facilitate creative approaches to lighting. Opaque white panels have a bright light reflectance value (LRV) of approximately 83, per ASTM E1477, Standard Test Method for Luminous Reflectance Factor of Acoustical Materials by Use of Integrating-sphere Reflectometers. This takes on special significance with directional light sources that cast shadows on the moulded relief of panels and tiles.
Translucent plastic is used for backlit luminous ceilings. The amount of light transmitted varies depending on the thickness of the plastic and whether it is a translucent white material or an unpigmented clear plastic with a 'frosted' surface. Translucent panels are often used with a clear or frosted acoustical backer panel that sits above the ceiling panel. The backer can reduce shadows caused by detritus that would otherwise accumulate directly atop ceiling panels. Frosted backers, moreover, help to diffuse above-ceiling light sources.
While a translucent ceiling will reduce light transmittance, the loss in efficiency may be recouped by cutting glare to improve lighting effectiveness. Costs can also be reduced by using simple, inexpensive fixtures such as strip fluorescent lamps above the ceiling. Increasingly, however, translucent ceilings are being paired with light-emitting diode (LED) lamps to create glowing illumination that can be programmed to change colours.
Transparent panels allow light fixtures to be placed above a ceiling while maintaining the continuity of the surface's plane and pattern. For example, a light fixture with a directional beam can be placed above the ceiling—and out of sight—yet still focused on a piece of artwork or other visual feature.
Several levels of transmissivity can be combined as required. In a hotel lobby, opaque panels can be used with uplighting at seating areas, translucent panels to create a luminous ceiling above the registration counter, and transparent panels below spotlights creating visual excitement above the dance floor in a bar. Daylighting, as an energy conservation strategy, also suggests applications for translucent and transparent panels beneath skylights, and for opaque or translucent panels, as light shelves to direct light more deeply into buildings.
Light-transmitting ceilings are also practical in areas where hygiene or other considerations make it desirable to keep light fixtures isolated. They meet, for example, the aforementioned Dairy Product Regulations that require "light bulbs and fixtures… will not cause dairy product contamination in the event of breakage."
Appearance
While this article has discussed physical and performance properties, selection of thermoformed ceilings frequently begins with esthetic considerations. Ceilings are often the most visually prominent surface of a room. Yet the flat plane and rectangular grid of standard acoustic ceilings, once the hallmark of 'modern' efficiency, now epitomizes the 'less-is-a-bore' sentiment of many designers.
Thermoformed ceiling panels and tiles are available in dozens of styles, ranging from historic stamped tin patterns and classic coffers to contemporary geometric and multifaceted panels, and from shallow profiles to relief extending as much as 76 mm (3 in.) above or below the ceiling grid. Additionally, digital fabrication techniques have lowered the cost of making moulds for custom patterns.
Some styles can be installed upside-down; inverted panels change the relationship of shadow and highlight to engage the viewer. Other design options include white, solid colours, faux metallic finishes, and faux wood grain finishes.
When a style with deep relief is used, it is customary to use border panels or tiles with low relief around ceiling perimeters. Alternatively, adventurous designers can achieve interesting effects by expressing the panel or tile profile at the ceiling perimeter.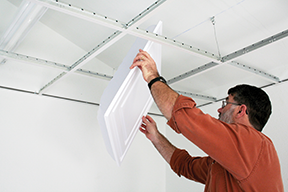 Installation
Installation of thermoformed ceiling panels and tiles is similar to other materials. Lay-in panels can be used with standard suspension systems with 24-mm (15⁄16-in.) or 14-mm (9⁄16-in.) wide tees. Fibreglass, plastic, or aluminum suspension grids should be considered in wet areas. Direct-mounted tiles install easily with construction grade adhesives. Panels are available for both 609 x 609-mm (2 x 2-ft) and 609 x 1218-mm (2 x 4-ft) grids.
The lightweight panels and tiles are less likely to cause injury due to lifting or dropping. They lack sharp edges and installers do not have to wear respirators. The material can be easily cut with scissors or aviation snips. Decorative strips are available, if desired, to trim butt joints between tiles.
Conclusion
It is crucial to verify the test data of proposed products because not all thermoformed ceiling products rise to the same standards. While thermoformed panels and tiles are widely used in simple do-it-yourself applications, design professionals may want assistance from a reputable manufacturer to identify suitable products for projects with more-demanding requirements.
Though thermoformed ceiling elements can be used for any one of their several beneficial characteristics, they provide especially good value when used to meet several requirements simultaneously. Server farms are a case in point. Thermoformed ceilings enclose the aisles between racks of computer servers and allow the aisles to be used as air plenums to exhaust heated air. Transparent drop-out panels are used to allow both light fixtures and sprinklers to be located above the aisles and out of the way of technicians servicing the equipment. Both economical and practical, thermoformed ceilings are a good solution overall.
 Sustainability of Thermoformed Ceilings
Many of the characteristics of thermoformed ceilings contribute to building sustainability, such as:
lighting efficiency;

noise reduction;

cleanability; and

fungal resistance.
In terms of material choices, some advocate against vinyl, also known as polyvinyl chloride (PVC), since it is made from petrochemicals, may have problematic precursor products and additives, and may release toxic products of combustions if burned. Other authorities say vinyl's long service life and low maintenance requirements mitigate some of these concerns.
Thermoformed ceilings are made with rigid vinyl, also known as unplasticized PVC (uPVC), that does not contain the questionable additives used in other vinyls. Reputable manufacturers source materials produced through modern, cleaner technologies. Additionally, the combustion risks are reduced, and vinyl is recyclable as a Type 3 plastic.
Environmental Building News suggests, "For builders and architects, our recommendation is not to avoid vinyl altogether, but to seek out better, safer, and more environmentally responsible alternatives."* Reasoning like this has led to an increased use of recycled PET (rPET) for ceilings with as much as 40 per cent post-consumer recycled content.
While PET has a greener environmental rap sheet, raw material costs more than vinyl, it is more difficult to fabricate in certain ceiling styles, and it is not yet approved for use below sprinklers. While vinyl has demonstrated longevity in building applications, PET service life has yet to be determined. PET is recyclable as Type 1 plastic.
Both vinyl and PET are available with GreenGuard Gold certification of compliance with California's Department of Public Health Services Standard Practice for Specification Section 01350 (i.e. California Section 01350) for low chemical emissions from building products used in schools, healthcare, and other critical environments. Indoor air quality (IAQ) is also protected because the plastics are fibre-free and hygienic.
While sufficiently rigid to maintain visual flatness once installed, both vinyl and PET are:
resilient enough to flex during installation and maintenance;

not frangible;

able to resist moderate abuse without breakage;

produced with ultraviolet (UV)-inhibitors; and

cleanable.
Finally, product selection must be made in comparison to other available products. Thermoformed ceilings weigh as little as 0.49 kg/m² (0.10 psf)—approximately 80 per cent less than mineral fibre and gypsum board ceilings. This represents a significant reduction of manufacturing resource requirements. Additionally, transportation impacts are reduced because panels and tiles are lightweight, thin, and nest for compact packing. Five times as many panels can fit on a truck compared to 19-mm (3⁄4-in.) thick mineral fibre panels.
Plastic, moreover, does not contain fibres and crystalline silica that can compromise indoor air quality and pose occupational health and waste disposal hazards.**
* See www2.buildinggreen.com/article/should-we-phase-out-pvc.
**As a result of health concerns related to fibrous ceiling products, the National Master Specification (NMS) Section 09 51 13–Acoustical Panel Ceilings, intended for use with fibrous ceiling elements, references the Canadian Environmental Protection Act (CEPA), Transportation of Dangerous Goods Act (TDGA), and Health Canada/Workplace Hazardous Materials Information System (WHMIS).
Eric Marino, CSC, is president of Elegant Ceilings & Walls/Plafond & Mur Élégant—a Canada-wide distributor of ceiling products with a showroom in Montréal. He can be reached via www.ceilingsandwalls.com.
Ed Davis is president of Ceilume, a manufacturer of thermoformed ceiling panels, and is responsible for product testing and code evaluations and approvals. He can be reached via www.ceilume.com.
Michael Chusid, RA, CCS, FCSI, is a consultant in building product innovation and business development. He can be reached via www.chusid.com.

Control the content you see on ConstructionCanada.net!
Learn More.