Thermal performance of insulated sheet steel assemblies
October 12, 2017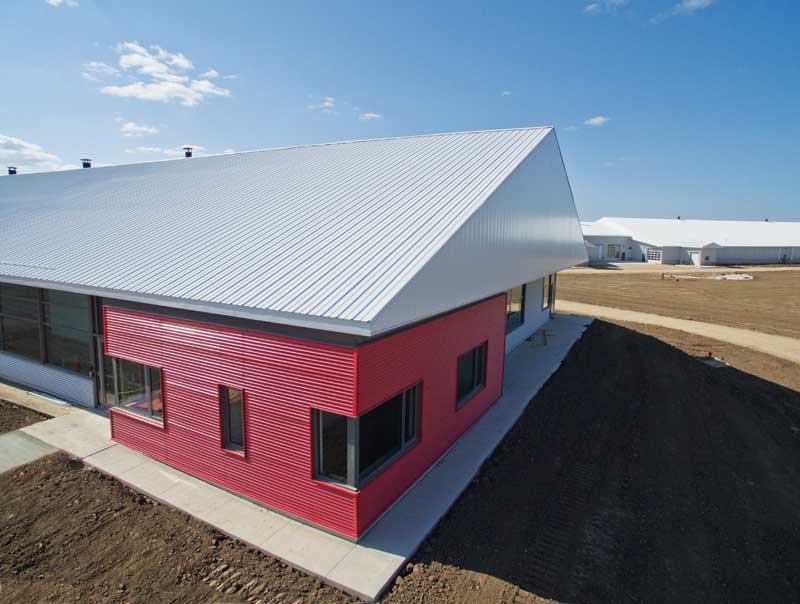 By Steven R. Fox, PhD, P.Eng.
Steel's versatility and durability make it a suitable building material for various construction projects and applications. For cladding and roofing applications, there are different types of sheet steel assemblies, ranging from the simplest single-sheet walls found in agricultural buildings to sophisticated composite panel assemblies. This wide variety of cladding profiles, paint systems, and colours allows for greater design freedom and durability in a cost-efficient and sustainable solution.
With the introduction of updated energy codes and standards, such as the National Energy Code for Buildings (NECB), provincial jurisdictions are enacting more stringent requirements on the thermal transmittance of the building envelope. To meet these requirements and comply with current Canadian codes, steel product manufacturers have developed an array of insulated sheet steel solutions for both wall and roof applications. These insulated assemblies comprise insulation sandwiched between the prefinished sheet steel exterior and interior sheets, with the exterior steel sheet being the exterior cladding of the wall or roof assembly.
Insulation
Insulation for construction materials is typically rated with an R-value (which represents a material's thermal resistance) or U-value (representing the rate of heat transfer). Building codes typically require construction projects to use systems with a maximum U-value, which changes depending on in which of Canada's six climate zones a project is located. With a vast difference in climate from the northern reaches of the country to its southern border, the materials and products allowed in buildings vary greatly throughout Canada. A full listing of major Canadian cities' climate zones is available in NECB.
Insulated sheet steel roof and wall assemblies can use a variety of insulation materials to meet requirements for Canadian climate zones, including extruded polystyrene (XPS), expanded polystyrene (EPS), and polyurethane. The R-values of these materials range from approximately R-3 to R-7 per 25 mm (1 in.) of thickness. Panels can be manufactured in a variety of thicknesses to meet requirements across the nation.
Insulated sheet steel assemblies
Insulated sheet steel wall assemblies are designed and constructed to recognize both the structural requirements of the system and the other functions of the assembly, which can include acting as a rainscreen, air retarder, vapour retarder, and insulator. As a vapour retarder, the assemblies control migration of moisture from the warm interior through the wall assembly to the outside. In co-ordination with air retardation properties, vapour retardation helps reduce or eliminate uncontrolled infiltration and exfiltration of air and moisture—the primary causes of heat loss in an insulated assembly.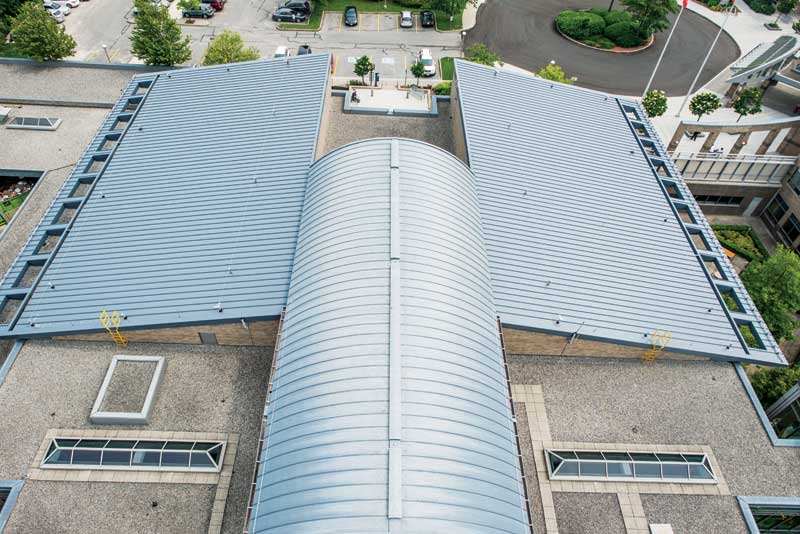 Insulated sheet steel assemblies consist of an interior sheet steel liner, subgirts, a base channel, insulation, exterior sheet steel cladding, and flashings. Internal subgirts in the wall assembly can be varied in depth to accommodate almost any thickness of insulation needed. It is recommended semi-rigid insulation be used, since it will fit the cavity better than rigid types. Where thermal bridging is an issue, insulating tape or foam can be applied to the flanges of subgirts to further improve thermal performance of the assembly. (For more information, consult Canadian Sheet Steel Building Institute's [CSSBI's] "How To Series: Insulated Sheet Steel Wall Assemblies" at cssbi.ca/assets/resources/How_To_Series/CSSBI-S10-15.pdf[3].)
Insulated sheet steel assemblies can be beneficial for energy costs across a wide variety of wall applications due to their ability to create tight building envelopes and also reduce heat transfer. These properties have been especially effective for applications in cold Canadian climates, where there are many days when the interior temperature is much greater than the exterior.
In roofing applications, insulated sheet steel assemblies can be manufactured with various finishes, colours, textures, roofing profiles, and thicknesses. Each of these variables affects a roof's overall reflectivity and its emissivity, allowing builders to select the appropriate panels based on their climate zones and number of heating degree days in their regions.
For buildings in warmer areas, such as Windsor, Ont., where cooling loads are greater, panels can include more reflective coatings to re-emit as much absorbed infrared (IR) radiation as possible. In areas further north, where heating loads are greater, it is important to consider panel and coating options with low emissivity to reduce the amount of solar infrared radiation emitted back into the atmosphere. When appropriate coatings, profiles, and insulation thicknesses are selected for the roof assembly, commercial buildings should consume less energy in maintaining comfortable temperatures for occupants.
ECONOMY AND ESTHETICS AT MONCTON HOSPITAL ATRIUM
For a 2007 atrium project at New Brunswick's Moncton Hospital, steel cladding was a perfect fit. The material's esthetic and economic capabilities meant it fulfilled the constraints and design goals of the $47-million project, which linked the new space to existing facilities such as ambulatory care and underground parking.

"With limited space for interfacing, steel was the material of choice because it is easier to manipulate in these conditions," said Raven Spanier of Design Workshop, one of the project architects.

James Teichman of Maritime Canopies, the cladding installer, agreed.

"Steel is much easier to work with because everything is more true," he said.

The material was used for 743 m2 (8000 sf) of steel cladding and standing-seam metal roofing, featuring linear panels, Z-bars, and galvanneal steel deck. Corrugated wall panels measuring 22.2 mm (7⁄8 in.), as well as 0.76-mm (1⁄3-in.) prepainted batten-clad roofing, were also employed.

In part, the material's selection was due to its gloss retention and ability to colour match with the existing facility.

"Silver offers a richer look and matches other metal components," said Spanier.
Thermal performance study
Insulated sheet steel assemblies provide lower heating and cooling costs for building owners across a variety of wall and roof applications in each of Canada's climate zones. The Canadian Sheet Steel Building Institute (CSSBI) worked with the engineering and management consulting firm Morrison Hershfield to evaluate the thermal performance of several insulated sheet steel wall and roof assemblies. (More information is available at cssbi.ca/assets/resources/Design_Manuals/CSSBI-B20-15.pdf[4].)
Sheet steel wall assemblies employing notched Z-bars
A sheet steel wall assembly with notched Z-bars was used as the baseline wall application for the Morrison Hershfield evaluation. This assembly uses 152 mm (6 in.) of mineral wool insulation (R-4.2/inch) between a 24-gauge interior steel liner and exterior steel sheet cladding. Figures 1 and 2 include thermal performance evaluations for this application with different Z-bar spacing, insulation types, and thicknesses. Depending on insulation thickness and spacing of girts, these assemblies can reach insulation R-values of R-25 or R-48 to meet the needs of buildings in Climate Zones 5 through 8.
Sheet steel wall assemblies with thermal chairs
The same sheet steel wall from the previous section was also modelled with intermittent thermal chairs replacing the notched Z-bar from the baseline wall application. Assemblies employing thermal chairs traditionally reach R-values of R-25, making them appropriate for buildings in NECB Climate Zones 4 through 6. In Figure 3, thermal performance of this wall application with different horizontal spacing of thermal chairs is shown.
Insulated sheet steel roof supported by thermal chairs
The baseline roof assembly considered in the Morrison Hershfield evaluation included 22-gauge profiled cladding fastened to an 18-gauge hat section, supported by 254-mm (10-in.) thermal chairs with 273 mm (10 ¾ in.) of mineral wool insulation filling all voids between the cladding and liner. Figures 4, 5, and 6 show the thermal performance of this application with various thermal chair spacings, insulation levels, and thermal tape thicknesses. These variations of insulated sheet steel roof applications perform particularly well in terms of energy efficiency, meaning they are capable of meeting requirements for builders in Canada's colder climate zones.
Insulated standing-seam roof
The insulated standing-seam roof is similar to the baseline roof, but features a different cladding shape and a different method of connecting the roof to the structure. Insulation in this application was draped R-19 batt, which was compressed between the hat section and the roof panel. Standing-seam roof applications can achieve R-values of up to R-56.7, and are suitable for building applications up to Climate Zone 7. Figure 7 shows the thermal performance of this application with a variety of insulation placements and types.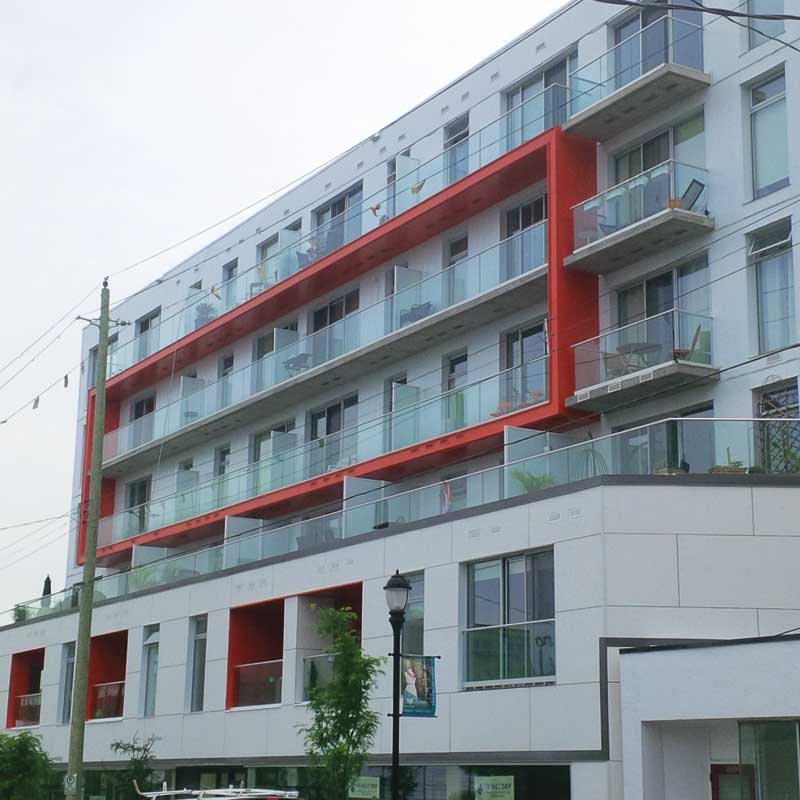 Energy efficiency and sustainability
Consumers, businesses, and building owners have all mandated more sustainable and efficient products and systems from the construction industry. To meet this demand, the North American steel industry has made significant progress in increasing the efficiency and lessening the environmental impact of steel production over the years.
In addition to the energy-saving benefits of insulated sheet steel assemblies, steel is completely recyclable, allowing its construction products and systems to be sustainably managed at the end of a building's life cycle. Insulation sheet steel assemblies can be easily disassembled at end of life to facilitate the recycling of steel panels. By simply removing screws that join the steel panels, semi-rigid insulation can be removed and materials can be separated for recycling.
Steel construction products contain between 25 and 100 per cent recycled content, and as mentioned, they are fully recyclable at end of life. Where materials such as wood or plastics are often disposed of in landfills or downcycled for fuel or mulch, cold-formed steel in buildings can be collected and recycled as another steel construction product or any of a range of other products. Specifiers should require a minimum recycled content equaling  25 per cent for steel framing products and accessories to help achieve overall building recycled content targets.
Steel roofing assemblies can also contribute to a building's use of renewable energy. It provides the optimal foundation for photovoltaic (PV) installations, since the roof can be expected to last longer than the solar energy system it supports. When it is ultimately removed as part of building demolition or renovations, the steel used allows the metal roof to credibly claim both a high level of recycled content and 100 per cent recyclability by recognized definitions. The product's recyclability also provides significant savings on construction removal and disposal costs.
For project teams pursuing certification in green building rating systems like Canada Green Building Council's (CaGBC's) Leadership in Energy and Environmental Design (LEED), steel construction materials such as insulated sheet steel assemblies provide additional benefits. In the latest edition, LEED v4, building material credits are available in areas including life cycle assessment (LCA), Environmental Product Declarations (EPDs), and improved product transparency. Steel-intensive building designs can be significant contributors to earning points in these categories because of the availability of data on supply chain, raw materials, and energy use for all steel products. Several individual manufacturers have developed product-specific EPDs for improved product transparency to help project teams meet their sustainability objectives.
Residential buildings can also benefit from steel roofing applications. This sector has grown significantly as residential customers begin to see the long-term energy savings and other benefits of steel roofing.
Conclusion
Insulated sheet steel solutions for wall and roof applications in both commercial and residential building projects can help construction professionals meet increasingly stringent energy codes and standards in a sustainable, cost-efficient manner. These flexible solutions provide lower heating and cooling costs for building owners to meet the needs of each of Canada's climate zones.
AVAILABLE SHEET STEEL RESOURCES
There are abundant resources available to building professionals interested in learning more about using insulated sheet steel assemblies and metal panels. These industry quthorities cover a wide range of topics, from the material's general benefits and properties to assistance with very specific project applications.

AISI
The American Iron and Steel Institute (AISI) offers a suite of design and test standards covering the testing of individual connections/members and complete systems, as well as design manuals and guides illustrating the practical application of standards. These documents can be downloaded at www.aisistandards.org[12].

CSSBI
The Canadian Sheet Steel Building Institute (CSSBI) is the country's authority on sheet steel, its products, and its many applications. CSSBI is a valuable source for technical information and resources, providing expert guidance to the general public and sheet steel manufacturers alike. Visit cssbi.ca[13] for more information.

MCA
The Metal Construction Association (MCA) is an organization of manufacturers and suppliers whose metal products are used in structures throughout the world. MCA also works to eliminate barriers to metal's use in construction by supporting product performance testing, initiating research, and monitoring and responding to codes and regulations that affect metal. Learn more online at www.metalconstruction.org[14].

MBMA
The Metal Building Manufacturers Association (MBMA) provides leadership, research, and education that increase the prominence and usage of metal building systems as the premier solution for performance, esthetics, and sustainability in building construction. For further reading, visit www.mbma.com[15].
Steven R. Fox, PhD, P.Eng., is the general manager of the Canadian Sheet Steel Building Institute (CSSBI), the national association representing structural sheet steel building product manufacturers in Canada. In this role, he is responsible for the management of all CSSBI's technical and promotional programs. Fox has more than 35 years of experience in the construction industry, most of which has been with CSSBI. He can be reached via e-mail at sfox@cssbi.ca[16].
Endnotes:
[Image]: https://www.constructioncanada.net/wp-content/uploads/2017/10/AG-1-Brian-Hodgins-Agway-U-of-Guelph-Dairy-Research-Unit-Elora-ON-2.jpg
[Image]: https://www.constructioncanada.net/wp-content/uploads/2017/10/AGWAY-METALS-INC-Ontario-Shores-Hospital-2.jpg
cssbi.ca/assets/resources/How_To_Series/CSSBI-S10-15.pdf: http://cssbi.ca/assets/resources/How_To_Series/CSSBI-S10-15.pdf
cssbi.ca/assets/resources/Design_Manuals/CSSBI-B20-15.pdf: http://cssbi.ca/assets/resources/Design_Manuals/CSSBI-B20-15.pdf
[Image]: https://www.constructioncanada.net/wp-content/uploads/2017/10/fig-2.jpg
[Image]: https://www.constructioncanada.net/wp-content/uploads/2017/10/fig-3.jpg
[Image]: https://www.constructioncanada.net/wp-content/uploads/2017/10/fig-4.jpg
[Image]: https://www.constructioncanada.net/wp-content/uploads/2017/10/fig-5.jpg
[Image]: https://www.constructioncanada.net/wp-content/uploads/2017/10/fig-6.jpg
[Image]: https://www.constructioncanada.net/wp-content/uploads/2017/10/fig-7.jpg
[Image]: https://www.constructioncanada.net/wp-content/uploads/2017/10/IDEAL-ROOFING-Philippe-Laplante-Ottawa-Ont.jpg
www.aisistandards.org: http://www.aisistandards.org
cssbi.ca: http://cssbi.ca
www.metalconstruction.org: http://www.metalconstruction.org
www.mbma.com: http://www.mbma.com
sfox@cssbi.ca: mailto:sfox@cssbi.ca
Source URL: https://www.constructioncanada.net/thermal-performance-insulated-sheet-steel-assemblies/
---