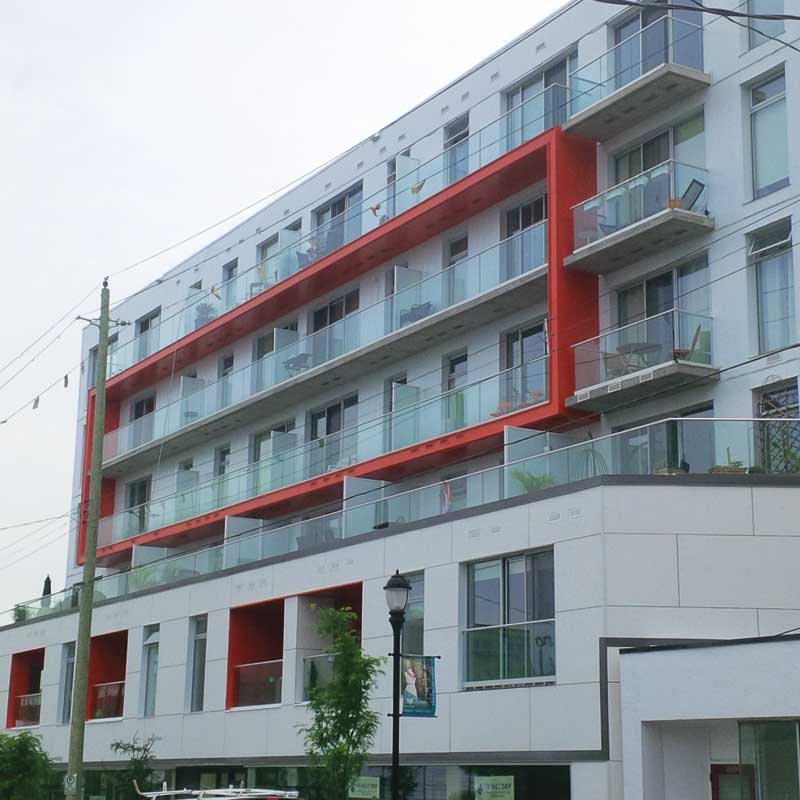 Energy efficiency and sustainability
Consumers, businesses, and building owners have all mandated more sustainable and efficient products and systems from the construction industry. To meet this demand, the North American steel industry has made significant progress in increasing the efficiency and lessening the environmental impact of steel production over the years.
In addition to the energy-saving benefits of insulated sheet steel assemblies, steel is completely recyclable, allowing its construction products and systems to be sustainably managed at the end of a building's life cycle. Insulation sheet steel assemblies can be easily disassembled at end of life to facilitate the recycling of steel panels. By simply removing screws that join the steel panels, semi-rigid insulation can be removed and materials can be separated for recycling.
Steel construction products contain between 25 and 100 per cent recycled content, and as mentioned, they are fully recyclable at end of life. Where materials such as wood or plastics are often disposed of in landfills or downcycled for fuel or mulch, cold-formed steel in buildings can be collected and recycled as another steel construction product or any of a range of other products. Specifiers should require a minimum recycled content equaling  25 per cent for steel framing products and accessories to help achieve overall building recycled content targets.
Steel roofing assemblies can also contribute to a building's use of renewable energy. It provides the optimal foundation for photovoltaic (PV) installations, since the roof can be expected to last longer than the solar energy system it supports. When it is ultimately removed as part of building demolition or renovations, the steel used allows the metal roof to credibly claim both a high level of recycled content and 100 per cent recyclability by recognized definitions. The product's recyclability also provides significant savings on construction removal and disposal costs.
For project teams pursuing certification in green building rating systems like Canada Green Building Council's (CaGBC's) Leadership in Energy and Environmental Design (LEED), steel construction materials such as insulated sheet steel assemblies provide additional benefits. In the latest edition, LEED v4, building material credits are available in areas including life cycle assessment (LCA), Environmental Product Declarations (EPDs), and improved product transparency. Steel-intensive building designs can be significant contributors to earning points in these categories because of the availability of data on supply chain, raw materials, and energy use for all steel products. Several individual manufacturers have developed product-specific EPDs for improved product transparency to help project teams meet their sustainability objectives.
Residential buildings can also benefit from steel roofing applications. This sector has grown significantly as residential customers begin to see the long-term energy savings and other benefits of steel roofing.
Conclusion
Insulated sheet steel solutions for wall and roof applications in both commercial and residential building projects can help construction professionals meet increasingly stringent energy codes and standards in a sustainable, cost-efficient manner. These flexible solutions provide lower heating and cooling costs for building owners to meet the needs of each of Canada's climate zones.
AVAILABLE SHEET STEEL RESOURCES
There are abundant resources available to building professionals interested in learning more about using insulated sheet steel assemblies and metal panels. These industry quthorities cover a wide range of topics, from the material's general benefits and properties to assistance with very specific project applications.

AISI
The American Iron and Steel Institute (AISI) offers a suite of design and test standards covering the testing of individual connections/members and complete systems, as well as design manuals and guides illustrating the practical application of standards. These documents can be downloaded at www.aisistandards.org.

CSSBI
The Canadian Sheet Steel Building Institute (CSSBI) is the country's authority on sheet steel, its products, and its many applications. CSSBI is a valuable source for technical information and resources, providing expert guidance to the general public and sheet steel manufacturers alike. Visit cssbi.ca for more information.

MCA
The Metal Construction Association (MCA) is an organization of manufacturers and suppliers whose metal products are used in structures throughout the world. MCA also works to eliminate barriers to metal's use in construction by supporting product performance testing, initiating research, and monitoring and responding to codes and regulations that affect metal. Learn more online at www.metalconstruction.org.

MBMA
The Metal Building Manufacturers Association (MBMA) provides leadership, research, and education that increase the prominence and usage of metal building systems as the premier solution for performance, esthetics, and sustainability in building construction. For further reading, visit www.mbma.com.
Steven R. Fox, PhD, P.Eng., is the general manager of the Canadian Sheet Steel Building Institute (CSSBI), the national association representing structural sheet steel building product manufacturers in Canada. In this role, he is responsible for the management of all CSSBI's technical and promotional programs. Fox has more than 35 years of experience in the construction industry, most of which has been with CSSBI. He can be reached via e-mail at sfox@cssbi.ca.

Control the content you see on ConstructionCanada.net!
Learn More.