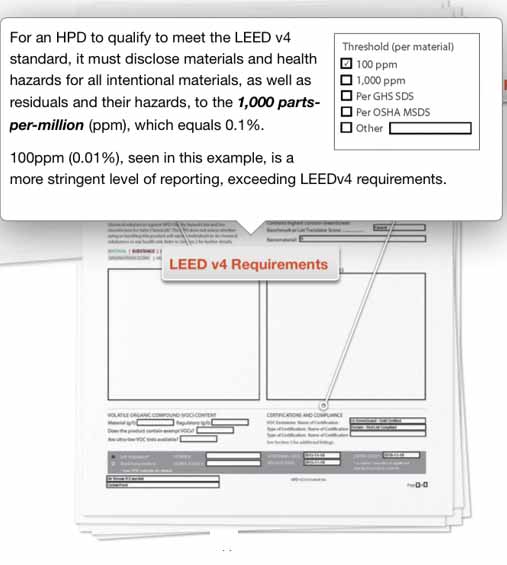 Health product declarations
Another transparency document of note is the health product declaration (HPD). A HPD is commonly described as a "food label" for construction products. Just as a can of soup lists its ingredients on the label, a HPD discloses the materials and chemicals contained in a manufactured product.
The standard for HPDs is developed by the Health Product Declaration Collaborative. The intent of HPDs is to assist designers, specification writers, and builders in understanding the materials and chemicals employed in the products they specify for building projects. At a time when people are more health conscious and careful as to what they put in their bodies, it only makes sense they should be better informed of what is contained in the places they live, work, study, and play.
HPDs build upon EPDs in that the reader can additionally understand the chemicals used, and the potential health hazards associated with a product. Potential is an important word. Just because a hazard is identified does not mean there is any risk of exposure in the product. Similar to the EPD, a HPD is an impartial third-party verified document. Consistency is maintained when identifying substances, which are denoted by their chemical abstract number (CAS). One item worth noting when reviewing a HPD is the level of disclosure a manufacturer provides. A HPD must disclose material and health hazards for all intentional products, as well as residuals and their hazards to the 1000 parts-per-million (ppm) level, which equals 0.1 per cent. Some manufacturers opt to report at 100 ppm, which is more stringent (0.01 per cent) and exceeds LEED v4 requirements (Figure 3).
HPDs are recognized in several sustainable design programs. Under LEED v4, the Materials and Resources (MR) Credit 4 for material ingredients is achieved when 20 products having a HPD from at least five different manufacturers are employed in the construction of a building. Similarly, with the WELL Building Standard, HPDs are used in achieving the standard's Compliance 25 Toxic Material Reduction and Compliance 26 Enhanced Material Safety features. HPDs can also be employed to comply with the Living Building Challenge, currently considered by many to be the most rigorous performance standard for buildings.
The advent of transparency documents has enabled an environment in which people can make more efficient and better-educated decisions about what materials and products to select for structures. Thanks to the standardized methods used to develop EPDs and HPDs, as well as the due diligence of manufacturers, those involved in sustainable design are now able to compare apples to apples. Therefore, it is not time to moan about transparency documents. Rather, it is time for all parties involved in the life of a building to embrace these tools of clarity.
Brent Belanger, CTR, LEED GA, is the architectural services manager for CertainTeed IPG Canada. He has more than 30 years of experience with manufacturers in the design/construction industry. He currently serves on technical committees for the North American Insulation Manufacturers Association (NAIMA) Canada and Gypsum Association (GA). Belanger can be reached at brent.belanger@saint-gobain.com.

Control the content you see on ConstructionCanada.net!
Learn More.