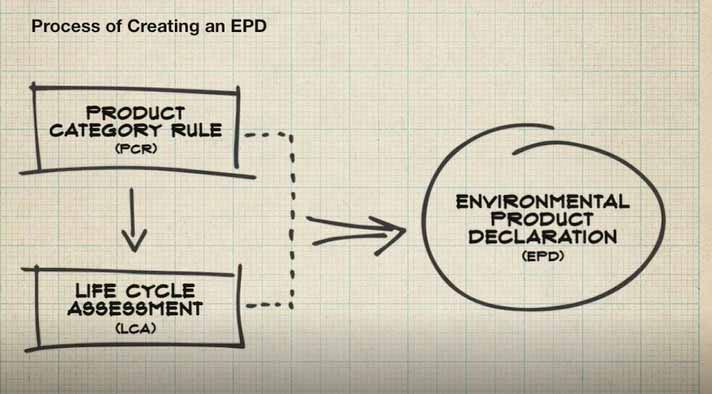 How to create an EPD
As shown in Figure 1, a product category rule (PCR) and life cycle assessment (LCA) are the primary steps for creating an EPD. PCR can be defined as the document setting up the requirements on how to conduct a life cycle assessment and prepare an EPD. This is important for similar building products (e.g. insulation) because it ensures all manufacturers are conducting LCAs and publishing their EPDs on a consistent basis. PCR is commonly developed by a manufacturer or by an industry association/committee with a third-party program operator guiding the process. It explains how to perform the calculations to transfer recorded data to the environmental impact statement. Although a manufacturer or industry association/committee can develop them, the results are still subject to review by an independent board. Further, the PCR's developer must follow the guidelines of International Organization for Standardization (ISO) 14040, Environmental Management: Lifecycle Assessment−Principles and Framework, and ISO 14025, Environmental Labels and Declarations: Type III Environmental Declarations–Principles and Procedures, or ISO 21930, Sustainability in Buildings and Civil Engineering Works–Core Rules for Environmental Product Declarations of Construction Products and Services. When PCR for a specific category are developed, they tend to remain constant for all similar products seeking an EPD later on. This consistency facilitates comparison in the end.
A life cycle assessment helps the manufacturer quantify the environmental impacts of their products across the entire life cycle. Once a manufacturer understands a product's environmental impacts through every stage, they can then use that information in the new development process to design greener materials. LCA is third-party verified by program operators and governed by ISO 14040 and ISO 14044, Environmental Management: Life Cycle Assessment–Requirements and Guidelines, and EN 15804, Sustainability of Construction Works. Environmental Product Declarations. Core Rules for the Product Category of Construction Products. Once again, the use of independent third parties allows for unbiased interpretation.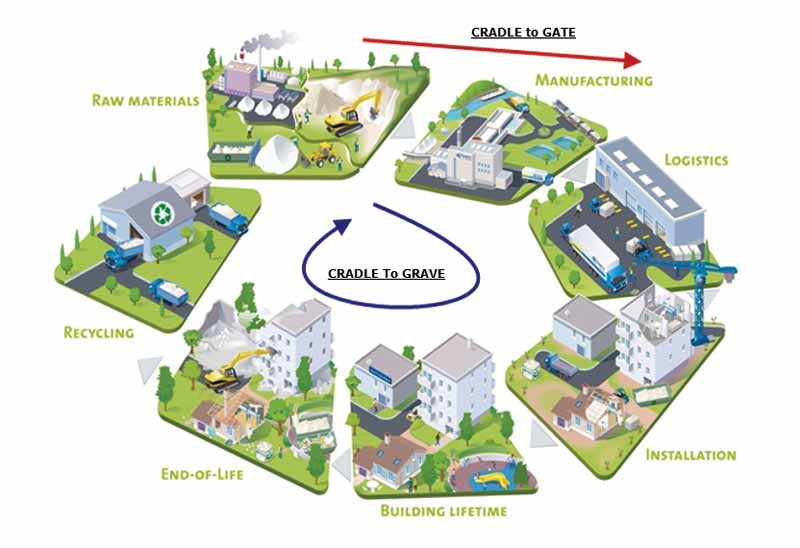 The following five steps are evaluated in an LCA:
1) extraction and processing of raw materials;
2) manufacturing;
3) transportation and distribution;
4) use, reuse, and maintenance; and
5) recycling and final disposal.
The data from the LCA is then used to create an EPD, which also is third-party verified. There are two types of EPDs—"cradle-to-gate" and "cradle-to-grave" (Figure 2). A cradle-to-gate assessment only documents the environmental impact of the extraction and manufacturing phases of a product. Trade associations commonly undertake this method for their "industry-wide generic" EPDs, as they are often limited in their ability to gather concise information at the later stages of a material's life. The calculations are typically a weighted average of the data from participating members. Manufacturers, who assess a product to its end of life, will have a cradle-to-grave, product-specific Type III EPD, published in accordance with ISO 14025 requirements, to add credibility. Note the expression "cradle-to-cradle" refers to a process in which there is a recovery at the end-of-life phase of a product, and the salvaged material is reworked into other products.

Control the content you see on ConstructionCanada.net!
Learn More.