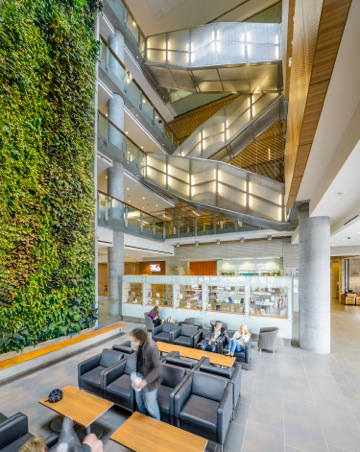 By Ron Treister
In today's commercial interiors, it is vital that spaces for workers, visitors, and suppliers exude a welcoming, vibrant, and 'dressed for success' ambiance. Living plants can be a much-needed component of any commercial building's interior design, as they have the innate ability to naturally transform the space.
From creating positive first impressions, improving people's overall productivity, and giving a fresher and cleaner appearance, plants in the commercial workplace are important.
Perhaps the most well-known proponent for bringing live plants indoors was the iconic U.S. architect, Frank Lloyd Wright. Nature, above all else, was Wright's most inspirational force. He advised his students to, "study nature, love nature, and stay close to nature. It will never fail you."
Wright did not suggest copying the environment, but instead allowing it to be an inspiration. However, Wright believed nature's secrets could only be discovered by diligent contemplation. According to Robert C. Twombly, author of Frank Lloyd Wright, An Interpretive Biography, "Reality and truth were not to be found on the surface of things, but required extensive probing and thought to yield valuable lessons."
Those knowledgeable of commercial construction probably agree with Wright's assessments. Bringing the beauty of nature indoors is positive. Additionally, there is a huge focus on creating buildings offering 'clean air.' As a result, the esthetic appreciation and overall energies people glean from being surrounded by lush green indoor plantings are byproducts of having healthy, clean air inside.
Indoor air can be filled with gaseous contaminants that arise from building materials, furnishings, activities, and the occupants themselves. These contaminants can accumulate and potentially harm those inside the structure.
Birgit Siber, B. Arch, OAA, RAIC, LEED AP, a principal at Diamond Schmitt Architects of Toronto, was one of the first people within her field to fully comprehend the vast benefits of what is now referred to as the 'living wall biofilter.' She stated, "When specifying a living wall, some of the most important considerations are that, of course, it must be naturally beautiful, it must be good for the environment, it must be able to eliminate VOCs [volatile organic compounds]… and, provide white noise."
"So many buildings suffer from 'sick building syndrome,'" Siber continued. "I'm very passionate about buildings that are people-friendly in addition to being attractive. I believe that a well-thought-out commercial building design can actually make the lives of those inside much better. People function better when they can breathe clean, fresh air. Productivity in the workplace increases. And because there are few people on this planet who don't appreciate the visual benefits of nature, a large scale living wall offers visual stimuli unsurpassed. For example, we specified a spectacular, six-storey living wall biofilter at the University of Ottawa's Vanier Hall, which is visible from just about any angle within inside of the building. It is a veritable billboard for sustainability, it gets noticed… and remembered."
How does a living wall biofilter clean the air? It is important to remember it is not the plants, but the microbes growing in association with the plants (i.e. on their roots, surrounding media, and in the water) actually cleaning the air. Although these same microbes exist in the soil of typical potted plants, the fact they are encased in soil and further encased in a plastic pot means these soil microbes have little opportunity to impact indoor air quality (IAQ).
How exactly does a living wall biofilter work? According to Alan Darlington, the founder of an Ontario-based living walls company, "The living wall 'biofilter' combines biofiltration and phytoremediation within a hydroponic plant wall. Behind the scenes, a pump constantly circulates water and nutrients from a reservoir at the base to the top of the wall. The water then trickles down the wall through a porous synthetic root media in which the plants are rooted. Air from the occupied space is actively drawn through the plant wall by either the building's existing HVAC system or onboard fans and is then returned to the occupied space. As the dirty air from the space comes in contact with the growing (rooting) media, contaminants move into the water phase where they are broken down by the beneficial microbes."
What other benefits does a living wall's esthetics offer? Scientifically speaking, many research projects have continued to prove that greening the commercial workspace reduces stress levels of people inside, increases their productivity, and reduces absenteeism.
Can a living wall biofilter actually save a building's owner money? Most commercial buildings are ventilated with new outside air to avoid the buildup of harmful pollutants. This air must be heated in the winter and cooled in the summer, which can represent over 30 per cent of the overall energy consumed by the building. A living wall biofilter (when integrated into a building's HVAC system) can replace a significant portion of this entire fresh air intake. The returned clean air is already at the right temperature and desired humidity—eliminating conditioning.
By avoiding the energy expense of heating, cooling, and conditioning outdoor air, these biofilters can potentially pay for themselves in as little as three to five years. With careful planning, savings can be immediate. For example, the aforementioned six-storey living wall project at the University of Ottawa was designed by Diamond Schmitt Architects to provide all of the building's humidification, which eliminated the capital cost of that equipment piece.
Whereas most green walls serve a purely esthetic role, the visual appeal of these biofilters is simply a byproduct of its inner workings. The more important functions of providing clean air and improving building performance offer measurable and sustainable benefits to owners and occupants alike.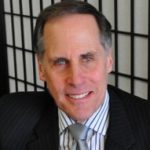 Ron Treister is the president of Communicators International in Jensen Beach, Florida. He has more than 20 years of experience working with the building and architectural design communities and has written for various construction publications. Treister can be reached at rlt@communicatorsintl.com.

Control the content you see on ConstructionCanada.net!
Learn More.