The importance of material choice in flooring decisions
by sadia_badhon | July 18, 2019 2:33 pm
By Mindy O'Gara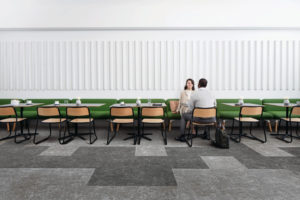 Research suggests the average moderately active human[2] will walk a distance of about 177,028 km (110,000 mi) in their lifetime, the equivalent of walking around the equator five times. These steps define an individual's existence as they move from one place to another, inside to outside and vice versa, marking the different legs of one's trek to reach a destination.
People have a very unique relationship and innate gravitation to the ground, and subsequently, the floor. At its surface, a floor can define a space, create the appearance of motion or movement, be a wayfinding element, or provide direction and sense of navigation from one place to another. Flooring can also affect how an individual may feel and how comfortable they are within a space. Helping to emotionally ground those who use it, the floor influences a sense of culture and connection among its inhabitants through all 216,262,500 steps made in each individual's lifetime.
Materials play an integral role in how people shape and experience three-dimensional spaces with the various senses, especially as related to flooring design. The floor is the only area in a space all people must touch. Originating at the first design meeting, the conversations between designer and end user often include detailed considerations of flooring, including how it should perform with an initial design concept, if there are any budget limitations, and ultimately, how the final selections can foster culture, mood, tone, connection, performance, and more.
To fully understand the value of a material—luxury vinyl tile (LVT), modular carpet, or rubber in the case of flooring—designers should consider bridging how a material looks with how it makes the users feel, analyzing how the product behaves, performs, provides benefit, and can be recycled at the end of its usable life.
To achieve flooring experience that benefits the overall space, three qualities should be considered:
design;
performance; and
sustainability.
These traits ensure a variety of preferences and needs are met for the space and individual. It is important to note, with each new project, there is a set of unique needs and requirements. Designers should integrate the three aspects with a fluid and malleable technique depending on the industry and the customer.
Connection through design
Materials have the ability to attract and connect people through colour, texture, and pattern. What is more, design is able to further impact and develop the connection between users and their spatial surroundings, fostering culture and allowing for individuals to achieve desired outcomes of all natures during interactions. For example, if one is working with a business aiming to attract or retain creative, edgy millennials, flooring can be specified to reflect the same innovative and original qualities, further establishing a potential prospect or existing employee's connection to the space. As millennials continue to challenge the norms of the workplace, spaces should incorporate design elements to encourage wellness and foster collaboration, such as selecting flooring that embodies biophilia through its design. Biophilic design embodies human's inherent connection to the natural world and can be achieved through natural light, vegetation, natural textures and materials, and natural views. This inclusion of biophilic design in the built environment encourages productivity and positivity.
An increasingly thought-provoking subject matter, the relationship between people and their environment, or environmental psychology, is now a field of study. According to the Positive Psychology Program[3], environmental psychology explores the psychological and behavioural aspects of people and nature, stress related to physical space, the ecological consequences of human actions on the built and natural environments, and more. The resulting research studies for this field examine the effects of the built and natural environment on the mind.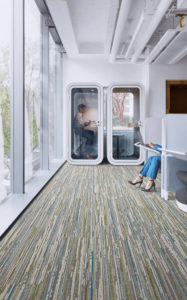 One concept associated with environmental psychology is the 'ideal environment,' or a spce in which individuals 'feel self-assured and competent,' allowing for natural engagement with the spatial setting. The four factors defining an 'ideal environment' are:
unity, or the feeling that all components in the space work together;
legibility, or the ability to navigate through the area easily;
complexity, or diversity that makes the space interesting; and
mystery, or the want to learn more about the environment.
The four factors of the 'ideal environment' can be evoked through successful design and material selection and execution. As the flooring is the foundation of any room, it is often one of the first interior design choices, later combined with furniture, lighting, and accessories to bring an area to life. Implementing a design foundation that aligns with positive environmental psychology can be helpful in improving user experiences.
Most often, the user's physical and psychological connection to material selection is tied to their individual human perception and cognition. Sensory experiences such as how something looks, feels, and captures sound in tandem with psychological interpretation fuel how people feel about the material and the overall space. Since materials often evoke different memories or reactions, there is complexity and room for individual interpretation in the interaction, demonstrating the importance of material choice in bringing a design to life and as a result, a positive experience to the user.
Utilizing a modular flooring system that allows a designer to choose from a variety of materials (i.e. LVT, carpet tile, and rubber flooring) provides flexibility that can better support a space or design concept. In addition to design appeal, individuals can move safely and comfortably from surface to surface, creating a smooth transition throughout a building's footpath.  A clean connection, without the need for transition strips, is sought after by many architects and designers, as it supports a certain esthetic by providing smooth movement between materials.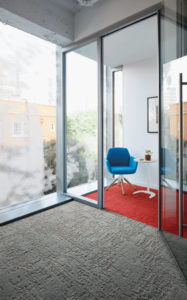 Further, most corporate offices can expect some space modifications over time. A change in corporate culture, repurposing of an area, or expansion into a new space are examples of changes that can affect the space and, as a result, the floor. A flexible, modular system enables the floor to adapt to these renovations by modifying only the affected portions of the floor. All of this churn can happen without major disruption or loss of design integrity. Another benefit to a modular flooring system resonating with customers is the ability to refresh flooring based on design preferences or trends, or shift the flooring components to balance budgetary needs.  In some cases, a specifier can suggest using different flooring in high-impact areas and low-cost flooring choices in back-of-house areas. By selecting a single manufacturer system with multiple flooring types, individuals have the flexibility to look at the floor as an entire package, and are able to fit the needs and qualities of all spaces.
As design trends evolve and occupied spaces vary, flexibility in adding, exchanging, or removing flooring is important to keep in mind when making a material decision.
Performance matters
When selecting flooring materials, addressing the performance expectations allows for confidence the products will align with the needs of the space. Devoting time to speak to the product's performance can give context on how to best work with a project's budget to achieve design and performance goals.
Performance can include appearance retention, durability, maintenance required, and warranty details. Depending on an end user's needs for a given environment, certain factors may be more crucial than others through the specification and design processes.
For example, a higher education facility may request light coloured flooring for a highly trafficked area to align with current design trends or brand standards. Instead of using carpet, the designer might select a modular LVT product in the desired colourway to meet performance needs. With this selection, the design would allow for skinny planks or squares to be removed and exchanged without replacing the entire floor.
Alternatively, an office building design may identify acoustics as the top pain point. To encourage collaboration and ideation in an open office space, end users can select modular carpet tiles with acoustical benefits or resilient flooring.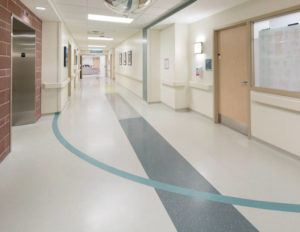 Building code requirements and regulations deserve primary attention when looking at flooring performance. Medical facilities such as hospitals and doctor offices often have national, city, and legal regulations defining what flooring is required alongside equipment and technology standards.
The medical industry also places significant emphasis on maintenance ease, as it directly impacts patients and staff. The Woodstock Hospital in Woodstock, Ont., cited reduced maintenance as a factor in its flooring decision, highlighting minimal down time. The hospital service offerings include a 24-hour emergency department, chemotherapy clinic, dialysis unit, and a critical care unit, operating rooms (ORs), and labour and delivery rooms. To support these varying services and accommodations, it was necessary for the hospital to select high-performance flooring that was safe, easily cleaned and maintained, and allowed for quick transitions from room to room between hospital operations.
Esthetic appeal, flexibility, cost, availability, customer service, and performance are a few of the elements that define value for a customer. Similar to design, working with a modular flooring system with mathematically compatible components allows the end user to meet performance needs making for easy installation, replaceability, modification, and expansion.
Impact of sustainable design choices
When meeting with a customer, understanding the business' values and sustainability goals are just as important as understanding the building's use. Are they wishing to earn Leadership in Energy and Environmental Design (LEED) certification? Does their organization support certain causes or initiatives? Do they value reducing their environmental impact? Depending on these answers, various materials may be more ideal for certifications, or to aid in reaching the company's sustainability-centric missions.
It is imperative specifiers ask flooring manufacturers questions to ensure products not only meet the visual appeal for the customer, but also sustainability goals. Is the product recyclable? How does the company address and measure renewable energy, carbon footprint, and address or eliminate waste?
As reversing climate change is an initiative affecting all businesses, and human kind, these questions around manufacturing and innovation practices should inform decisions, and ultimately, lower the customers' carbon footprint. Anyone involved in the specification process has a responsibility when selecting materials to choose those that make a positive environmental impact, regardless of if they intend environmental certification.
Conclusion
In closing, good design is all encompassing, and as such, it is important to choose materials to meet the beauty, performance, and sustainable values the end user cherishes. It is important to identify individual needs of the spaces within a building rather than abiding by a one-product-fits-all mindset. Through specifying modular flooring types from a single manufacturer, such as modular carpet, LVT, and rubber, a single institution can maintain a lower carbon footprint by streamlining its supply chain. Additional benefits of specifying from a single manufacturer include fluid flooring options. For example, working with one manufacturer increases the likelihood that the modular flooring options are compatible and work as one cohesive system, allowing specifiers to easily select the right integrated flooring while enabling smooth transitions between surfaces and having the option of coordinated colours and patterns.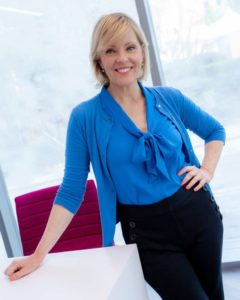 [7]Mindy O'Gara blends is the director of product and learning experience at Interface, a commercial flooring company. After achieving a bachelor of interior design degree and working as a commercial interior designer for several years, O'Gara joined Interface and served in various design and marketing related roles. O'Gara educates both internal and external audiences on Interface's product offering. She can be reached at mindy.ogara@interface.com[8].
Endnotes:
[Image]: https://www.constructioncanada.net/wp-content/uploads/2019/07/Walk-About_Carbon_Walk-of-Life_Cool-Ash-Opener.jpg
active human: http://www.opma.ca/foothealth
Positive Psychology Program: http://positivepsychologyprogram.com/environmental-psychology
[Image]: https://www.constructioncanada.net/wp-content/uploads/2019/07/Video-Spectrum_Urban_Ashlar-Opener.jpg
[Image]: https://www.constructioncanada.net/wp-content/uploads/2019/07/Shaded-Pigment_Ink-Accent_Carbon-Accent_Ashlar-Opener.jpg
[Image]: https://www.constructioncanada.net/wp-content/uploads/2019/07/01-woodstock2117-1.jpg.jpg
[Image]: https://www.constructioncanada.net/wp-content/uploads/2019/07/MindyHeadshot.jpg
mindy.ogara@interface.com: mailto:mindy.ogara@interface.com
Source URL: https://www.constructioncanada.net/the-importance-of-material-choice-in-flooring-decisions/
---