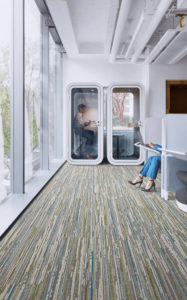 One concept associated with environmental psychology is the 'ideal environment,' or a spce in which individuals 'feel self-assured and competent,' allowing for natural engagement with the spatial setting. The four factors defining an 'ideal environment' are:
unity, or the feeling that all components in the space work together;
legibility, or the ability to navigate through the area easily;
complexity, or diversity that makes the space interesting; and
mystery, or the want to learn more about the environment.
The four factors of the 'ideal environment' can be evoked through successful design and material selection and execution. As the flooring is the foundation of any room, it is often one of the first interior design choices, later combined with furniture, lighting, and accessories to bring an area to life. Implementing a design foundation that aligns with positive environmental psychology can be helpful in improving user experiences.
Most often, the user's physical and psychological connection to material selection is tied to their individual human perception and cognition. Sensory experiences such as how something looks, feels, and captures sound in tandem with psychological interpretation fuel how people feel about the material and the overall space. Since materials often evoke different memories or reactions, there is complexity and room for individual interpretation in the interaction, demonstrating the importance of material choice in bringing a design to life and as a result, a positive experience to the user.
Utilizing a modular flooring system that allows a designer to choose from a variety of materials (i.e. LVT, carpet tile, and rubber flooring) provides flexibility that can better support a space or design concept. In addition to design appeal, individuals can move safely and comfortably from surface to surface, creating a smooth transition throughout a building's footpath.  A clean connection, without the need for transition strips, is sought after by many architects and designers, as it supports a certain esthetic by providing smooth movement between materials.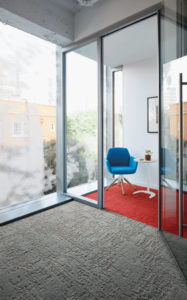 Further, most corporate offices can expect some space modifications over time. A change in corporate culture, repurposing of an area, or expansion into a new space are examples of changes that can affect the space and, as a result, the floor. A flexible, modular system enables the floor to adapt to these renovations by modifying only the affected portions of the floor. All of this churn can happen without major disruption or loss of design integrity. Another benefit to a modular flooring system resonating with customers is the ability to refresh flooring based on design preferences or trends, or shift the flooring components to balance budgetary needs.  In some cases, a specifier can suggest using different flooring in high-impact areas and low-cost flooring choices in back-of-house areas. By selecting a single manufacturer system with multiple flooring types, individuals have the flexibility to look at the floor as an entire package, and are able to fit the needs and qualities of all spaces.
As design trends evolve and occupied spaces vary, flexibility in adding, exchanging, or removing flooring is important to keep in mind when making a material decision.
Performance matters
When selecting flooring materials, addressing the performance expectations allows for confidence the products will align with the needs of the space. Devoting time to speak to the product's performance can give context on how to best work with a project's budget to achieve design and performance goals.
Performance can include appearance retention, durability, maintenance required, and warranty details. Depending on an end user's needs for a given environment, certain factors may be more crucial than others through the specification and design processes.
For example, a higher education facility may request light coloured flooring for a highly trafficked area to align with current design trends or brand standards. Instead of using carpet, the designer might select a modular LVT product in the desired colourway to meet performance needs. With this selection, the design would allow for skinny planks or squares to be removed and exchanged without replacing the entire floor.
Alternatively, an office building design may identify acoustics as the top pain point. To encourage collaboration and ideation in an open office space, end users can select modular carpet tiles with acoustical benefits or resilient flooring.

Control the content you see on ConstructionCanada.net!
Learn More.