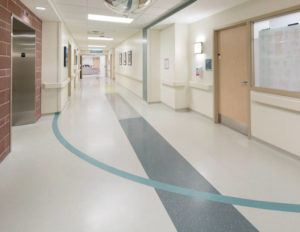 Building code requirements and regulations deserve primary attention when looking at flooring performance. Medical facilities such as hospitals and doctor offices often have national, city, and legal regulations defining what flooring is required alongside equipment and technology standards.
The medical industry also places significant emphasis on maintenance ease, as it directly impacts patients and staff. The Woodstock Hospital in Woodstock, Ont., cited reduced maintenance as a factor in its flooring decision, highlighting minimal down time. The hospital service offerings include a 24-hour emergency department, chemotherapy clinic, dialysis unit, and a critical care unit, operating rooms (ORs), and labour and delivery rooms. To support these varying services and accommodations, it was necessary for the hospital to select high-performance flooring that was safe, easily cleaned and maintained, and allowed for quick transitions from room to room between hospital operations.
Esthetic appeal, flexibility, cost, availability, customer service, and performance are a few of the elements that define value for a customer. Similar to design, working with a modular flooring system with mathematically compatible components allows the end user to meet performance needs making for easy installation, replaceability, modification, and expansion.
Impact of sustainable design choices
When meeting with a customer, understanding the business' values and sustainability goals are just as important as understanding the building's use. Are they wishing to earn Leadership in Energy and Environmental Design (LEED) certification? Does their organization support certain causes or initiatives? Do they value reducing their environmental impact? Depending on these answers, various materials may be more ideal for certifications, or to aid in reaching the company's sustainability-centric missions.
It is imperative specifiers ask flooring manufacturers questions to ensure products not only meet the visual appeal for the customer, but also sustainability goals. Is the product recyclable? How does the company address and measure renewable energy, carbon footprint, and address or eliminate waste?
As reversing climate change is an initiative affecting all businesses, and human kind, these questions around manufacturing and innovation practices should inform decisions, and ultimately, lower the customers' carbon footprint. Anyone involved in the specification process has a responsibility when selecting materials to choose those that make a positive environmental impact, regardless of if they intend environmental certification.
Conclusion
In closing, good design is all encompassing, and as such, it is important to choose materials to meet the beauty, performance, and sustainable values the end user cherishes. It is important to identify individual needs of the spaces within a building rather than abiding by a one-product-fits-all mindset. Through specifying modular flooring types from a single manufacturer, such as modular carpet, LVT, and rubber, a single institution can maintain a lower carbon footprint by streamlining its supply chain. Additional benefits of specifying from a single manufacturer include fluid flooring options. For example, working with one manufacturer increases the likelihood that the modular flooring options are compatible and work as one cohesive system, allowing specifiers to easily select the right integrated flooring while enabling smooth transitions between surfaces and having the option of coordinated colours and patterns.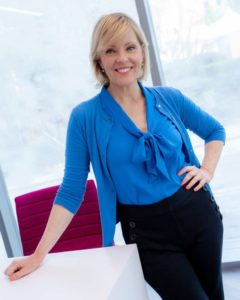 Mindy O'Gara blends is the director of product and learning experience at Interface, a commercial flooring company. After achieving a bachelor of interior design degree and working as a commercial interior designer for several years, O'Gara joined Interface and served in various design and marketing related roles. O'Gara educates both internal and external audiences on Interface's product offering. She can be reached at mindy.ogara@interface.com.

Control the content you see on ConstructionCanada.net!
Learn More.