By Mindy O'Gara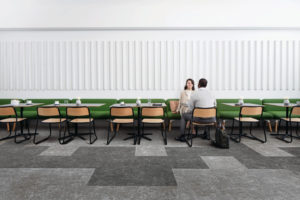 Research suggests the average moderately active human will walk a distance of about 177,028 km (110,000 mi) in their lifetime, the equivalent of walking around the equator five times. These steps define an individual's existence as they move from one place to another, inside to outside and vice versa, marking the different legs of one's trek to reach a destination.
People have a very unique relationship and innate gravitation to the ground, and subsequently, the floor. At its surface, a floor can define a space, create the appearance of motion or movement, be a wayfinding element, or provide direction and sense of navigation from one place to another. Flooring can also affect how an individual may feel and how comfortable they are within a space. Helping to emotionally ground those who use it, the floor influences a sense of culture and connection among its inhabitants through all 216,262,500 steps made in each individual's lifetime.
Materials play an integral role in how people shape and experience three-dimensional spaces with the various senses, especially as related to flooring design. The floor is the only area in a space all people must touch. Originating at the first design meeting, the conversations between designer and end user often include detailed considerations of flooring, including how it should perform with an initial design concept, if there are any budget limitations, and ultimately, how the final selections can foster culture, mood, tone, connection, performance, and more.
To fully understand the value of a material—luxury vinyl tile (LVT), modular carpet, or rubber in the case of flooring—designers should consider bridging how a material looks with how it makes the users feel, analyzing how the product behaves, performs, provides benefit, and can be recycled at the end of its usable life.
To achieve flooring experience that benefits the overall space, three qualities should be considered:
design;
performance; and
sustainability.
These traits ensure a variety of preferences and needs are met for the space and individual. It is important to note, with each new project, there is a set of unique needs and requirements. Designers should integrate the three aspects with a fluid and malleable technique depending on the industry and the customer.
Connection through design
Materials have the ability to attract and connect people through colour, texture, and pattern. What is more, design is able to further impact and develop the connection between users and their spatial surroundings, fostering culture and allowing for individuals to achieve desired outcomes of all natures during interactions. For example, if one is working with a business aiming to attract or retain creative, edgy millennials, flooring can be specified to reflect the same innovative and original qualities, further establishing a potential prospect or existing employee's connection to the space. As millennials continue to challenge the norms of the workplace, spaces should incorporate design elements to encourage wellness and foster collaboration, such as selecting flooring that embodies biophilia through its design. Biophilic design embodies human's inherent connection to the natural world and can be achieved through natural light, vegetation, natural textures and materials, and natural views. This inclusion of biophilic design in the built environment encourages productivity and positivity.
An increasingly thought-provoking subject matter, the relationship between people and their environment, or environmental psychology, is now a field of study. According to the Positive Psychology Program, environmental psychology explores the psychological and behavioural aspects of people and nature, stress related to physical space, the ecological consequences of human actions on the built and natural environments, and more. The resulting research studies for this field examine the effects of the built and natural environment on the mind.

Control the content you see on ConstructionCanada.net!
Learn More.