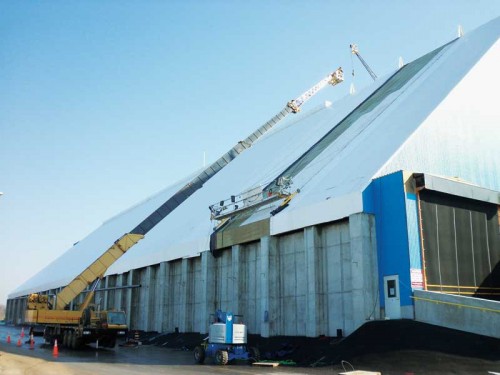 By Jerry Beall
Ketone ethylene ester (KEE) is a flexible, high-molecular-weight thermoplastic co-polymer. When properly compounded with polyvinyl chloride (PVC), the resulting single-ply membrane can be bonded or 'fused' to itself with hot air, requiring neither torching nor adhesives. Among its many performance benefits in roofing assemblies, the polymer promotes chemical resistance and remains highly flexible with age.
In the September 2003 issue of RCI's Interface magazine, this author wrote an article discussing the then-new ASTM standard for KEE sheet roofing membranes. (The article, "A KEE Standard for Roofing Membranes," appeared in the September 2003 issue of Interface, a magazine published for RCI International [formerly the Roof Consultants Institute]). In the eight years since, those products have received a lot of attention. If imitation really is the sincerest form of flattery, then the original manufacturer of KEE should be overjoyed. However, growing use of this polymer as a vinyl modifier for roofing membranes and subsequent manufacturers claiming they too are KEE have clouded the premise of the ASTM standard.
ASTM D 6754-02, Standard Specification for Ketone Ethylene Ester-based Sheet Roofing, was predicated on the KEE polymer being the backbone or primary polymeric component of the membrane. While having KEE should surely improve any vinyl product (assuming the manufacturer understands its unique processing variables), this does not justify coat-tailing the historical record or claims of compliance to the specifics enumerated within the ASTM standard.
A brief history lesson
In March 2002, ASTM assigned a number to a new thermoplastic roofing membrane standard. At that time, ASTM D 6754-02 was the exclamation point to a 15-year saga associated with its development. The journey began in the late 1980s as an effort to assure the roofing industry it was possible to manufacture a sustainable 'vinyl' roofing membrane less than 1.14 mm (0.05 in.) thick capable of meeting or exceeding the performance expectations of thicker membranes.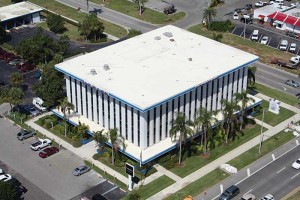 The specification has been revised and now carries the reference ASTM D 6754/6754M-10. However, before this, the only official option for evaluating and/or characterizing vinyl membranes was ASTM D 4434, Standard Specification for Polyvinyl Chloride Sheet Roofing.
Published in 1985, this was the first consensus standard for thermoplastic single-ply membranes. It was the result of a due process procedure that produced consensus among roofing industry professionals for characterizing PVC sheet roofing. The development of ASTM D 4434 came at a time when PVC membranes, as roof coverings, were recovering from the stigma associated with early failures. The standard established a nationally recognized definition for PVC roofing membranes.
Section 4.1 of ASTM D 4434-96 defined the applicable material as follows:
The sheet shall consist of poly (vinyl chloride) resin in amounts greater than 50% of the total polymer content suitably compounded with plasticizers, stabilizers, fillers, pigments, and other ingredients to satisfy the physical property requirements and accelerated durability tests.
The standard also cited physical properties intended to characterize a 'good' PVC roofing membrane; it evolved to include a couple of grades and types of PVC roofing that offered different considerations toward internal reinforcements, resistance to heat aging, and resistance to ultraviolet (UV) light. While these are significant considerations, the industry eventually adopted an overriding paradigm that focused on thickness as a prerequisite for performance, and the ultimate measure of viability for a vinyl, or any polymeric, membrane. This theory is just as pervasive today—there are single-ply roofing membranes being offered in thickness up to 3 mm (0.12 in.).
Since its conception, ASTM D 4434 had been the benchmark for the competitive evaluation of vinyl membranes. Although invaluable in its own right for establishing minimum characteristics for a particular segment of vinyl/PVC membranes, it is not necessarily applicable to all vinyl roofing membranes.
There were various vinyl roofing membranes in existence at the time the standard was adopted in 1985. In addition to 'liquid' polymeric materials (i.e. plasticizers) used to impart flexibility, solid polymers such as vinyl acetate, nitrile, and chlorinated polyethylene were also being used as alternative modifiers for vinyl membranes. Was it appropriate to lump all the variable fabric, compounding, and production technologies available under one universal standard for thermoplastic vinyl roofing membranes? The adoption of ASTM D 4434 had an unintended consequence of doing just that.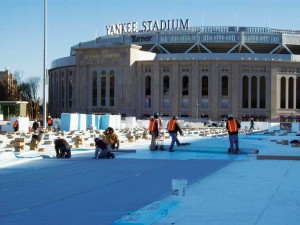 The technology to produce vinyl membranes, defined within D 4434, uses a typical platform that begins with a high molecular weight PVC resin but extends it and makes it flexible with a lower-molecular-weight liquid plasticizer. The challenge for this process is to produce a material that sustains its flexibility, even though the lightweight plasticizers tend to volatilize and drift away from the PVC polymer over time, exiting the sheet.
Certain environments can accelerate this process, leaving a membrane prone to in-situ shrinkage and stiffening. A minimum polymer thickness is required to function as a reservoir to prolong the time it takes for these liquid polymeric materials to migrate to the surface and erode away.
KEE and PVC: chemistries and standards
In this author's 2003 article, the roofing industry was cautioned not to "win the battle and lose the war." At the time, the meaning of this sincere warning was not fully grasped. Eight years later, it is important to recognize all vinyl membranes, though significantly different in their technological platforms, offer many sustainable advantages. This is especially poignant in light of those that that have set their sights on the complete elimination of PVC. On the other hand, it is also true some of these technologies have proven to be more effective than others.
The original acronym used to differentiate KEE technology from conventional vinyl technology was EIP (i.e. ethylene inter-polymer). The few parties associated with the development and introduction of EIP roofing membranes in the early 1980s contended that thicker was not necessarily better—rather, 'better' was better. This claim was not without precedent. The actual foundation for EIP roofing was laid in 1974 with the introduction of a geomembrane that pioneered the use of a proprietary KEE vinyl modifier to create a high-performance and chemical-resistant membrane for environmental applications.
The EIP acronym and its associated performance record began to catch on and was eventually recognized by the National Roofing Contractors Association (NRCA) in its Low Slope Guide. In the late 1980s and early 1990s, additional manufacturers introduced new versions of membranes under the EIP banner.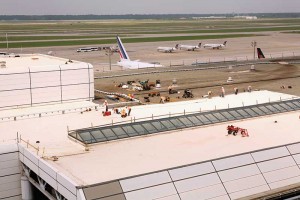 Was the difference between EIP and PVC technologies significant enough to warrant the development of a separate standard? ASTM was petitioned to take a look and agreed to initiate a committee to evaluate EIP roofing membranes. The subcommittee for the development of a standard specification for ethylene-inter-polymer sheet roofing was formed in 1987.
The term 'EIP' was used to differentiate membranes manufactured using a hot melt vinyl coating technology with the proprietary KEE modifier—DuPont Elvaloy—as the foundation for the vinyl compound. Elvaloy is a flexible co-polymer containing ketone, ethylene, and ester monomers all within the backbone of the polymer. Simply put, it is a high-molecular-weight, solid, and flexible thermoplastic polymer. PVC resin is added to and alloyed with the Elvaloy to impart its more desirable properties such as strength, abrasion resistance, and flame retardancy.
Elvaloy and PVC are completely miscible, becoming a single-phase polymer when mixed. They disperse within each other and, since both polymers are high in molecular weight, they will not migrate away from each other when properly alloyed. Their affinity for each other ensures membrane flexibility in severe environments that would otherwise accelerate the loss of liquid plasticizers in conventional PVC membranes.

Control the content you see on ConstructionCanada.net!
Learn More.