Sustainability awards open for entries
January 16, 2017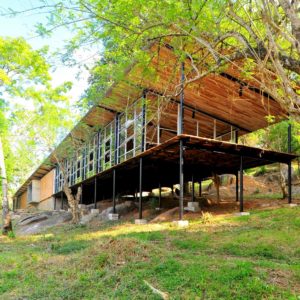 Until March 21, registration[2] is open for both categories of the fifth International LafargeHolcim Awards for Sustainable Construction. Eligible projects may be in the field of architecture, building and civil engineering, landscape and urban design, materials, products, or construction technologies, as long as they fit the competition's basic requirements.
The awards will feature a jury hosted by the University of British Columbia[3] (UBC) School of Architecture and Landscape Architecture[4] (SALA). Headed by Ray Cole, PhD, professor of architecture and a former director of SALA, this jury includes two Canadian members—Paul Fast, founder of Fast & Epp, and Dominique Corvez, head of LafargeHolcim's ultra-high-performance concrete (UHPC) division.
The primary requirement for consideration in these awards is contribution to five 'target issues,' referred to as:
progress;
people;
planet;
prosperity; and
place.
In other words, submitted projects should take innovation, ethics, environmental preservation, economics, esthetics, and geographic context into account. The design must have developed to an advanced stage, be highly likely to be actualized, and not have begun earlier than July 4, 2016.
Entrants for both categories must be at least 18 years old as of the closing date, and those wishing to enter the Next Generation category must be no older than 30. That said, there is no rule barring entrants younger than 30 from entering the main category, and no limitation on the number of submissions per person, provided none are duplicates. Entries are allocated to one of five regions—Europe, North America, Latin America, Middle East Africa, or Asia Pacific—according to the location of the project.
Submissions must also include the following information:
contact details for all team members;
project location, dimensions, materials, cost, and other technical aspects;
a project summary (including background and conceptual information);
details on how the project responds to the target issues;
at least five, but no more than 10, project images; and
an author and/or team photo.
Even once a submission is complete, it can still be edited by logging in with an ID number assigned by the online system. No hard copies will be accepted.
The winner of LafargeHolcim Awards Gold—the highest honour in the main category—will receive $100,000 USD, while the first-prize winner of the Next Generation category will receive $25,000 USD. Awards will be presented in each region between the months of September and November.
Submissions will be reviewed in June. Detailed guidelines on how to enter are available here[5].
For more information on the LafargeHolcim Awards, check out Construction Canada's case study[6] and overview[7] on previous winners.
Endnotes:
[Image]: http://www.constructioncanada.net/wp-content/uploads/2017/01/A15GLfiLK-03.jpg
registration: https://application.lafargeholcim-awards.org/
University of British Columbia: https://www.ubc.ca/
School of Architecture and Landscape Architecture: https://sala.ubc.ca/
here: https://src.lafargeholcim-foundation.org/dnl/068e123a-514c-4285-9c20-9d0a452469f8/LafargeHolcimAwards-StepByStep-A4highres.pdf
case study:
overview: http://www.constructioncanada.net/canadian-projects-among-those-honoured-by-holcim/
Source URL: https://www.constructioncanada.net/sustainability-awards-open-for-entries/
---