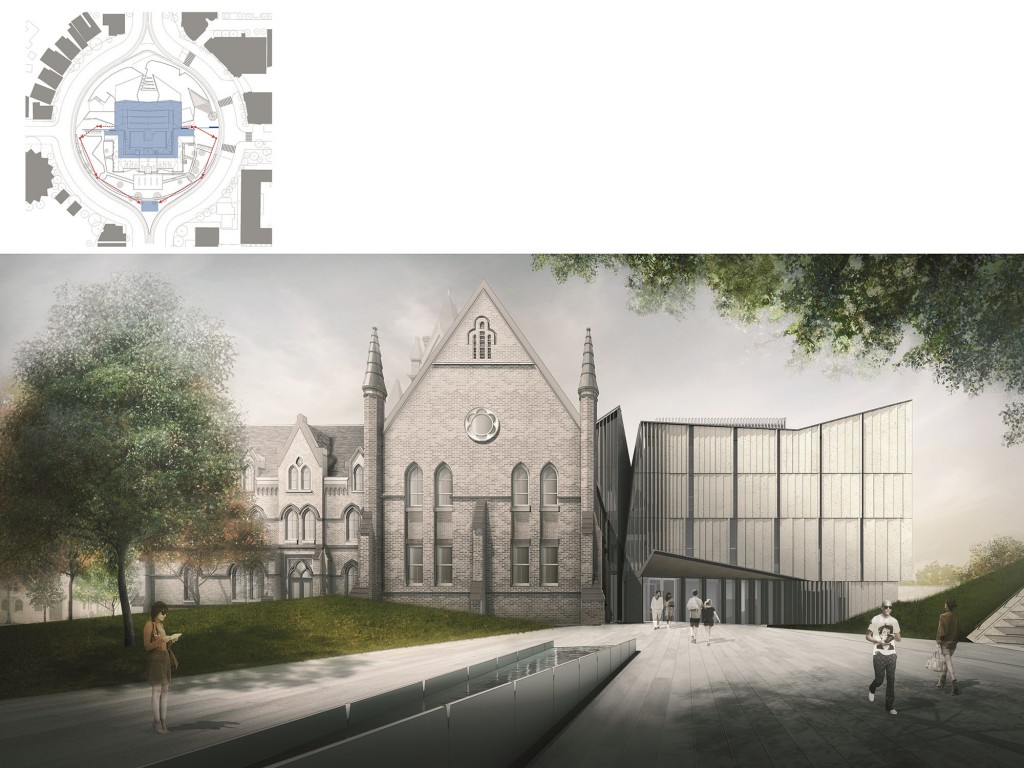 On September 19, the Holcim Foundation for Sustainable Construction announced the winning projects for the North American region of the Holcim Awards. The program, held every three years, honours "innovative, future-oriented and tangible construction projects"—that have not yet been built. (In previous cases, winning a Holcim Award has helped spur the development of a theoretical project—almost half of all winners have now been built.)
The Gold prize went to Amy Mielke and Caitlin Taylor (Water Pore Partnership) for their idea of a water-absorptive 'urban skin' surface and subterranean basin that would capture Las Vegas' rain runoff, and add more than 75,000 ML (20 billion gal) to the city's water supply capacity.
Danish architect Bjarke Ingels' firm, BIG, took the Silver prize thanks to its urban flood-protection concept for Lower Manhattan. The 13-km (8-mi) long infrastructural barrier includes various raised berms and other public-space infrastructure to mitigate damage caused by hurricanes.
A zero-carbon compostable structure, recently on display at MoMA New York, claimed Bronze for designer David Benjamin (the Living architecture lab). It uses advances in biotechnology, computation, and engineering to create a new building material—bricks comprising corn stalks and fungal organisms—that is almost fully organically grown and compostable.
Canadian projects were also among those recognized at the ceremony, held at Evergreen Brick Works in Toronto—itself a 2008 Holcim Awards prize-winning project—and featuring a keynote speech by the city's former mayor, David Miller.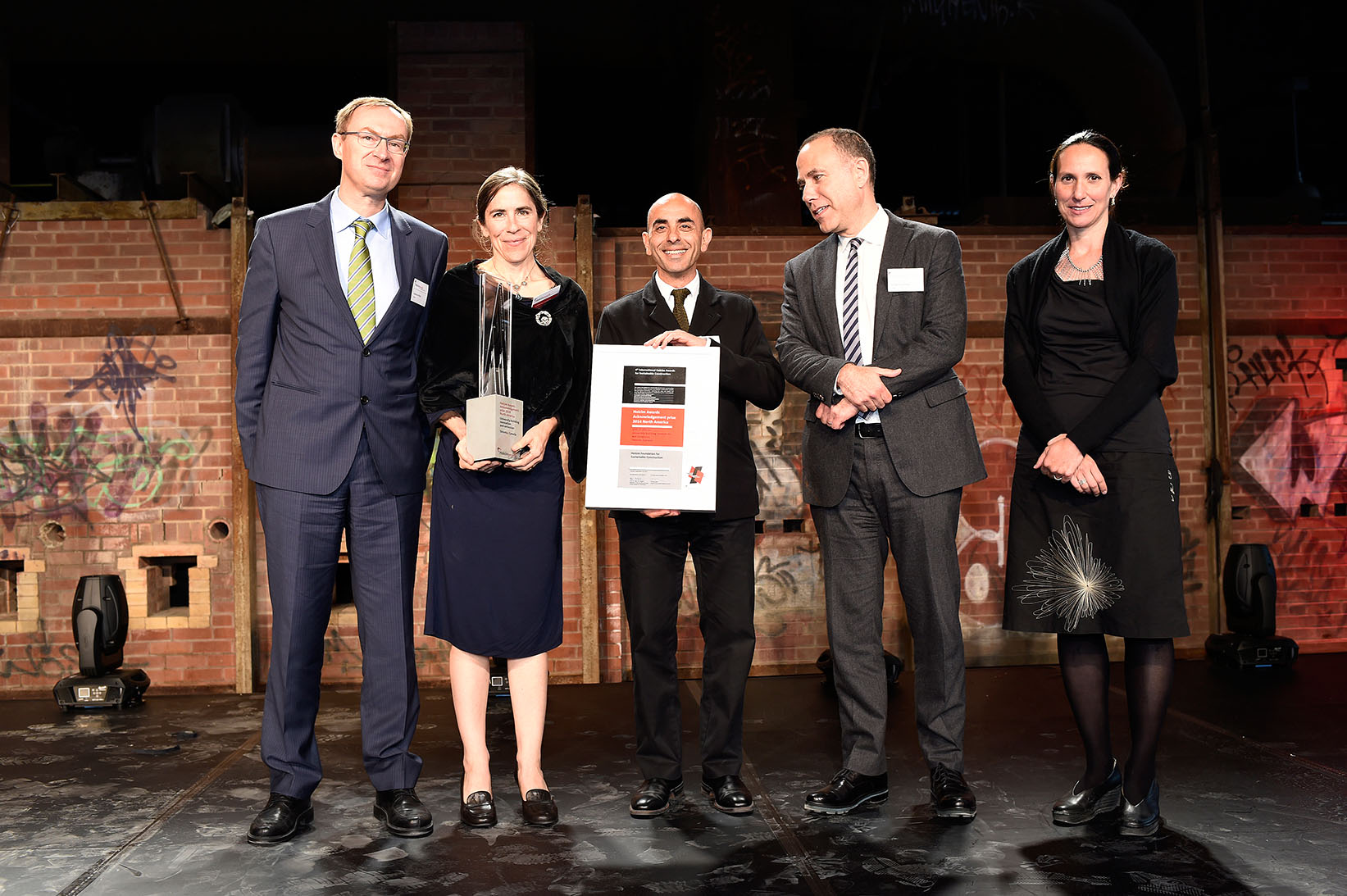 Boston architects Nader Tehrani and Katherine Faulkner (NADAAA) received an Acknowledgement prize for their renovation and extension of the University of Toronto's 19th century John H. Daniels building, located downtown. Additionally, in the Next Generation category for young design professionals, Toronto's Jonathan Enns (solidoperations) was awarded for his concept of an interlocking panelized timber building system—suitable for multi-family construction in remote areas.
Both projects will be the focus of future web articles on Construction Canada Online.
Other Acknowledgement prizes went to:
● Paris-based ABF-lab architects for a public 'forest' park and interactive wall in Seattle;
● Sheila Kennedy and J Frano Violich (Kennedy & Violich Architecture) for the Chrysanthemum Building—an affordable residential urban infill development in Boston; and
● Peter and Hadley Arnold (Woodbury University's Arid Lands Institute) for a digital tool for urban design and water-use planning in Los Angeles.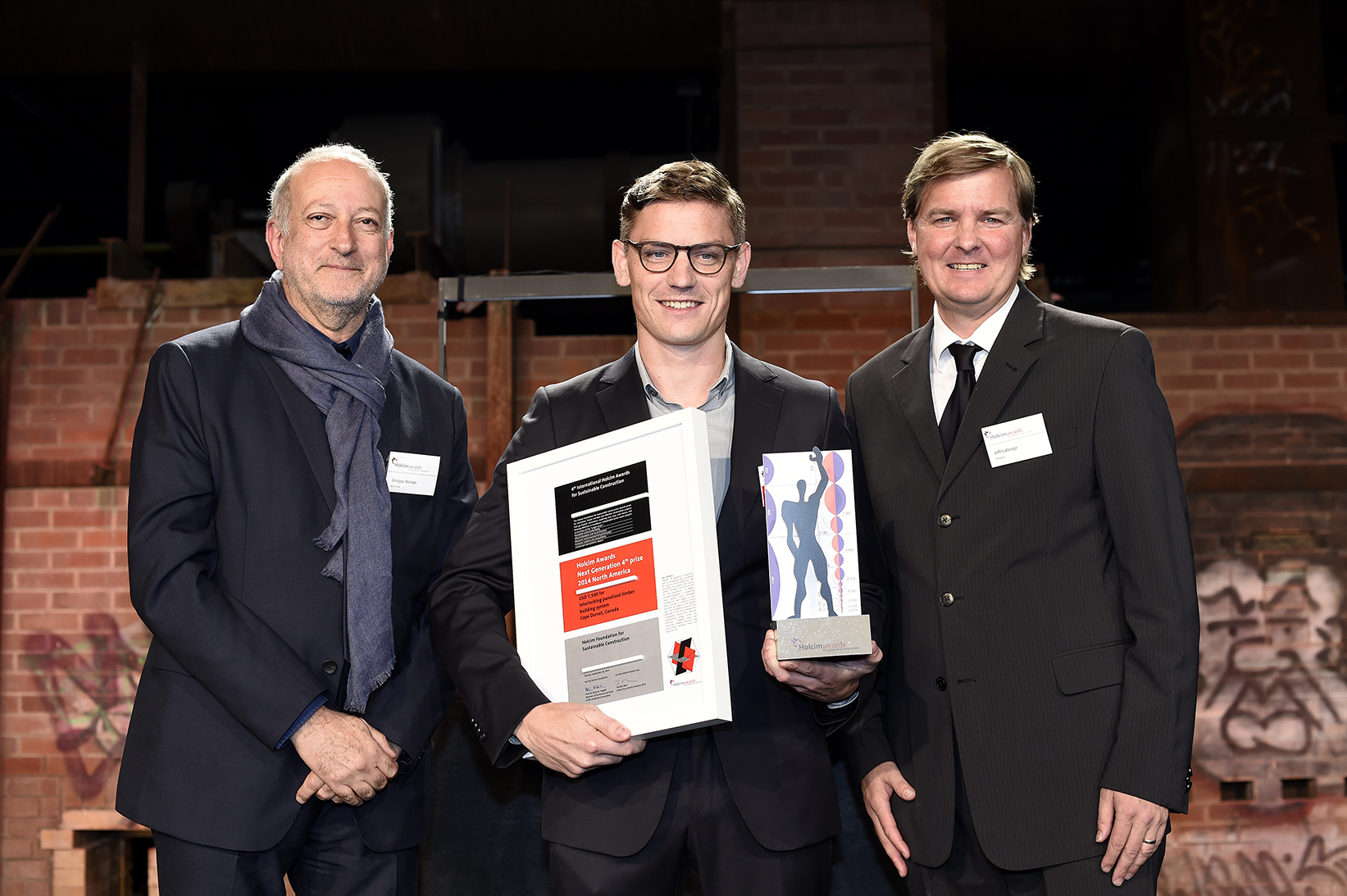 The five other Next Generation winners were:
Brooklyn-based architect Debbie Chen for a municipal centre for harvesting utility from waste in New York City;
Kenya Endo of Atelier Dreiseitl Asia (Singapore) for a proposal to use former coal mining sites for hydro-pump electricity storage in Greene County, Pennsylvania;
Beomki Lee, Suk Lee, and Daeho Lee (students at the Massachusetts Institute of Technology [MIT]), for an air purification wall that transforms carbon dioxide into oxygen through bio-mimicry;
Mark Turibius and Jongman-Sereno (Harvard University) for adaptive reuse of a San Francisco parking structure for cultural activities in San Francisco; and
Namjoo Kim (MIT) for a new method for creating thin concrete panels.
A jury of international experts, led by U.S. architect Toshiko Mori, selected the winners using criteria for sustainable construction referred to as the five Ps: progress, people, planet, prosperity, and place. The intent is to consider environmental, social, and economic performance, while also highlighting the need for architectural excellence and a high degree of transferability.
The top three regional North American winners will now go on to next year's global competition, measured against other projects from Europe, Latin America, Africa/Middle East, and Asia Pacific.
More information on all the projects can be found at www.holcimawards.org/nam.