The author's preferred approach of interacting and sharing design information is to supply it through drawings and specifications. In the author's case, they need to supply the loads the roof components must resist and how they should attach to the roof structure. The load information that needs to be conveyed is shown below:
   ○ Constant
        ■ Self-weight, mechanical units
○ Collateral
■ Mechanical ductwork
■ Architectural finishes (ceilings, bulkheads)
○ Minimum live load
○ Load on roof membrane
○ Projections off the roof (mechanical units and screens)
○ Basic snow load
○ Snow buildup due to
■ items on the roof (mechanical units and ductwork), screens
■ roof geometry
○ Distribution due to roof geometry and deflection of members
Article 2.2.4 Division C Volume 1 of the NBC requires the following information to be shown on structural drawings:
a) sufficient detail to enable the dead loads to be determined
b) all effects and loads, other than dead loads, used for the design of the structural members and exterior cladding
c) the dimensions, location and size of all structural members in sufficient detail to enable the design to be checked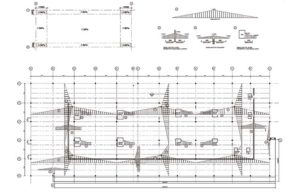 The author puts the main portion of the design loads on the roof structural drawings and adds the required information in the general notes (Figure 10).
Mechanical ducting or gypsum assemblies are often supported off the roof structure. This can be done in two ways: typical details on the structural drawings with the specifications cross referencing the details or sketches included in the specification section of the sub trade. Often, the latter are missed and catch the sub trades by surprise. Commonly, architectural sub trades do not look at, or are not given, the structural documents by the general contractor.

Control the content you see on ConstructionCanada.net!
Learn More.