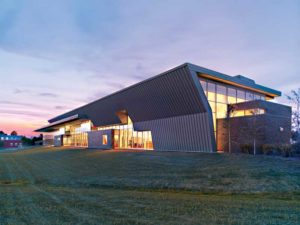 By David Thompson, P.Eng.
Design professionals often work in isolation, with each discipline (architectural, structural, mechanical, and electrical) doing their own thing and only getting together after they have completed most of their individual design contribution to co-ordinate dimensions. This approach frequently limits the amount of detailed information exchanged between the design team until the final stages of the project. Crucial data is unintentionally missed, and this can significantly affect the structural design of roof systems. Anticipating what the structural engineer needs to consider to make design choices and how the other disciplines influence these decisions (many times without realizing it) will be addressed in this article, as well as:
How rain, snow, and wind loads are handled in Canada and the U.S.
Historical context that influences how the different loads are estimated
Impact of decisions made by the project team which affect structural engineering outcomes
Influences of product limitations and load capacities from manufacturer's technical information
Information that must be included in contract structural specifications to address influences from roofing
Weather
Roofs prevent weather from affecting the lives of people inside a building. Extreme weather events occur either when a large-scale system (cold or warm front), short-lived storms, or snow squalls move through an area. Short-lived storms can develop into thunderstorms, hailstorms, or tornadoes. Thunderstorms can cause extreme wind events, hailstorms, and/or tornadoes (Figure 1).
Environment Canada's website has several interesting facts on these weather conditions:
Both Ontario and the Prairie Provinces (Alberta, Saskatchewan, and Manitoba) each experience an average of 20 short-term severe rain events (i.e. thunderstorms) each year.
In the Prairie Provinces, there are 40 to 50 severe wind events, with wind gusts greater than 90 km/hr (56 mph), on average due to thunderstorms. In Ontario, severe wind events occur on average between 40 and 70 times.
In Ontario and Quebec, 17 tornadoes occur each year on average. Across the Prairies, there is an average of 43 tornadoes each year.
Hail is a major problem in the Prairies—causing more damage than all other weather events combined.
Ontario has about 25 per cent of the annual hail events in Canada.
Environment Canada has supplied design values in Table C-2 of Volume I, Division B, Appendix C, of the National Building Code of Canada (NBC). Appendix C gives a good explanation of the background for the design values. The appendix notes, for locations not listed in Table C-2, designers should contact Environment Canada. One item that needs to be clarified is the term "1/50 year," meaning there is a probability of two per cent of the value occurring during the year. It is possible for the value to be exceeded one or more times in a year.

Control the content you see on ConstructionCanada.net!
Learn More.