Steeling the construction industry for education
June 2, 2017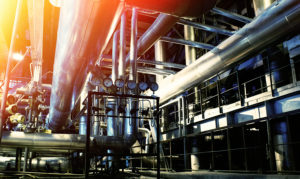 Members and associates of the Canadian Institute of Steel Construction[2] (CISC) will host various events on September 15 as part of the association's SteelDay[3]. Tours will be offered at a range of steel-related facilities, to educate the design/construction industry on the benefits of using steel (such as sustainability, reduced risk, cost-effectiveness, esthetics, and speed of construction).
Each host's tour falls into one of the following categories:
structural steel fabricators;
steel mills;
steel service centres;
hollow structural section (HSS) producers;
bender-rollers;
galvanizers; or
other.
The exact details of each event will vary by host, but basic information on each type of tour is available.
Structural steel fabricators
Covering the process between receiving steel and shipping it, fabricator events discuss the various tasks inherent in fabrication, as well as the necessary equipment and broader topics such as use of building information modelling (BIM) and quality control.
Steel mills
Steel mills events delve into both production and disposal, giving attendees insight into scrap metal recycling as well as schedules, quality control (e.g. verification of dimensions), and the steel-making process as a whole.
Steel service centres
As the distributors of the material, steel service centres illuminate topics such as prefabrication processing and fulfilling delivery requirements. As these centres buy steel from mills and provide it to fabricators, SteelDay participants have the opportunity to observe their inventories.
HSS producers
Attendees interested in this increasingly popular material will receive a solid overview of HSS, such as how it differs from tube steel (TS) and pipe in terms of quality control, availability, and manufacturing process (from steel coil to HSS sections).
Bender-rollers
Bender-roller events delve into the five typical methods of bending (rolling, incremental bending, hot bending, rotary-draw bending, and induction bending), answering the question of how curved steel is created. Advantages and drawbacks of each method will be discussed, along with examples.
Galvanizers
To understand how steel receives this protective coating, attendees can observe each step of the hot-dip galvanizing process, from cleaning and preparation to dipping. As steel components are moved through baths to complete the process, the details of steel galvanization will be explored.
This year, six provinces are hosting SteelDay events, including:
five in Alberta;
six in British Columbia;
two in Manitoba;
four in Ontario;
one in Québec; and
one in Saskatchewan.
Registration can be completed on the SteelDay website[4].
Endnotes:
[Image]: https://www.constructioncanada.net/wp-content/uploads/2017/06/bigstock-Industrial-Zone-Steel-Pipelin-143921705.jpg
Canadian Institute of Steel Construction: http://www.cisc-icca.ca/
SteelDay: http://www.steelday.ca/
website: http://www.steelday.ca/Find-An-Event.aspx
Source URL: https://www.constructioncanada.net/steeling-the-construction-industry-for-education/
---