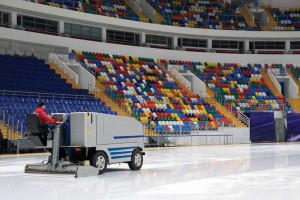 Temperature control is required at various points in an HVAC system in addition to the control space comfort. Independent perimeter systems must have one control per building orientation of 15 m (50 ft) or longer.
Systems serving dwelling units and areas not intended to operate continuously, and that have a heating or cooling capacity requirement greater than 5 kW, must have set-back or shut-down controls for periods of non-use. Seasonal shut-down controls are also mandatory on pumping systems.
Air distribution controls are required to allow the stoppage or reduction of airflow. Each air distribution system serving multiple temperature-control zones must have airflow control areas no greater than 2500 m2 (26,910 sf).
Controls are necessary on ice- and snow-melt heaters to allow them to be shut down when not required. A completely new NECB provision addresses vestibule overheating by calling for the installation of a control device capable of limiting the maximum temperature in vestibules to 15 C (60 F).
Trade-off path
Since the trade-off path considers the HVAC assembly as a whole, improvement in one part of the system is allowed to compensate for another component that does not meet the prescriptive requirement. The total efficiency of the proposed system needs to be greater than or equal to the total efficiency of the reference system—in other words, it must consume less energy. The reference system models the prescriptive requirements.
The trade-off path contains certain limitations:
HVAC must use natural gas, propane, oil, or electricity;
backup equipment must meet the prescriptive requirements; and
HVAC system must also be one of the 27 typical types for which trade-off path coefficients have been established.
Service water heating
NECB Part 6 covers heating equipment, controls, piping, and pumping that form part of a service water heating (SWH) system.
Prescriptive path
Installations using SWH equipment for both space and service water heating must meet the performance requirements of both Parts 5 and 6. Installations employing space water-heating to indirectly heat service water must use equipment meeting whatever is greater—the performance efficiency of the space or SWH equipment.
In general, piping insulation requirements are based on the fluid temperature involved.
Controls addressed in Part 6 include those for:
temperature;
heat maintaining systems;
shut-down;
flow of hot water in showers and lavatories; and
swimming pools.
Automatic temperature controls that allow adjustment between the lowest and highest acceptable temperature settings for the intended use are required for all systems with storage tanks. Flows are limited to 9.5 L (2.5 gal) per minute for showers and 8.3 L (2.2 gal) for lavatories. Automatic shut-off valves are called for in assembly occupancy spaces.
A cover is required for heated outdoor swimming pools and tubs. It must be large enough to cover 90 per cent of the water surface area. Shut-off controls are mandated to shut down pool pumps and heaters during periods of non-use.
Trade-off path
The trade-off path considers the SWH system as a whole, allowing improvement in other system parts to compensate for one component not meeting a prescriptive requirement. This approach means the SWH system boundaries must be clearly identified to properly define the components making up a system. Boundaries were established for each system type, and the components are provided in a table.
NECB and electrical power
Part 7 of NECB applies to the electrical power systems and motors connected to the building's electrical service. There is no trade-off path.
Electrical distribution systems with a load-carrying capacity greater than 250 kilovolt-amps must have a means to monitor the energy consumption of HVAC systems, and both interior and exterior lighting. Electrical distribution systems for buildings with dwelling units must have a means to separately monitor the total building, as well as each individual tenant or dwelling unit, excluding shared systems.
There are prescriptive requirements for voltage drop. Feeder conductors must be sized for a maximum voltage drop of two per cent at design load. Branch circuit conductors must be sized for a maximum voltage drop of three per cent.
Transformers and motors must meet the minimum efficiency of referenced standards.
Building energy performance compliance path
Part 8 provides an alternative to the prescriptive requirements and trade-off of other parts of NECB. Compliance is demonstrated by showing a building will not use more energy than it would if it were to comply with the prescriptive path. Several software programs that have been evaluated against ASHRAE 140, Standard Method of Test for the Evaluation of Building Energy Analysis Computer Programs, or a similar software test method can be used to design using the performance compliance path.
Conclusion
In general, the 2011 National Energy Code of Canada for Buildings provides a 26 per cent overall energy performance improvement compared with MNECB. This improvement is a weighted average for the whole country and is based on many factors, including the energy performance level from which a region started.
NECB is an advance that will yield significant energy savings and place Canada on a comparable footing with countries that lead the world in energy-efficient building construction.
John Burrows, P.Eng., is an Ottawa-based consultant and technical writer. With an engineering background, he has been writing for NRC Construction (formerly the National Research Council Institute for Research in Construction [NRC-IRC]) for the past 11 years.
Jim Gallagher is the former manager (retired) of publication services at NRC Construction. He can be contacted at jim.gallagher@nrc.ca.

Control the content you see on ConstructionCanada.net!
Learn More.