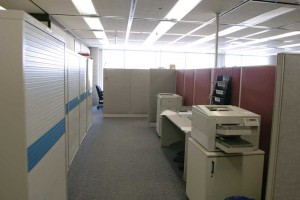 For windows, the requirements for Zone 4 can typically be achieved using the equivalent of a good-quality, thermally broken aluminum frame, double-glazing units with low-emissivity (low-e) coating and a non-metallic spacer.
The requirements of Zones 5, 6, 7A, and 7B can typically be met using the equivalent of a good-quality, thermally broken aluminum frame, low-e double-glazing units, a non-metallic spacer, and argon fill. Zone 8, on the other hand, typically needs the equivalent of a good-quality, thermally broken aluminum frame, triple-glazing units with low-e, non-metallic spacers, and argon fill.
Prescriptive path: assemblies in contact with ground
The maximum U-values for building envelope assemblies in contact with the ground vary according to the building project's heating degree-day location. Roofs that are less than 1.2 m (4 ft) below ground—for example, the roof of an underground parking garage extending beyond the building footprint—must comply with the required U-values.
Walls must be insulated to required levels for a distance of 2.4 m (8 ft) below ground or to the bottom of the wall, whichever occurs first. Where footings are less than 0.6 m (2 ft) below ground, the insulation level demanded by the table must be placed on the top or bottom of the floor slab for 1.2 m.
The U-values for walls with embedded radiant heating cables, heating or cooling pipes, or membranes are reduced by 20 per cent (i.e. more stringent) from prescribed U-values.
Floors that are less than 0.6 m below grade are required to be insulated. Floors that contain embedded heating ductwork, cables, or heating or cooling pipes must be insulated over their full area. Otherwise, the floors have to be insulated for 1.2 m around their entire perimeter.
Prescriptive path: fenestration
The maximum prescriptive skylight area limit is five per cent of the gross roof area. The maximum allowable vertical fenestration and door area to gross wall area ratio (FDWR) is determined based on the heating degree-days for the building location.
For heating degree-day values of 4000 or less (e.g. Toronto, Vancouver, and Victoria), the FDWR limit is set at 40 per cent. At heating degree-day values of 7000 or higher (e.g. Yellowknife and Iqaluit), the FDWR limit is set at 20 per cent.
For sites with heating degree-days between 4000 and 7000, FDWR varies linearly and the limit can either be calculated using an equation in NEBC or interpolated using a table of values in the code's appendix.
Prescriptive path:  air leakage
All opaque building assemblies are required to have an air barrier assembly. Metal and glass curtain walls and fixed and operable windows must meet air leakage test levels under fixed pressures in accordance with the standards cited in NECB.
Under the code, doors have to meet air leakage test requirements. A higher air leakage rate is allowed for revolving, automatic sliding, and main entry exterior doors. All loading docks that interface with truck boxes must have weather seals.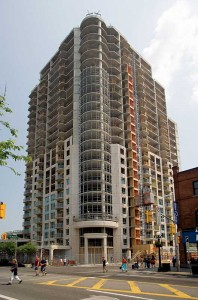 Trade-off paths and Part 3
There are two trade-off paths for Part 3 of the energy code—simple and detailed. The former allows for the trading of U-values and areas of fenestration/doors based on a simple calculation. To keep this option very simple, the following limitations are placed on its use:
Additions and semi-heated buildings cannot use the simple trade-off path.
Assemblies in contact with the ground cannot be traded.
Vertical elements can only be traded against other vertical elements, and horizontal elements can only be traded against other horizontal elements.
The detailed trade-off path is a scaled-down version of the whole-building performance compliance path discussed later in this article (i.e. NECB Part 8). It requires the energy use attributed to the proposed building envelope be less than that of its counterpart in a reference building or one that would result if constructed using the prescriptive path.
For both the simple and detailed methods, the reference building must employ the prescriptive path's U-values and fenestration-and-door-to-wall ratio limits. The parameters to include in the detailed trade-off calculations are:
building envelope assembly areas;
their overall thermal transmittance values;
building configuration;
wall orientation; and
effect of thermal mass.
Lighting under the code
NECB Part 4 covers lighting components and systems connected to a building's electrical service. Certain lighting applications are exempted, such as emergency lighting that is automatically off during normal building operation, and any lighting in dwelling units. Another exclusion occurs where the authority having jurisdiction (AHJ) accepts the fact the occupancy's nature makes it impractical to apply all of the requirements.
Prescriptive path
For dusk-to-dawn operation, exterior lighting must be controlled by an astronomical time control or a photosensor. For other applications, lighting must be controlled by:
an astronomical time control;
a photosensor;
a combination of a photosensor and time switch; or
a system that performs the equivalent function.
Lighting for exterior entrances is exempted.

Control the content you see on ConstructionCanada.net!
Learn More.