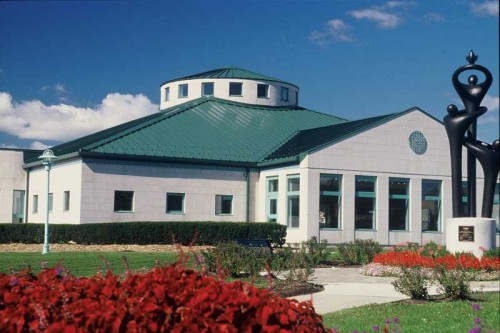 By Michael D. Huber, PE
By its nature, every roof is a unique and complex waterproofing system whose performance depends on design appropriateness, material quality, and installer craftsmanship. All three of these must be present for an assembly to achieve its anticipated lifespan. As a construction activity, roofing requires the same high level of diligence as other construction trades, such as mechanical and electrical systems.
Typically, an HVAC system specification includes a service portion that specifies application-appropriate requirements. For example, a pumping/piping and electrical system specification for Florida's South County Reclaimed Water Aquifer Storage Recovery (ASR) Test Program (To review the language, visit files.pinellascounty.org/purchasing and select Specification 101-0395-CP (RM) South County Reclaimed Water Aquifer Storage Recovery (ASR) Test Program-Well IWE (Rebid) (PID 1752). included the following specification language, in relation to certification of proper installation:
when so specified, a manufacturer's certificate of proper installation form, a copy of which is attached to this section, shall be completed and signed by equipment manufacturer's representative. Such form shall certify signing party is a duly authorized representative of the manufacturer, is empowered by manufacturer to inspect, approve, and operate their equipment and is authorized to make recommendations required to ensure equipment is complete and operational.
In the area of quality assurance (QA), the qualifications portion of an HVAC manufacturer's specification for high-efficiency, packaged, rooftop air-conditioning units reads as:
Manufacturer qualifications: Manufacturer capable of providing field-service representation during construction and approving application method.
The Air-conditioning Contractors of America (ACCA) has developed a quality installation specification as a guideline for ensuring quality HVAC installation. (For more information, see the article, "Quality Installation," by the Air-conditioning Contractors of America (ACCA)." Visit www.acca.org/industry/quality/quality-installation). The "Training and Maintenance" section of American National Standards Institute (ANSI)/ACCA 5 QI-2010, HVAC Quality Installation Specification, Residential and Commercial Heating, Ventilating, and Air-conditioning (HVAC) Applications, states:
The contractor (or manufacturer) shall conduct the following:
a) Instruct customers on proper system operation of installed equipment.
b) Explain to customers the maintenance requirements for the installed equipment.
c) Explain to customers warranty procedures and responsibilities.
d) Provide contact information for warranty, maintenance, and service requirements.
Specifying the manufacturer's obligations for field services in a roofing specification is equally, if not more, important due to the critical waterproofing nature of roofs. Since many roof systems are constructed so a significant portion of the work is not visible on completion, inspections during construction are a prerequisite of success. By specifying requirements such as this, a building owner increases the likelihood the roof purchased will meet or exceed its warranted service life––much the same as an HVAC system.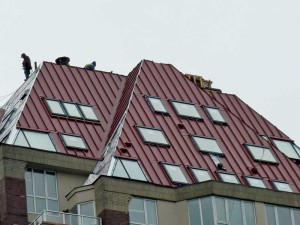 Understanding MasterFormat Section 01 43 33
There is a specification section in MasterFormat to address the specific service requirements of manufacturers: Section 01 43 33–Manufacturer's Field Services. The same care should be used in defining material specifications and be applied to the construction process itself since it is those field services, in part, that ultimately ensure the performance outcomes of complex systems. The field service specification acknowledges the manufacturer's responsibility to help ensure the appropriate use and proper implementation of its products.
For roofing, a field service specification should consider six factors:
initial inspection and ongoing monitoring;
design considerations;
comprehensive documentation;
installer qualifications;
product substitutions; and
construction meetings.
Initial inspection and ongoing monitoring
Since it is the manufacturer who warrantees the installed system, one of its representatives should be involved not only in an initial inspection of rooftop conditions, but also in the ongoing monitoring of the construction process. It is highly recommended the representative be a full-time employee of the manufacturing organization. Only as an integral part of the installation process can the manufacturer validate its materials have been installed as specified and the warranty is therefore in good standing.
Some of the most important design considerations lie below the finished roof surface, and are therefore not visible after installation. These include:
roofing system attachment methods;
integrity of the base waterproofing layers in a multi-ply system; and
condition of the supporting building roofing deck.
One may wish to specify the use of an inspection log to document weather conditions at the time of each inspection, and to photographically document daily progress of the work and the personnel working on the project.
It is also advisable to specify progress inspection reports be made available in an online format so they can be reviewed simultaneously by multiple parties in separate locations when necessary.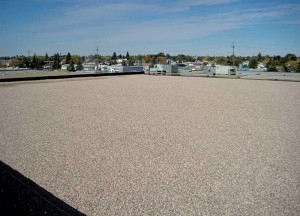 Design considerations
It is reasonable to stipulate in a service specification that the manufacturer validate its materials and recommended installation techniques are compliant with all:
relevant Canadian building codes;
environmental regulations; and
any other project-specific health or safety requirements.
It is also the manufacturer's responsibility to validate the appropriateness of its solution to the architectural design proposed, confirming the performance outcomes anticipated by the architect and/or owner will be realized as designed. Such a stipulation should encompass all aspects of performance, including design loads, fire resistance, and drainage.
There is also appropriate specification language that should be followed.
Design loads
The designed roof system must withstand negative (i.e. uplift) design wind-loading pressures complying with the appropriate criteria with all attachment methods specifically stated within the specification.
The roof system should also be designed to take into consideration the appropriate snow loads as dictated by the applicable building code requirements. Further, the roof structure's dead load must be considered due to dynamic conditions such as tear-off of an existing roof system or installation of new materials over old ones.

Control the content you see on ConstructionCanada.net!
Learn More.