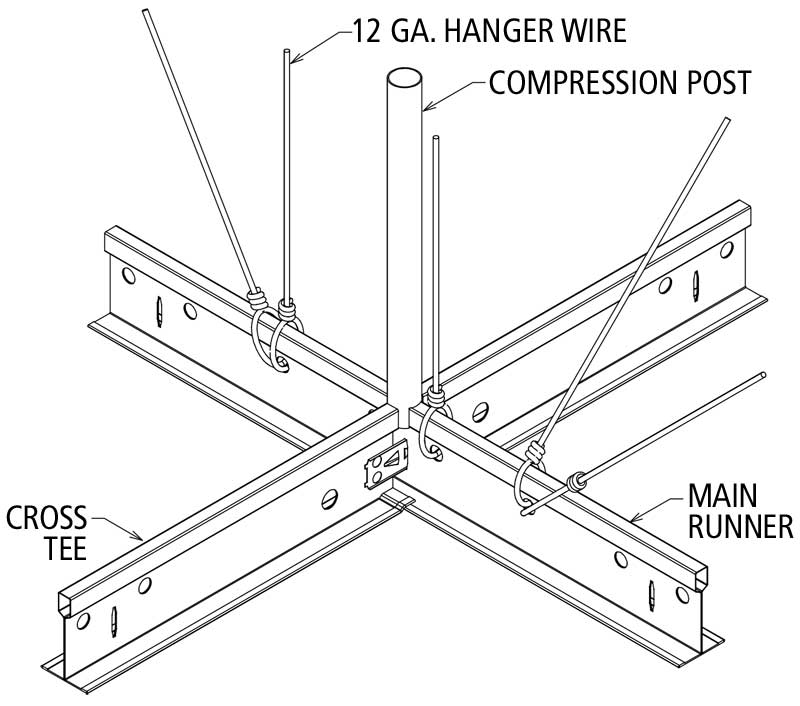 Ceilings
Suspended, acoustic-tile ceilings should be designed and installed in accordance with current Ceilings and Interior Systems Construction Association (CISCA) requirements. For Seismic Design Categories C, D, E, and F, bracing needs to be provided at regular intervals to resist code's design forces and limit the vertical and lateral movement.
Suspended ceilings with areas less than 13.4 m2 (144 sf), which are surrounded by walls or soffits that are laterally braced, are exempt from seismic design requirements.
Where ceilings are unbraced or splayed, wired bracing is used to resist seismic forces and limit lateral deflections. Clearance of about 25 mm (1 in.) should be provided around all penetrations through the ceiling sprinkler drops. (If flexible sprinkler drops are used and have been certified to accommodate 25 mm of movement, then this clearance requirement may be waived.)
Independent support of light fixtures, diffusers, cable trays, electrical conduit, and other ceiling appurtenances must be offered.
For ceilings directly hung to structural framing or furring with materials applied to structural framing, the fastening must be able to resist the vertical seismic design forces and weight of the ceiling and its light fixtures, sprinklers, and HVAC appurtenances.
Non-loadbearing interior walls
Non-loadbearing walls and partitions must be designed to resist out-of-plane seismic design force. (For more information, seek out U.S. Federal Emergency Management Agency [FEMA] E-74, Reducing Seismic Risk for Nonstructural Components [6.3−Interior Partitions], by clicking here.) This design force will be based on the weight of the partition framing, finishes, soffits, connected casework or equipment, and ceilings for which it is providing bracing. Out-of-plane design force will not be more than 480 Pa (10 psf). Superimposed axial load, exclusive of sheathing materials, should not be more than 1460 N/m (1077 pound-force foot). Partitions must also be designed to accommodate interstorey drift.
Lateral bracing to the structure is not required when partitions do not extend to the underside of the structure, and their:
height does not exceed 27.4 mm (9 ft);
linear weight does not exceed the product of 4.5 kg (10 lb) times the height (in feet) of the partition; and
horizontal load does not exceed 240 Pa (5 psf).
For all other conditions, supplemental bracing or framing must be provided to resist the out-of-plane seismic force. Such bracing or framing is to be independent of splayed wire ceiling bracing.
The wall bracing or framing also needs to be designed for compatibility with ceiling requirements, fire ratings, and architectural treatments. It is critical to know whether the partition wall is being used to provide lateral restraint for other nonstructural items. One must check the walls and other lateral restraints at the top are adequate to resist the additional load.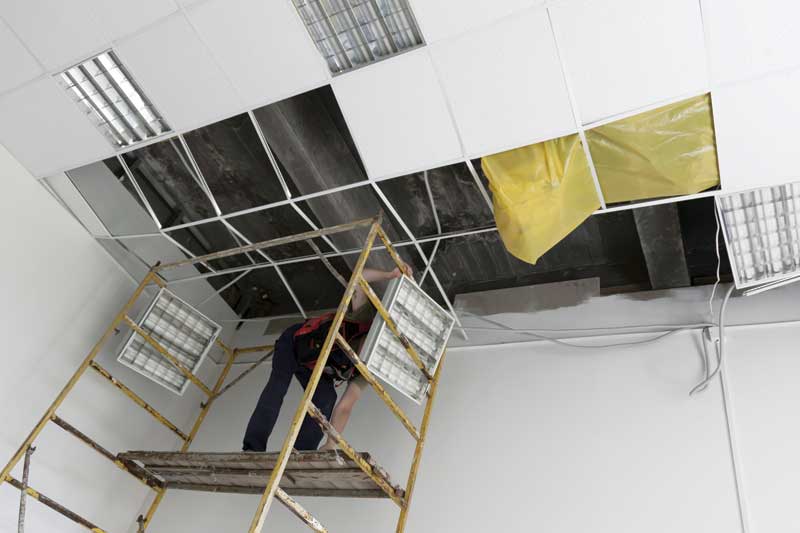 Exterior masonry veneer
There is rising awareness of the importance of seismic design of masonry veneer walls. Although veneer wall cracking failure may not jeopardize a building's structural integrity, it can be costly to repair and lead to life-safety hazards.
The veneer must be fastened to the substrate to accommodate out-of-plane seismic design force and deformation of supporting framing. The anchored veneer must also be detailed to prevent moisture penetration from weather that could corrode anchors. (For more information, see Acrefine Engineering's "Specification 9500: Specification Requirements for Nonstructural Building Components.")
Storage racks and shelving
For light-duty storage racks and shelving, one must provide restraints to resist seismic design forces in any direction. Where this restraint is provided by anchorage to a wall, the latter needs to be verified to ensure it has adequate strength to resist anchor demands.
Backing plates or blocking should be installed as required to deliver loads to primary wall framing members. Nothing should be directly anchored to gypsum board, plaster, or other wall finishes that have not been engineered to resist imposed loads.
With respect to industrial storage racks, the racking should be designed in conformance with building code requirements and the AHJ. In Canada, there may be jurisdictions that accept Rack Manufacturers Institute's (RMI's) ANSI MH 16.1-2008, Specification for the Design, Testing, and Utilization of Industrial Steel Storage Racks, and the seismic design requirements of American Society of Civil Engineers (ASCE) 7, Minimum Design Loads and Associated Criteria for Buildings and Other Structure. Where design criteria conflict, the more stringent shall apply. However, some jurisdictions, including City of Vancouver, will explicitly not accept these design guide standards.
On a side note for warehouse racking, the slab may be required to be certified prior to the AHJ completing the permit review or acceptance. This means it has to withstand loads of up to a certain design weight. The racking designer will provide the loading criteria to the proposed end-user for design purposes, and verify with the base building structural engineer to obtain approval for the proposed loads.
Getting certification after the building has been built may incur a charge for the certification of the slab. For new construction, this should be a requirement—even in 'non-seismic areas,' the owner needs to keep the file readily available to tenants upon request.

Control the content you see on ConstructionCanada.net!
Learn More.