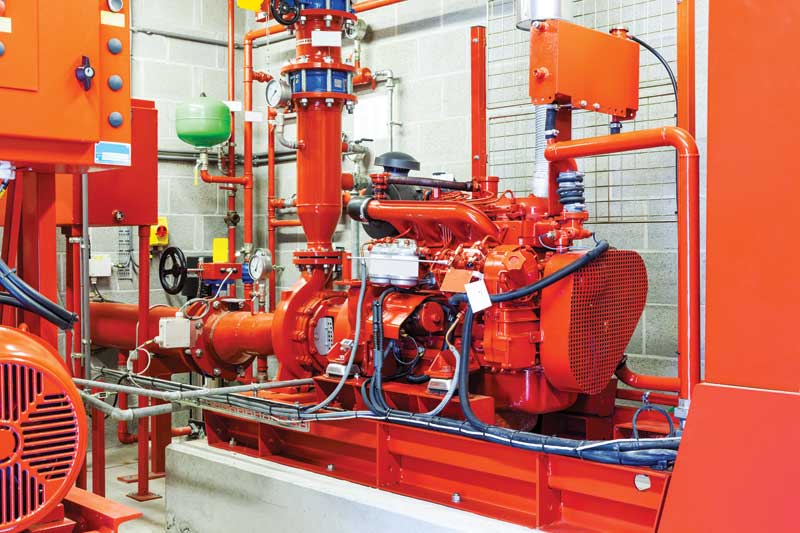 Designing seismic restraints
There are three ways in which design can be managed. The ultimate decision depends on the complexity of the nonstructural component, which can vary in shape, weight, and sensitivity to forces acting on it.
1. Design assist
A seismic consultant hired by the project architect is responsible for the project's design. He or she co-ordinates closely with the architect, structural engineer, landscape architect, and civil engineer to ensure each individual system is designed to meet the project intent. In the construction phase, there will be a requirement for delegated design for the seismic requirements of the components.
2. Assisted design stamped by engineer (shop drawings)
The shop drawing is the manufacturer's or contractor's drawn version of the information produced from the construction documents. It normally shows more detail than the construction documents, and is drawn to explain the fabrication and/or installation of the items to the manufacturer's production crew and contractor's installation crews.
3. Delegated design
The intent of delegated design is to account for professional engineering responsibility for design, review, and acceptance of components of work that form a part of permanent work in accordance with the current building code. It is assigned to a design entity other than the consultant. This includes design requiring:
structural analysis of loadbearing components and connections;
compliance with relevant fire-safety regulations; and
compliance with life- or health-safety regulations.
Regardless of the path chosen or required, when designing for seismic restraint hardware, there are four aspects of the system to consider:
secure attachment of the equipment to the restraint—this attachment must demonstrate sufficient strength to withstand the imposed forces and allow for transfer of seismic forces into the restraint;
restraint design—the seismic restraint's strength must be sufficient to withstand the equipment-imposed forces;
attachment of restraint to the building structure—whether bolts, welds, or concrete anchors, this attachment interface must be reviewed to ensure it is capable of withstanding the imposed seismic forces (this attachment is typically the 'weakest link' of the overall design, especially when embedded concrete anchors are used); and
equipment fragility—equipment's ability to continue operating after being subjected to seismic force—the information must be obtained from the equipment manufacturer in question.
There is also a pre-designed solution, which involves taking materials from catalogues and web-based databases. However, these solutions are not intended to alleviate the engineer's responsibility—they should only serve as a guide. All information for calculations must be made available on the structural drawings or in the specifications in each of the technical sections requiring seismic restraint hardware design.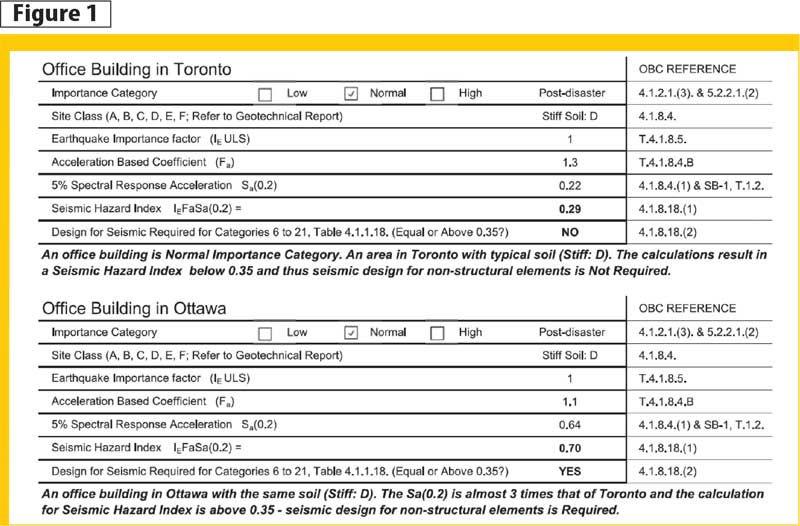 Seismic design requirements
Part of the seismic design requirements is to identify if there is any need per the building code. Following the simple process of figuring out the requirements in a code matrix can make this process a lot easier. Figure 1 identifies the items from the building code that must be considered if the building is required to have nonstructural components designed for seismic restraints.
Importance Categories
There are four Importance Categories to consider.
1. Low Importance
Examples of this category include low-human-occupancy buildings with one person or less per 40 m2 (430 sf) of floor area (e.g. structures found on a farm) and low-hazard industrial-occupancy warehouses (i.e. Group F, Division 3), where structural failure causing damage to materials or equipment does not present a direct threat to human life.
It is important for authorities having jurisdiction (AHJs) to be aware when the Low Importance Category is being assigned, since it enables relaxation of some code requirements. In some cases, this relaxation is inappropriate. For example, an equestrian riding facility that also has provision for permanent or temporary grandstands is an Assembly use; it should not be categorized as Low Importance.

Control the content you see on ConstructionCanada.net!
Learn More.