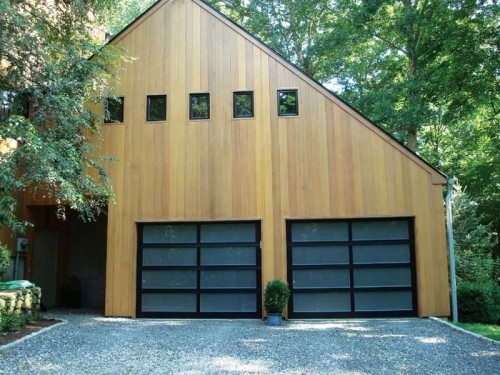 By Richard Sivertsen, CTR
Sectional overhead door systems (sometimes referred to as 'panel doors'), as well as coiling (i.e. 'rolling') and high-speed door systems can be found on most commercial, industrial, and institutional buildings. Material options for these doors vary so much one regularly sees different thicknesses with steel, and aluminum in four finishes (i.e. mill, clear, coloured-anodized, and powder-coated). High-speed doors will be either fabric or rubber.
For single-purpose structures, at least one of these door systems can be found in:
condominium and office towers;
industrial plants;
automotive buildings;
multi-tenant warehouses;
aircraft hangars;
mine truck shops or processing plants;
police and fire stations;
schools;
recreation facilities;
manufacturing plants;
waste recycling facilities; and
fabric, wood, steel, and concrete structures.
However, within the overhead and coiling door industry, there is still confusion about how best to specify these assemblies. When a subcontractor bidder views the project bid documentation, he or she is relying on all the data being in agreement. However, discrepancies are not uncommon between the specifications and drawings.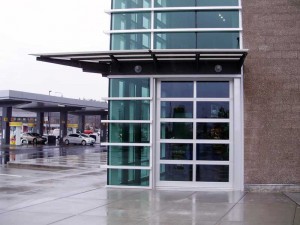 Sometimes on a tender open to the public, there is no manufacturer or model specified (i.e. no basis of design [BOD]); rather, technical and performance qualities are taken from several particular proprietery products. Worse, the descriptions from numerous manufacturers' models are often mixed together. Some bidders view this as a future opportunity for change orders. Those subcontractor bidders confident in a successful future change order will confidently submit an undervalued (i.e. low) bid. Low bidders get awarded the most contractors. Therefore, nonsensical specifications foreshadow change orders.
The specifications attempt to describe the owner's needs (e.g. full vertical lift), but the drawings may indicate this cannot be achieved due to limited head room. Another problem can occur when the technical requirements in the specifications may not agree with the BOD product specified. The specifier should know the difference between full vertical-lift, high-lift, standard-lift, and low-lift overhead doors. When specifying a particular manufacturer with alternative names, he or she should know the various manufacturers' products all have different limitations and know what they are. Bearing all this in mind, some design professionals may wonder how a single manufacturer's product can be the basis of design.
There are groups of specification writers that run independent businesses; they work well with many architectural firms on contract, and have a lot of knowledge to offer. Some architectural/engineering (A/E) firms have internal specifiers for their projects using both online and hard-copy printed literature to choose products, as well as discussions with manufacturers' representatives. Communication between specifiers, architects, and draftspersons could be the cause of nonsense bid documents.
Some of the difficulty is also found in the industry's terminology:
Is it a sectional, overhead (is this also called a vertical lift door?), coiling, or rolling door? It is best to discuss this with a hardware consultant when identifying the style of door system required.
Can a door be called a shutter? This is normally based on door size.
What is the difference when it comes to fire-rated doors or shutters? Shutters are normally mounted against a window or on a countertop.
When it comes to motors and their controls (which are many), does one call for a wall-mounted drawbar operator, a ceiling-mounted drawbar, or a jack shaft? Most of the time, this depends on the style of the door's lift.
Should push-button controls be mounted locally or remotely? (If the latter, how far away from the door?) Which section is the conduit part of? The answers to these questions are normally governed by the client's needs and should be discussed with a hardware consultant as controls have limitations of use. The conduit is usually provided by the electrical trades to the motor, and from the motor to the local controls by the installing company. There should always be a discussion concerning long-distance wiring and conduit.
Clarification needed
A general R-value requirement is often mentioned in the specification of a sectional or a coiling door system—sometimes R-16, R-12, or R-6 is called out. However, there is still some confusion as to what this means to the overall door assembly, and whether these are estimated door insulation values or individual section or slat variables. Since these individual R-values can be achieved through various door thicknesses, there may be questions over whether polystyrene or polyurethane is the acceptable product to use and what their limitations and R-values are. Is one really looking for a defined R-value or for a fully weather-sealed option? When designing for a fully glazed overhead door, is there any point in making the glazing double-glass?
When calling for different types of sectional door hardware, it is difficult to know whether a 50-mm (2-in.) or 75-mm (3-in.) track is required. Is it to be angle-mounted track or not? What is the difference? The draftsperson should know each has a side-room requirement and they are different when it comes to the needed head room. When designing the wall structure around the opening, these details need to be understood, otherwise there will be a conflict between the drawings and the specifications. Does one specify the same kind of tracking system for a sectional door as one would for a coiling door? Is 75-mm track relevant to coiling door systems?
Concerning the door schedule, on numerous occasions it appears fire shutters are not listed, missing from the window schedule, or shown only on the floor plan. A door subcontractor bidder doing his or her 'take-offs' may not see it among all the other notations on the drawings. (Submitting a bid with a missed door will perhaps guarantee the award.)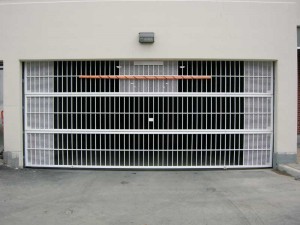 Applications come into play as well. These include the answers to questions such as:
Will the specification be written with a view to include the stresses on the door system as far as its use is required?
Does the door operate 10, 50, or 100 times a day?
Doors run in cycles (i.e. up and down once is one cycle), but how can one specify the cycles of the spring?
What bearing will these cycles play on the type of hardware to be used on the door system, the number of spring cycles or the motor requirements, or even the type of door system to be specified?
What safety mechanisms are to be called for?
What are the limitations of torsion springs, and are they to be galvanized or oil-tempered?
Is there a problem when specifying a motorized door with slide-bolt locking mechanisms without calling for an electrical interlock?
Does a door require a slide lock/interlock if there is a 'brake' on
the motor?
This author frequently sees this last omission; it is a costly option. The door's size and weight has a bearing on whether one needs a slide-bolt lock together with a motor. How is this so? What kind of controls are needed, and who provides the conduit?
There are many components coming into play when specifying a product in the overhead/coiling door industry, with myriad manufacturers hoping to get a tight specification written to exclude as much competition as possible. At the same time, door installation firms are either bidding as per the specifications (sometimes as per the plans and specifications if they are not in conflict) or applying for an 'alternate,' 'equal,' or 'substitute' without really knowing the difference between the three. When a rolling steel door is at its limit, would a rubber assembly be more suitable?

Control the content you see on ConstructionCanada.net!
Learn More.