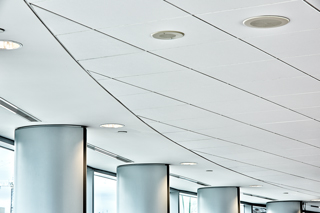 In an office setting, some people are more productive and happier when they can interact freely with each other. An open-plan design can contribute to such an environment—the office itself can assist in achieving corporate goals, while protecting the positive elements of a corporation's culture.
The heightened interaction and flexibility of the 21st century workplace is reflected in the increased use of exterior and interior glass, expansive floor spaces, integrated lighting, and contiguous ceilings with a monolithic appearance. Designers are creating inspiring spaces that reflect the energy and openness of the organization. Some take the notion of 'openness' even further by showcasing formerly 'hidden' areas, such as production areas and meeting rooms, in aquarium-like fashion. In fact, many companies see their office space as a way of promoting their brand and values to visiting clients and prospective employees.
Companies that embrace an open-plan office design are moving beyond traditional meeting rooms to include informal communal spaces, like coffee bars or lounges encouraging impromptu connections. Atriums and hallways are configured to promote chance encounters and casual interaction. High dividing walls are being replaced by lower partitions, or removed completely, encouraging employees to share ideas outside of scheduled meetings. Within the open-plan design scheme, some employers are designating quiet rooms when work requires greater reflection, confidentiality, and concentration
To learn more about how ceiling selection, and other acoustics strategies like sound masking, can help ensure the right balance, download the new, free Construction Canada e-book at http://www.constructioncanada.net/strategies-for-sound-masking-ebook.