Rubber flooring in high-traffic areas
January 9, 2018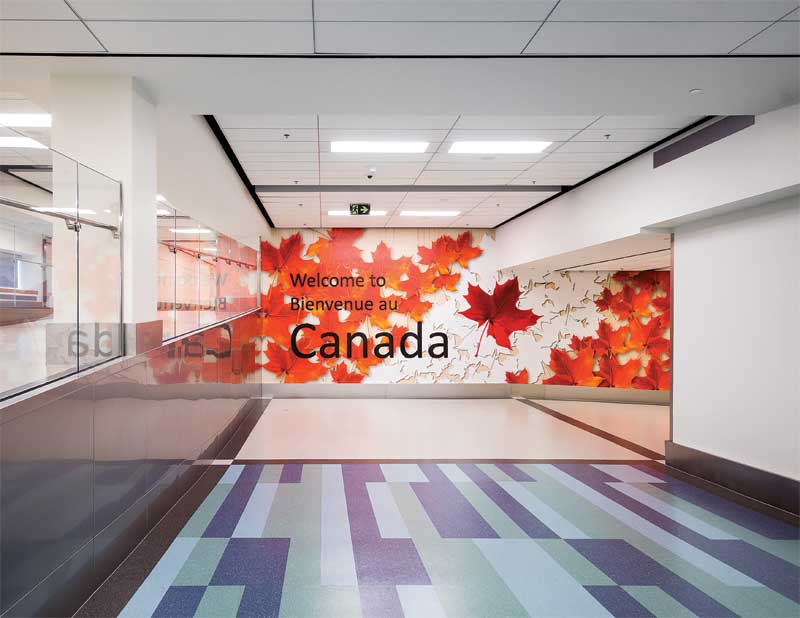 By Tasha Hughes
To create public spaces with lasting impact, architects and specifiers often look to materials that support strong interior design and long-term sustainability goals. Offering a strong, durable material in hundreds of colours, patterns, and textures, premium rubber flooring can play a key role in building design while providing a variety of important performance features—everything from comfort underfoot and simple maintenance to improved indoor air quality (IAQ), durability, and slip resistance.
For those who primarily experience public spaces on their feet, the resiliency of rubber flooring provides significant comfort. Structured to cushion footfall with every step, rubber flooring supports walking and standing while easing muscle fatigue and aching backs. For example, teachers and laboratory technicians, who spend long periods of time on their feet, appreciate this feature, as do travellers in busy airports, which is why YYC Calgary International Airport features more than 37,161 m2 (400,000 sf) of premium rubber flooring in portions of the international terminal and Connections Corridor.
When the YYC Calgary International Airport Authority began planning its $2-billion expansion more than 10 years ago, visitor needs were a primary focus. In a conversation with the author, a representative of the Airport Authority stated providing comfort and give underfoot were priorities in the project, and rubber flooring met those needs more effectively than hard surfaces such as granite or tile.
However, comfort was not the only reason rubber flooring was chosen for the expansion. The floor's clean appearance and simple maintenance regimen also influenced the decision.
As rubber is nonporous and non-absorbent, routine maintenance with water and a damp mop is often all that is required to keep it looking clean and fresh. The floor never requires labour-intensive stripping or the application of sealants and coatings, which means large areas of the building do not need to be shut down for extended periods while floors are cleaned and coatings are applied and allowed to dry.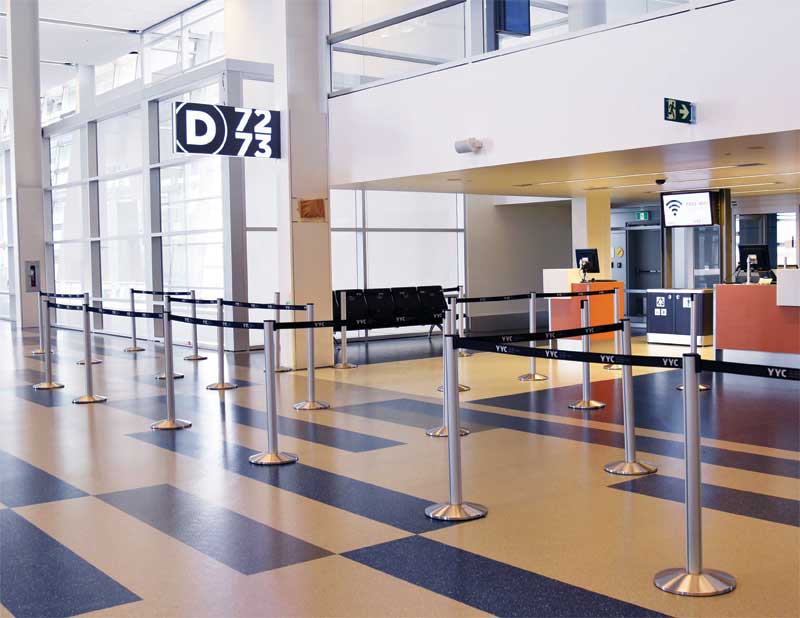 Reduced maintenance also translates to savings in terms of reduced time spent to keep the floor clean and fewer maintenance products to purchase. Rubber flooring's simplified cleaning requirements are most beneficial during cold winter months, when foot traffic brings with it mud, snow, and other substances that pose risks for slipping and tripping. With rubber flooring, these substances can be easily and quickly cleaned up. Additionally, the floor's dense surface resists staining, which is an especially important benefit in airport concourses and boarding areas, as well as cafeterias, laboratories, and other public spaces where spills are common.
In choosing a floorcovering for YYC Calgary International Airport, the administrators relied on their experience with various types of flooring. The Airport Authority noted cleaning and maintenance of carpet, for example, could be both expensive and difficult, potentially allowing for a poor appearance.
Also noted were the maintenance costs associated with linoleum and the poor results airports have experienced with wood flooring. Administrators at Vancouver's Capilano University reached a similar conclusion regarding the maintenance requirements associated with rubber flooring.
"I like the fact that you can actually clean it, and do so with very little buffing," says Susan Doig, the school's director of facilities. "It always maintains a fresh look. With carpet, as soon as the first person walks on it with dirty shoes, it is dirty. So, from a hygiene perspective, I much prefer rubber flooring to carpeting."
Similar results were also reported at McMaster University in Hamilton.
"Carpets were largely the standard, and they are dusty. During the winter, they get matted with salt and slush," says Craig MacDonald, McMaster's director of maintenance and facility services. "You just cannot maintain them. Our custodial staff likes the rubber flooring, because they only need to use water and a scrubber to keep it clean. It is environmentally friendly, easy to care for, and sustainable, and it provides good slip resistance."
The environmentally responsible aspect MacDonald references means students at the university, as well as travellers at the airport, benefit from improved indoor air quality. This is because many rubber floors are free of polyvinyl chloride (PVC) plastic and the risks associated with the leaching of chemicals used in its manufacture. As rubber flooring does not contain PVC, it does not generate any hydrochloric acid, dioxins, or furans in the event of fire.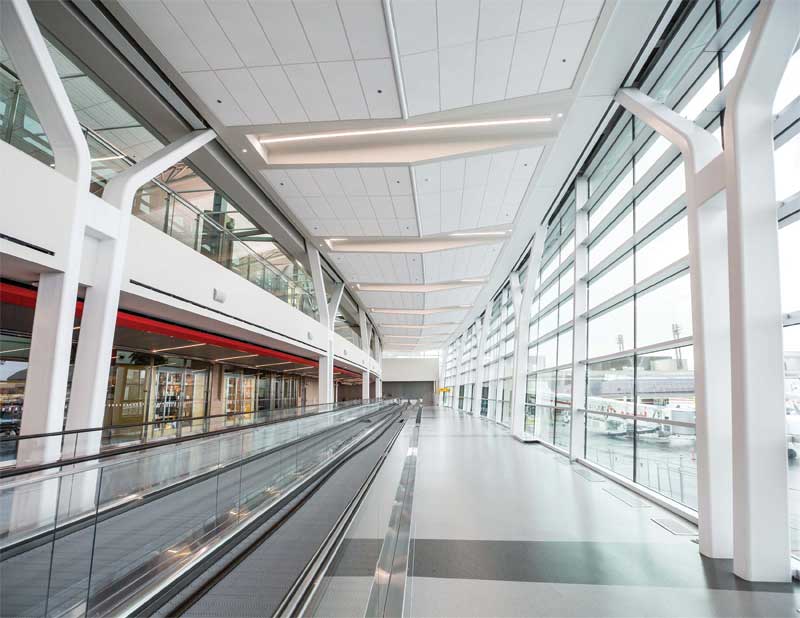 Healthy IAQ means building occupants are less likely to experience irritated eyes, nose, and throat or, in more severe cases, shortness of breath, aggravated asthma, and other respiratory conditions. Breathing polluted air for long periods of time can even affect the heart and cardiovascular system and result in other, more serious health problems.
Rubber floors also do not contain plasticizers (phthalate) or halogens (chlorine). Some are GreenGuard Gold-certified for low volatile organic compound (VOC) emissions. Developed by Underwriters Laboratories (UL) Environment, this certification includes health-based criteria for chemicals to ensure products are acceptable for use in environments such as schools and healthcare facilities. (It limits 365 VOCs and total VOC [TVOC] emissions.) Additionally, rubber flooring can contribute to Leadership in Energy and Environmental Design (LEED) credits, including:
Materials and Resources (MR) credits, such as Construction and Demolition Waste Management, Environmental Product Declarations (EPDs), Material Ingredient Reporting−Health Product Declarations (HPDs), Recycled Content, Rapidly Renewable Materials, and Regional Materials; and
Indoor Environmental Quality (EQ) credits, such as Low-emitting Materials: Adhesives and Sealants and Low-Emitting Materials: Flooring Systems.
Over the lifetime of a rubber floor, facilities of any size can rely on the product for the highest standards of air quality.
Rubber flooring also offers building owners a durable finish, thanks to its dense, nonporous surface. Made with high-quality, sustainable ingredients, the floor retains its strength and performance—in some cases, for several decades. The result is a floorcovering offering outstanding savings and support for a facility, with lasting appeal over the duration of its life cycle. This makes the material a durable solution for high-traffic areas, including busy entrances, lobbies, and hallways. This feature is especially important at Calgary Airport, where a volume of 15.7 million travellers last year alone means airport floors need to withstand wear resulting from heavy foot traffic, the stresses of rolling luggage and carts, food and beverage spills, and the impact of tracked-in snow, mud, and ice melt.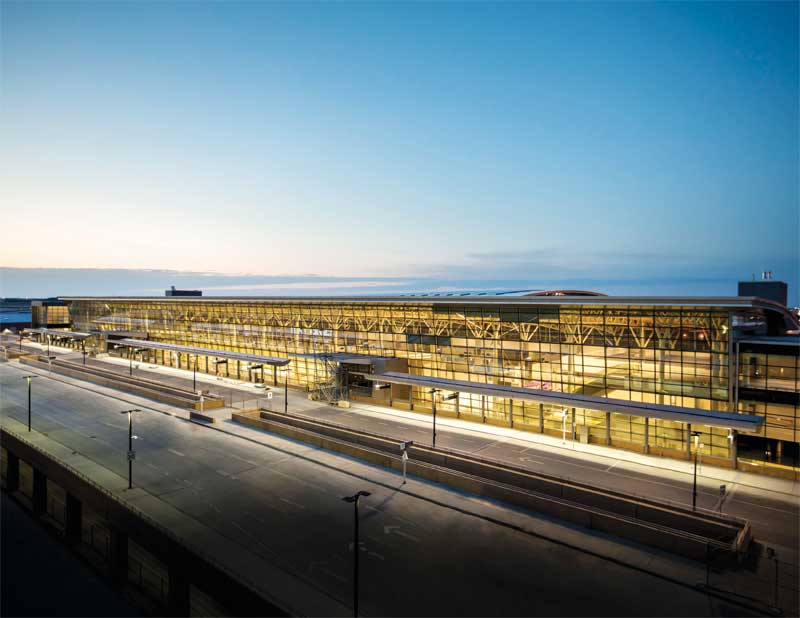 McMaster University faced a similar challenge, where vinyl composition tile (VCT) in stairwells in the school's busiest building was not standing up to foot traffic.
"We replaced it with rubber stair treads and tiles on the landings," says MacDonald. "Thousands of students walk up and down those staircases every day, and they still look fantastic."
Slip resistance is important in these areas, and students at McMaster University and other schools benefit from the slip-resistant properties of rubber flooring. In many cases, the floor exceeds Occupational Safety and Health Administration (OSHA) recommendations and ASTM D2047, Standard Test Method for Determining the Static Coefficient of Friction. The floor's added traction is particularly important in areas where large numbers of people are moving quickly most of the day, such as hallways, stairwells, cafeterias, gymnasiums, and airport concourses. If falls do occur, the floor's resilient surface also absorbs impact, helping prevent or reduce injuries.
At the same time, the uncoated, nonglare surface of rubber flooring can reduce confusion associated with reflective or overly smooth surfaces—what is known as 'perception of slipperiness.' The absence of coatings or a high-gloss finish mitigates glare, improves visibility, and reduces eyestrain and headache.
Acoustics also improve with rubber flooring, which plays an important role in reducing unwanted noise that can disrupt and distract travellers in busy airport entryways, ticketing areas, and security gates. Students, too, suffer from noise from adjoining classrooms, hallways, technology, building systems, and other occupants. Although many common building materials may transfer noise throughout a space, rubber reduces the amount of sound generated, which helps control unwanted ambient noise and promotes a quieter environment. Thanks to its permanently resilient surface, less impact sound is produced than on hard floors, minimizing distracting noises. Taken together or individually, the performance features of rubber flooring make it a versatile floorcovering that lends itself to a variety of applications.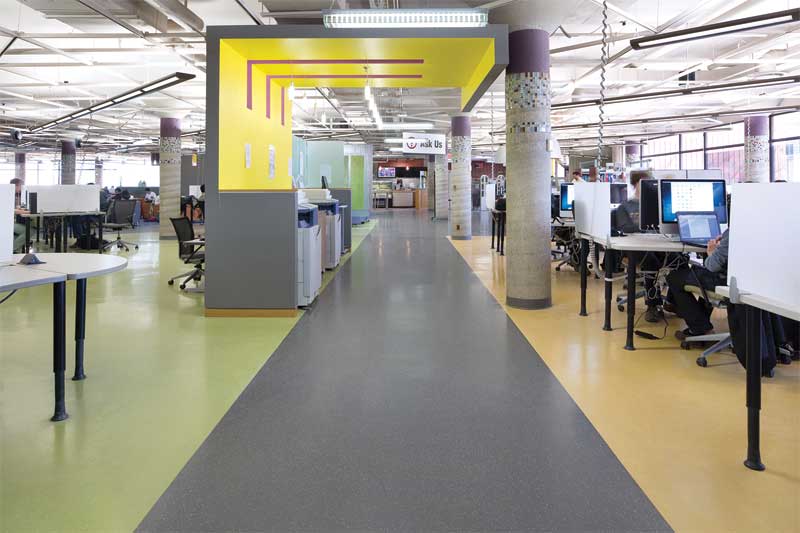 "We tested rubber flooring in a couple washrooms in [Capilano's] Cedar Building," says Doig. "Washrooms are typically one of the most challenging places to keep nice clean floors. Because the [rubber] floor performed well in that space, we began to install it in classrooms. From there, we did our bookstore in rubber flooring and so on. It is attractive, while also meeting all of our functional needs."
Most notably, rubber flooring is included in the university's showcase Bosa Centre for Film and Animation and continues to be incorporated throughout the campus. McMaster University is experiencing similar success with rubber flooring—since introducing it in a single stairwell, the school has used it in as many areas as possible on campus.
"We have installed it in our student health services area and are currently using it in laboratory renovations," says MacDonald. "We have installed it in our three largest libraries and … in our elevators, because they are such multi-use spaces. You can have one that sees constant foot traffic, and at the same time, if a skid needs to go up a floor, it is going on the same elevator. Ceramics or porcelain break under palette trucks, so we have been switching our elevators over to rubber for the past five years and have been happy."
The workable, easily customized properties of rubber flooring also open it to new opportunities for creativity. When designing YYC Calgary's new international terminal and Connections Corridor, visual appeal was as vital as comfort—the Airport Authority highlights wayfinding as a strong priority in the airport's design.
Broadly defined as spatial problem solving, wayfinding's direct system of guidance allows visitors to navigate spaces using visual cues. Its design, including surfaces, inlays, and tones, can have a strong impact on public perceptions. In airports and other large, busy facilities, a comprehensive wayfinding system may also reduce stress, save time, and bolster confidence for those navigating the space for the first time.
With its range of vibrant tones, patterns, and textures, rubber flooring is a preferred material for creating wayfinding patterns, which the Airport Authority stated create visual interest and warmth for travellers. When leaving the shopping and departures section of the airport and entering the concourses, the flooring changes from granite to rubber, providing a clear signal travellers are on their way. At the same time, the ergonomic, safety, and acoustic benefits of rubber flooring ensure comfortable journeys, no matter the location or destination.
Tasha Hughes is a public relations and marketing specialist for nora systems, an international rubber flooring manufacturer dedicated to developing premium flooring solutions for various commercial markets, including healthcare, education, industry, life science, labs, and public buildings. She can be reached via e-mail at tasha.hughes@nora.com[6].
Endnotes:
[Image]: https://www.constructioncanada.net/wp-content/uploads/2018/01/02-YYC-Calgary.jpg
[Image]: https://www.constructioncanada.net/wp-content/uploads/2018/01/01-YYC-Calgary.jpg
[Image]: https://www.constructioncanada.net/wp-content/uploads/2018/01/03-YYC-Calgary.jpg
[Image]: https://www.constructioncanada.net/wp-content/uploads/2018/01/04-YYC-Calgary.jpg
[Image]: https://www.constructioncanada.net/wp-content/uploads/2018/01/01-McMaster-nora.jpg
tasha.hughes@nora.com: mailto:tasha.hughes@nora.com
Source URL: https://www.constructioncanada.net/rubber-flooring-high-traffic-areas/
---