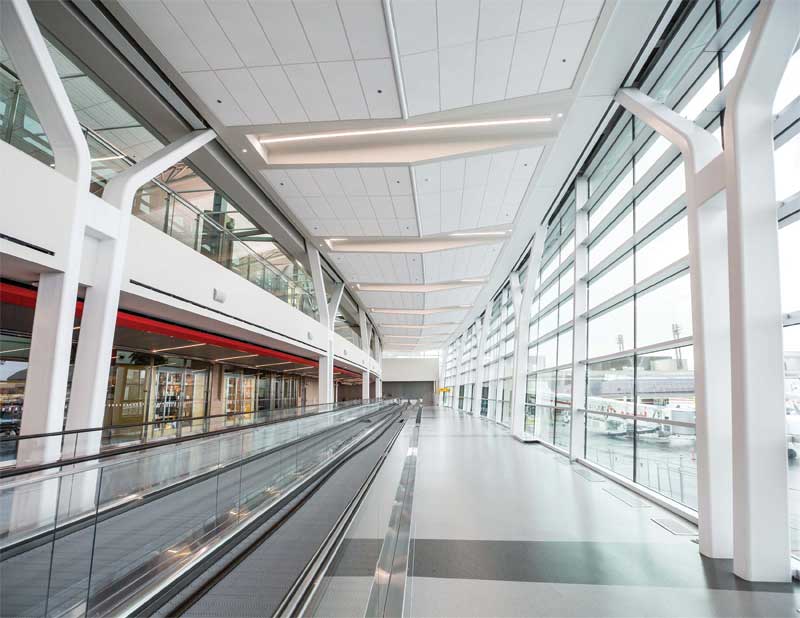 Healthy IAQ means building occupants are less likely to experience irritated eyes, nose, and throat or, in more severe cases, shortness of breath, aggravated asthma, and other respiratory conditions. Breathing polluted air for long periods of time can even affect the heart and cardiovascular system and result in other, more serious health problems.
Rubber floors also do not contain plasticizers (phthalate) or halogens (chlorine). Some are GreenGuard Gold-certified for low volatile organic compound (VOC) emissions. Developed by Underwriters Laboratories (UL) Environment, this certification includes health-based criteria for chemicals to ensure products are acceptable for use in environments such as schools and healthcare facilities. (It limits 365 VOCs and total VOC [TVOC] emissions.) Additionally, rubber flooring can contribute to Leadership in Energy and Environmental Design (LEED) credits, including:
Materials and Resources (MR) credits, such as Construction and Demolition Waste Management, Environmental Product Declarations (EPDs), Material Ingredient Reporting−Health Product Declarations (HPDs), Recycled Content, Rapidly Renewable Materials, and Regional Materials; and
Indoor Environmental Quality (EQ) credits, such as Low-emitting Materials: Adhesives and Sealants and Low-Emitting Materials: Flooring Systems.
Over the lifetime of a rubber floor, facilities of any size can rely on the product for the highest standards of air quality.
Rubber flooring also offers building owners a durable finish, thanks to its dense, nonporous surface. Made with high-quality, sustainable ingredients, the floor retains its strength and performance—in some cases, for several decades. The result is a floorcovering offering outstanding savings and support for a facility, with lasting appeal over the duration of its life cycle. This makes the material a durable solution for high-traffic areas, including busy entrances, lobbies, and hallways. This feature is especially important at Calgary Airport, where a volume of 15.7 million travellers last year alone means airport floors need to withstand wear resulting from heavy foot traffic, the stresses of rolling luggage and carts, food and beverage spills, and the impact of tracked-in snow, mud, and ice melt.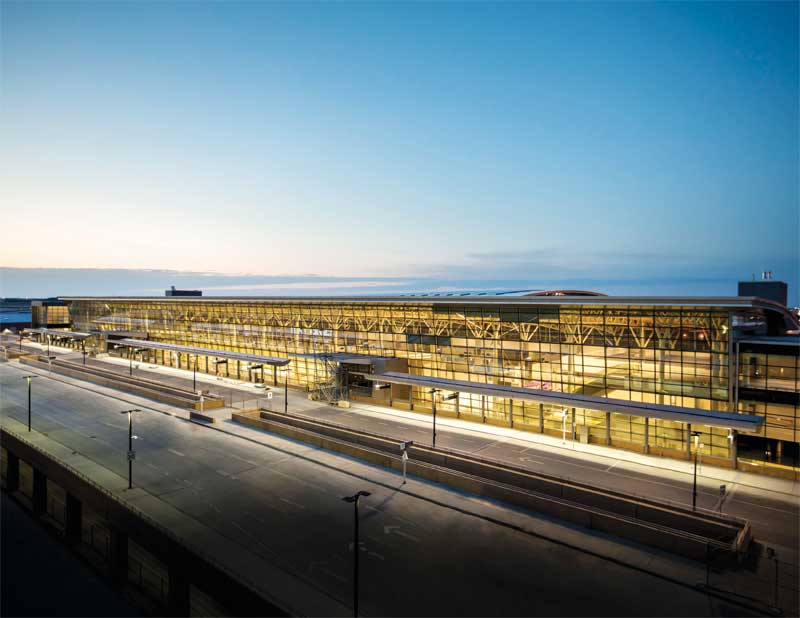 McMaster University faced a similar challenge, where vinyl composition tile (VCT) in stairwells in the school's busiest building was not standing up to foot traffic.
"We replaced it with rubber stair treads and tiles on the landings," says MacDonald. "Thousands of students walk up and down those staircases every day, and they still look fantastic."
Slip resistance is important in these areas, and students at McMaster University and other schools benefit from the slip-resistant properties of rubber flooring. In many cases, the floor exceeds Occupational Safety and Health Administration (OSHA) recommendations and ASTM D2047, Standard Test Method for Determining the Static Coefficient of Friction. The floor's added traction is particularly important in areas where large numbers of people are moving quickly most of the day, such as hallways, stairwells, cafeterias, gymnasiums, and airport concourses. If falls do occur, the floor's resilient surface also absorbs impact, helping prevent or reduce injuries.
At the same time, the uncoated, nonglare surface of rubber flooring can reduce confusion associated with reflective or overly smooth surfaces—what is known as 'perception of slipperiness.' The absence of coatings or a high-gloss finish mitigates glare, improves visibility, and reduces eyestrain and headache.
Acoustics also improve with rubber flooring, which plays an important role in reducing unwanted noise that can disrupt and distract travellers in busy airport entryways, ticketing areas, and security gates. Students, too, suffer from noise from adjoining classrooms, hallways, technology, building systems, and other occupants. Although many common building materials may transfer noise throughout a space, rubber reduces the amount of sound generated, which helps control unwanted ambient noise and promotes a quieter environment. Thanks to its permanently resilient surface, less impact sound is produced than on hard floors, minimizing distracting noises. Taken together or individually, the performance features of rubber flooring make it a versatile floorcovering that lends itself to a variety of applications.

Control the content you see on ConstructionCanada.net!
Learn More.