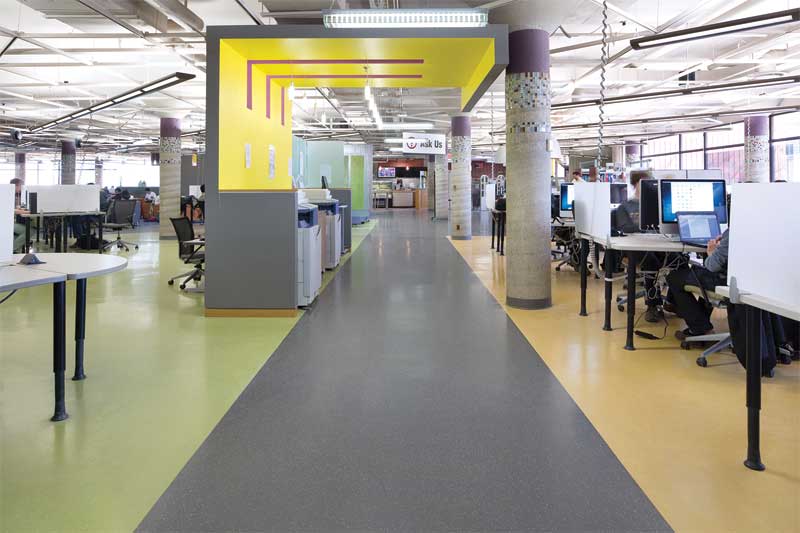 "We tested rubber flooring in a couple washrooms in [Capilano's] Cedar Building," says Doig. "Washrooms are typically one of the most challenging places to keep nice clean floors. Because the [rubber] floor performed well in that space, we began to install it in classrooms. From there, we did our bookstore in rubber flooring and so on. It is attractive, while also meeting all of our functional needs."
Most notably, rubber flooring is included in the university's showcase Bosa Centre for Film and Animation and continues to be incorporated throughout the campus. McMaster University is experiencing similar success with rubber flooring—since introducing it in a single stairwell, the school has used it in as many areas as possible on campus.
"We have installed it in our student health services area and are currently using it in laboratory renovations," says MacDonald. "We have installed it in our three largest libraries and … in our elevators, because they are such multi-use spaces. You can have one that sees constant foot traffic, and at the same time, if a skid needs to go up a floor, it is going on the same elevator. Ceramics or porcelain break under palette trucks, so we have been switching our elevators over to rubber for the past five years and have been happy."
The workable, easily customized properties of rubber flooring also open it to new opportunities for creativity. When designing YYC Calgary's new international terminal and Connections Corridor, visual appeal was as vital as comfort—the Airport Authority highlights wayfinding as a strong priority in the airport's design.
Broadly defined as spatial problem solving, wayfinding's direct system of guidance allows visitors to navigate spaces using visual cues. Its design, including surfaces, inlays, and tones, can have a strong impact on public perceptions. In airports and other large, busy facilities, a comprehensive wayfinding system may also reduce stress, save time, and bolster confidence for those navigating the space for the first time.
With its range of vibrant tones, patterns, and textures, rubber flooring is a preferred material for creating wayfinding patterns, which the Airport Authority stated create visual interest and warmth for travellers. When leaving the shopping and departures section of the airport and entering the concourses, the flooring changes from granite to rubber, providing a clear signal travellers are on their way. At the same time, the ergonomic, safety, and acoustic benefits of rubber flooring ensure comfortable journeys, no matter the location or destination.
Tasha Hughes is a public relations and marketing specialist for nora systems, an international rubber flooring manufacturer dedicated to developing premium flooring solutions for various commercial markets, including healthcare, education, industry, life science, labs, and public buildings. She can be reached via e-mail at tasha.hughes@nora.com.

Control the content you see on ConstructionCanada.net!
Learn More.