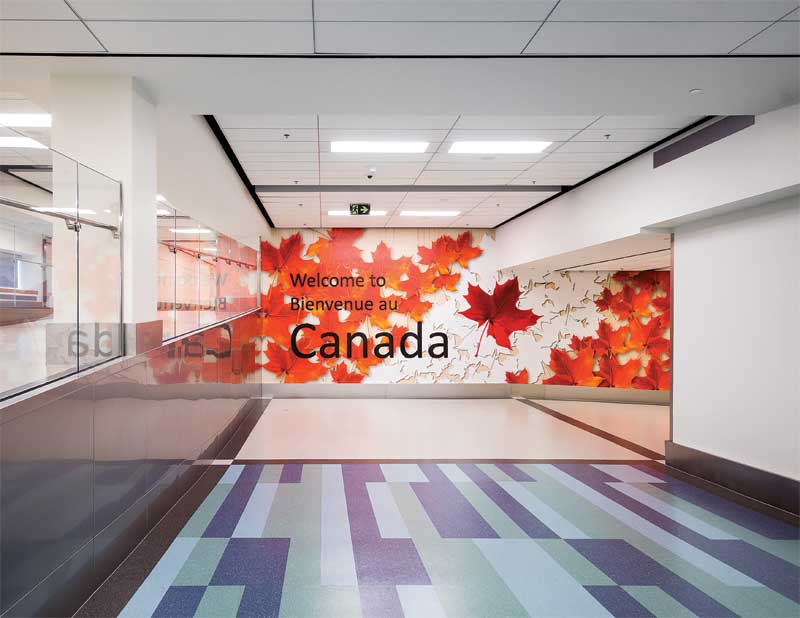 By Tasha Hughes
To create public spaces with lasting impact, architects and specifiers often look to materials that support strong interior design and long-term sustainability goals. Offering a strong, durable material in hundreds of colours, patterns, and textures, premium rubber flooring can play a key role in building design while providing a variety of important performance features—everything from comfort underfoot and simple maintenance to improved indoor air quality (IAQ), durability, and slip resistance.
For those who primarily experience public spaces on their feet, the resiliency of rubber flooring provides significant comfort. Structured to cushion footfall with every step, rubber flooring supports walking and standing while easing muscle fatigue and aching backs. For example, teachers and laboratory technicians, who spend long periods of time on their feet, appreciate this feature, as do travellers in busy airports, which is why YYC Calgary International Airport features more than 37,161 m2 (400,000 sf) of premium rubber flooring in portions of the international terminal and Connections Corridor.
When the YYC Calgary International Airport Authority began planning its $2-billion expansion more than 10 years ago, visitor needs were a primary focus. In a conversation with the author, a representative of the Airport Authority stated providing comfort and give underfoot were priorities in the project, and rubber flooring met those needs more effectively than hard surfaces such as granite or tile.
However, comfort was not the only reason rubber flooring was chosen for the expansion. The floor's clean appearance and simple maintenance regimen also influenced the decision.
As rubber is nonporous and non-absorbent, routine maintenance with water and a damp mop is often all that is required to keep it looking clean and fresh. The floor never requires labour-intensive stripping or the application of sealants and coatings, which means large areas of the building do not need to be shut down for extended periods while floors are cleaned and coatings are applied and allowed to dry.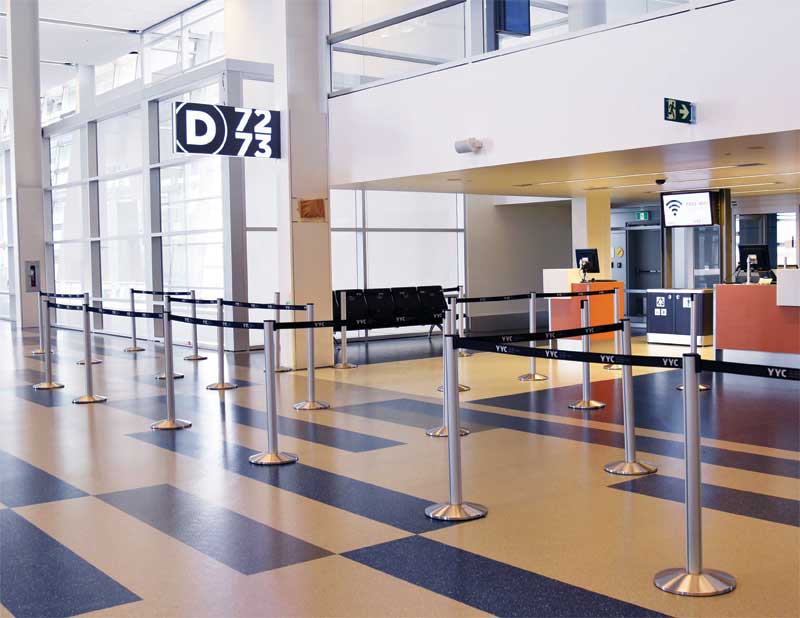 Reduced maintenance also translates to savings in terms of reduced time spent to keep the floor clean and fewer maintenance products to purchase. Rubber flooring's simplified cleaning requirements are most beneficial during cold winter months, when foot traffic brings with it mud, snow, and other substances that pose risks for slipping and tripping. With rubber flooring, these substances can be easily and quickly cleaned up. Additionally, the floor's dense surface resists staining, which is an especially important benefit in airport concourses and boarding areas, as well as cafeterias, laboratories, and other public spaces where spills are common.
In choosing a floorcovering for YYC Calgary International Airport, the administrators relied on their experience with various types of flooring. The Airport Authority noted cleaning and maintenance of carpet, for example, could be both expensive and difficult, potentially allowing for a poor appearance.
Also noted were the maintenance costs associated with linoleum and the poor results airports have experienced with wood flooring. Administrators at Vancouver's Capilano University reached a similar conclusion regarding the maintenance requirements associated with rubber flooring.
"I like the fact that you can actually clean it, and do so with very little buffing," says Susan Doig, the school's director of facilities. "It always maintains a fresh look. With carpet, as soon as the first person walks on it with dirty shoes, it is dirty. So, from a hygiene perspective, I much prefer rubber flooring to carpeting."
Similar results were also reported at McMaster University in Hamilton.
"Carpets were largely the standard, and they are dusty. During the winter, they get matted with salt and slush," says Craig MacDonald, McMaster's director of maintenance and facility services. "You just cannot maintain them. Our custodial staff likes the rubber flooring, because they only need to use water and a scrubber to keep it clean. It is environmentally friendly, easy to care for, and sustainable, and it provides good slip resistance."
The environmentally responsible aspect MacDonald references means students at the university, as well as travellers at the airport, benefit from improved indoor air quality. This is because many rubber floors are free of polyvinyl chloride (PVC) plastic and the risks associated with the leaching of chemicals used in its manufacture. As rubber flooring does not contain PVC, it does not generate any hydrochloric acid, dioxins, or furans in the event of fire.

Control the content you see on ConstructionCanada.net!
Learn More.