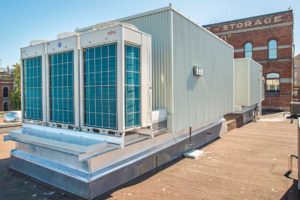 Drop-in replacement
"After looking at a few different options, we determined that new, custom-built air handlers would be best," said Pedersen. "Unlike the originals though, which had only two coils, the seven fan coils inside the new units are served by variable refrigerant flow (VRF) condensers with a heat recovery feature for load sharing. The cost increase over a new factory multi-zone unit was marginal, but the difference [reduction] in energy consumption was impressive."
Once settled on VRF equipment, Pedersen's biggest design hurdle was static pressure. Could the fans on the evaporator coils provide the air movement needed? Much of the existing ductwork was concealed and the mechanical "as-built" drawings were outdated and unreliable. After calculating the pressure loss based on these old drawings, the firm took the extra precaution of hiring an air balancing company to determine the true pressure drop. In each ducting run, both the calculated pressure drops and the measured pressure drops fell within the manufacturer's published capabilities for their high pressure fan coils.
Avalon narrowed their search for VRF manufacturers to three as they were the only locally available manufacturers to provide systems which could meet the static pressure requirements in the fan coil sizes required. Ultimately, the coil dimensions made the decision simple. The chosen evaporator coils, which range from 2268 to 4536 kg (2.5 to 5 tons), were narrower and higher than the other two. This profile better suited the existing, roof-level duct takeoffs Pedersen needed to transition into.
Avalon then produced the initial design for the two air handler "boxes." Each box contains seven independent evaporator coils and they draw from a common return air plenum. The plenum includes a single return air fan powered by a variable frequency drive (VFD), simply to maintain neutral pressure behind the coils. Each of the two big multi-zone units is served by three, 8165 kg (9 ton) VRF condensing units. The entire system fits directly onto the existing roof curb.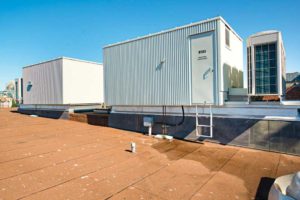 Writing the book
"I'm not aware of any other retrofits quite like this one, said Pedersen. "We issued a conceptual design bid, knowing that the fabricator would need to improvise on many of the details." Capital City Refrigeration, based in Victoria, won the bid. They worked closely with JB Sheet Metal during the ground-up build of both new units.
"This was a bid-spec job, but it progressed like a design-build," said Tim Sykes, who co-founded Capital City Refrigeration with Tyler Little. "We like a challenge though." The company's focus is commercial and institutional HVAC, refrigeration, and large residential work. With four technicians in the field, they describe themselves as lean and mean.
Work on the new air handlers began in March 2022 at JB Sheet Metal. The timeline was tight in order to have both units ready to install during the spring shoulder season.

Control the content you see on ConstructionCanada.net!
Learn More.