By Derrick Paul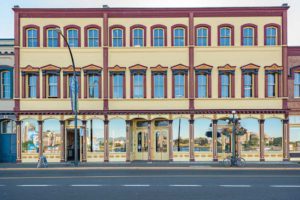 Packaged Multizoneasaurus thrived primarily between 1960 and 1980 A.D. Habitat for this large heating and cooling beast typically consisted of rooftops in cool and temperate regions of North America, where the length and severity of warm and cold seasons are similar. Many can still be found in place today. Notably, its present-day counterparts consume far less energy, a process which took decades of evolution.
Usually, packaged multi-zone air handlers were installed at institutional facilities, schools, hospitals, or banks and were selected based on their ability to provide simultaneous heating and cooling to different zones within the structure.
As for comfort, the huge units did a good job. However, from an energy standpoint, there was plenty of room for improvement. These hot deck/cold deck air handling units use a large supply fan (and often a return fan as well) to force air through a chilled water or refrigerant coil and a hot water coil. On the supply side of the stacked coils, zone dampers are placed on each take-off control, and they mix air for each zone.
Heritage building, vintage system
Victoria, B.C., has a climate well suited for multi-zone, rooftop air handlers. The area is known for temperate winters and mostly tolerable heat and humidity during the summer. Long shoulder seasons also mean heating and cooling requirements between the north and south side of a building can vary substantially. This is ideal for a system which can serve dissimilar zones.
One of the oldest structures in Victoria, the Rithet Building, was constructed in the late 1860s. Its prominent external cast iron columns make it one of British Columbia's finest examples of West Coast Iron Front architecture.
In the mid-1970s, ductwork was added to the 2322 m2 (25,000 sf) brick building, and three multi-zone packaged units, each roughly 9.1 m (30 ft) long, were installed on the roof. One of these multi-zone units was installed on the upper floor and was recently replaced with seven packaged rooftop heat pumps. The other two multi-zone units remained in service, each serving seven zones.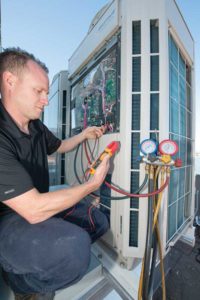 Installed in 1993, four boilers downstairs provided ample hot water for the big heating coils, and each unit had an integral direct expansion (DX) coil served by a multi-stage compressor. Avalon Energy Management, a mechanical engineering and energy consulting firm, was approached by the property owner about replacing the remaining two multi-zone units.
"The Rithet Building now contains offices with some retail space below, and it needed to remain fully occupied for the duration of any HVAC retrofit," said Tom Pedersen, engineering technologist at Avalon. "The fact that it's a Landmark Heritage Building further reduced our options when it came time to select a new system."
Instead of overhauling the existing multi-zone rooftop units or replacing them with new versions of the same technology, the firm designed a multi-zone air handler which employed air-to-air heat pump technology exclusively.

Control the content you see on ConstructionCanada.net!
Learn More.