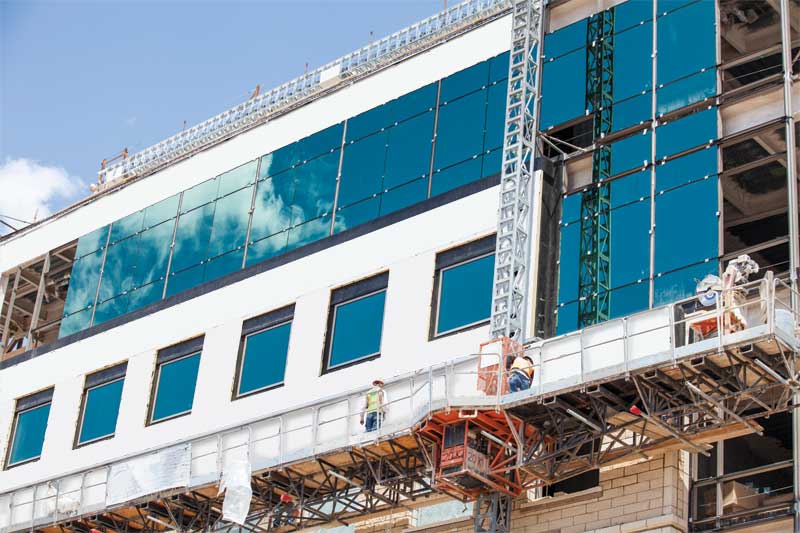 By Justin Koscher
Climate change is already having an effect on communities across Canada. Some are facing increased droughts; others, more intense storms. Weather-related emergencies like heat waves, flooding, and forest fires are on the rise. Shorter, warmer winters are leading to more coastal erosion and infrastructure damage as protective coastal ice is lost. Invasive pests normally controlled by cold weather are able to thrive, decimating municipal trees and gardens.
Severe weather can be expensive. The federal government has spent more on recovering from large-scale natural disasters over the past six years than in the preceding 39 years combined. (This information was obtained from www.oag-bvg.gc.ca/internet/English/osm_20160531_e_41400.html?=undefined&wbdisable=true.) On top of this, scientists are predicting severe weather events are going to become more frequent and more intense. Unprecedented investment from both individuals and government entities is required to adapt to these changing conditions. Failure to adjust would be even costlier when the next major disaster strikes.
Challenges of an aging infrastructure
Climate change will only make things worse as severe weather takes its toll on existing structures and aging infrastructure. Canada's north, where the impact of climate change is starkest, faces particular challenges. It is estimated adapting buildings in the Northwest Territories will cost $230 million—more than $5000 for every person in the Territories. The Inuvik region alone is facing costs of $140 million to repair buildings affected by the disappearance of permafrost. The economic impact of climate change is also staggering, as the loss of ice roads costs companies millions in transportation costs and further isolates northern communities.
Historical weather patterns no longer provide a reliable map for future building code requirements. Moving forward, engineering has to be more focused on risk management. On both community-wide and building-specific levels, conscientious groups are creating plans to deal with robust weather, climatic events, and national security threats by changing codes and standards. This is intended to improve infrastructure's capacity to withstand, absorb, and recover from environmental stress caused by weather-related events.
Improvements to infrastructure resiliency, whether they are called risk management strategies, extreme weather preparedness, or climate change adaptation, can help a region bounce back quickly from the next storm at a considerably lower cost. A new series of reports from the Office of the Auditor General of Canada calls for urgent action to support resiliency. (These reports can be accessed at www.oag-bvg.ca/internet/docs/parl_cesd_201605_02_e.pdf.) With these principles and higher demands in mind, there has been a co-ordinated effort to revolutionize building standards.
"Canada must build resilient buildings, roads, bridges, water and sewage facilities, and transportation networks so that we can move around, work, keep the economy going, and live in vibrant and healthy communities," writes Julie Gelfand, Canada's Commissioner of the Environment and Sustainable Development. "When resiliency is built into infrastructure, it is also built into communities, as they are then better equipped to recover more quickly when disasters strike."

Control the content you see on ConstructionCanada.net!
Learn More.