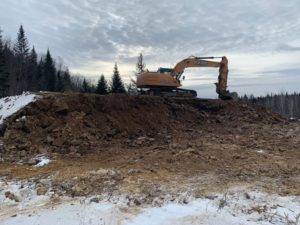 An industry partnership proposes to use the partner mining company's toxic leftovers from its Montauban, Que., mine to fuse them with organic polymer and turn them into environmentally friendly, sustainable building materials.
The polymer, being organic, will require no furnace cooking to set, and as a result, will not produce any CO2 in the creation of the building materials, which have proven to be stronger than concrete.
The building materials can be shaped into bricks, cinder blocks, paving stones, patio tiles, parking columns, and Jersey barriers used to define traffic lanes. The polymer can also be used to easily create temporary roads, replacing the need for high greenhouse-gas-emitting asphalt and concrete.
The mining company, Vancouver-headquarted ESGold Corp., is partnering with a private consultancy, DMCMS Inc, and EsGold Corp. is in the process of setting up a mill at the Montauban mining site. When production begins at the mill in 2023, ESGold will be able to take the toxic tailings on its site, use a three-stage process to profitably extract gold and silver while removing the toxins from the tailings, and then take the newly processed and clean tailings and mix them with the polymer to form a variety of construction materials.
"The initiative to use the organic polymer to create building materials offers a new revenue stream with very low upfront and ongoing operational costs over and above the extraction of gold and silver at Montauban," says Jean Yves Therien, CEO of ESGold Corp. "Equally important is the positive environmental impact that this initiative brings to Quebec. The manufacturing of concrete is the second-largest generator of CO2 in the world. ESGold's new process will create needed building materials for the Quebec construction industry that are superior in strength, easier to engineer, and create zero carbon emissions."