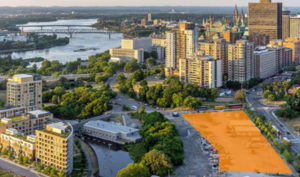 The City of Ottawa, Ottawa Public Library, and Library and Archives Canada are asking the public to help inspire the design of the new Ottawa Public Library and Library and Archives Canada joint facility.
Diamond Schmitt Architects and Ottawa's KWC Architects will design the facility.
The national engagement process for the architectural design of the facility has been labelled the 'Inspire555 Series,' in a nod to its address: 555 Albert Street, in downtown Ottawa.
The series is part of an ongoing engagement program for the new destination that began in 2013, and will continue through 2019 as people guide the facility's design.
The Inspire555 Series will include design workshops, pop-up events, expert lectures, online activities and engagement (local and national), and knowledge sharing with Indigenous communities.
The public will have the opportunity to view preliminary outlines, share ideas regarding how to make the most of the panoramic views, and inform the physical orientation of the building. Along with in-person workshops, Canadians will be invited to share their thoughts and input online.