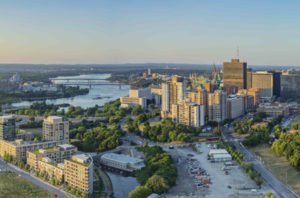 The Ottawa Public Library (OPL) and Library and Archives Canada (LAC) have tapped Diamond Schmitt Architects and KWC Architects to design their joint facility for a new central library and archive.
The selection was announced following a review of 33 submissions from architectural firms from around the world, and a shortlist of five finalists.
"Ottawa's new central library will be an essential public space, and a key destination for generations to come. A place where together we can gather, learn, read, play, be challenged, connect, and relax," said Tim Tierney, chair, OPL board.
Subject to successful negotiations and final approval of the contract, the design development work for the civic building will start with a public event. The OPL and LAC joint facility is expected to open in 2024. The total project budget is $192.9 million.
Earlier this month, Diamond Schmitt Architects and RWDI received the Green Building Pioneer Award from the Canada Green Building Council (CaGBC) for ecoMetrics, a database with building energy simulation models for a portfolio of more than 70 Diamond Schmitt projects across a range of building types. A dataset of more than 10,000 points is captured in graphics in a series of customized templates for energy use, carbon emissions, code, and benchmarking systems.
The Green Building Pioneer Award recognizes initiatives and individuals who demonstrate an innovative approach to the advancement of green building technology, products, design, and performance.