Protecting flat roofs from extreme weather conditions
November 7, 2019
By Doug Kramer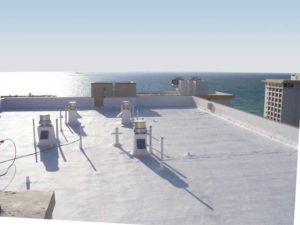 Extreme weather and the regular occurrence of the so-called '100-year storms' is the new normal in most parts of Canada. New estimates from Canada's Changing Climate Report[2] concluded the country's climate is warming twice as fast as the rest of the world's. Along with the warming comes extreme precipitation. In Canada, an extreme precipitation event with a one-in-20-year probability of occurrence is projected to become, approximately, a one-in-10-year event by mid-century, and a one-in-five-year happening by 2100 (under a business-as-usual emissions scenario). To prepare the construction industry for the extreme weather events, the National Building Code of Canada (NBC) is getting a much-needed update, including new guidelines[3] for certifying the resiliency of roofs. This is planned for 2020.
While details are scarce, a briefing note obtained by the Canadian Broadcasting Corporation (CBC) said, "To remain vital in the face of coming climate change challenges, the construction industry will need better, safer, energy-efficient, and affordable construction materials and technology that can maintain or improve lifespan expectations for buildings and core infrastructure."
While there is no doubt the new code will change the way construction is done, some materials have already been shown to better respond to the existing climatic stresses.
Flat roofs and the elements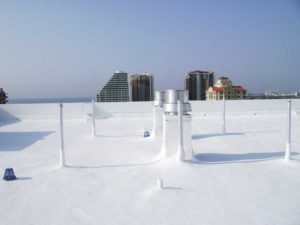 Roofs, and particularly flat ones, face unique issues when dealing with sudden downpours. Builders are discovering sprayed polyurethane foam (SPF) can contend with the 'new normal' extreme weather that is being witnessed. Spray foam has no seams, penetrations, fasteners, or voids that can let water in, and it creates an uninterrupted, monolithic surface for the roof.
After a heavy rain, flat roofs may not drain properly, and in winter they can collect snow and endanger the structure itself. Since spray foam can be applied in multiple layers and in varying thicknesses, it can create better drainage on flat or slightly pitched surfaces. Proper drainage prevents ponding water and deck deflection, and protects the roof from leaks and premature failures, thereby resulting in an extended lifespan. Inspections should be seasonal for commercial flat roofs, taking place twice a year in the spring and autumn, during times of heavy rainfall that could lead to pooling or leaks.
Certified SPF installers are available across Canada for commercial and industrial buildings. A quality tradesperson, remodeller, or contractor in the business of roofing SPFs and trained in handling these chemicals should do the job. The difficulty is not in the installation of SPF, but in understanding the requirements of the roof assembly (e.g. penetrations, parapet walls, and proper edge delta), as well as knowing how to slope for drainage.
In the author's experience, the costs of SPF and roof coatings are two-thirds of other flat roof systems because it is also dampproofing and insulating the overall assembly. The coatings must be applied after the SPF is installed. It is an efficient process—SPF sets in seconds, so coating can take place within two hours. The combination of these two protective barriers should be installed during roofing season, which varies based on the location. The foam reacts slowly at subzero temperatures—coatings can go down as low as –17 C (1 F).
Energy efficient
Spray foam is one of the most energy-efficient materials for roofing since it becomes a seamless monolithic membrane once it is applied. It seals the building envelope to stop heat transfer through the roof deck, minimizes the escape of conditioned air, and restricts unconditioned air from entering the building. With an RSI value of around one per inch (compared to blown fibreglass with an RSI of around 0.35 per inch, spray foam saves on both heating and cooling costs. SPF has a higher RSI compared to polyisocyanurate and expanded polystyrene (EPS), and does not need to be mechanically fastened, thereby decreasing labour time and costs.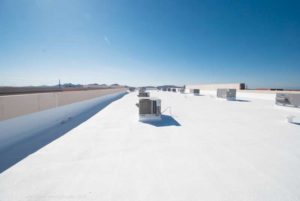 Elastomeric protective coatings come in white, grey, tan, and even custom colours upon request. They are applied over SPF roofs, and most coating products have earned the Cool Roof Ratings Council (CRRC) certification due to its high reflectivity of harmful ultraviolet (UV) rays. The rating program lends itself to manufacturers and sellers who label their roofing products with measured initial and aged radiative properties. The CRRC currently allows the use of two different thermal emittance test methods for its product rating program: ASTM C1371, Standard Test Method for Determination of Emittance of Materials Near Room Temperature Using Portable Emissometers, and the Slide Method. For SPF, the Slide Method adapts the C1371 instrument for use on specimens with higher thermal resistance, such as concrete or clay tile, wood shingles, or insulation-backed membranes. The method involves moving the device head across the sample during the measurement process.
The versatility of spray foam in warm and cold climates means it is a resilient material that can match the weather extremes forecasted to come. Since spray foam is an effective insulator[6] it is being used by the National Aeronautics and Space Administration (NASA) on rockets, tested to both extremely high and low temperatures, to ensure its space-worthiness.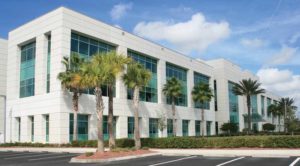 It is also frequently utilized in the Arctic communities where temperatures as low as –32 C (–26 F) in winter necessitate an airtight building envelope. Whether extreme climates and endorsements like NASA's are compelling, it is hard to argue with the economics of an SPF roof. Spray foam could also contribute to a 'cool roof' effect by not allowing the warm air inside to leak out in the winter and trapping in the cold air in the summer. This could mean energy savings compared to an alternative roofing system. Some coatings, for instance, are 88 per cent reflective and can reduce cooling costs by up to 35 per cent.
Wind resistance
Wind uplift is the primary cause of damage to roof systems, and materials are one of the first things to go in gale force winds, with metal roofing panels flapping loose in the wind or becoming dangerous projectiles. Particularly, roof edges are vulnerable to lifting off or loosening wherever mechanical fasteners have been applied. Since spray foam is self-flashing, and adheres seamlessly to the surface, there are no shingles, panels, or fasteners to come loose in the wind. Some spray foam products are even Miami-Dade approved, meaning they are strongly recommended in places like Florida with a hurricane-prone climate. Further, it resists damage from debris that might hit the roof during a severe weather event. SPF is the only roofing system with a severe hail rating by Factory Mutual (FM) Approval.
During the application process, like most applied building materials, there is the potential for odours to penetrate the inside of the building. In the author's experience, with proper ventilation, the smell should subside once fully cured.
Sustainability
Spray foam roofs offer a sustainable solution for a range of commercial, agricultural, industrial, and residential applications. Since it can be applied directly on top of existing substrates, it saves time and money that would have been spent on disposal costs and keeps discarded material out of landfills. Tear-off is not required because, in most circumstances, the substrate does not have to be pulled off to extend the life of the building with proper upkeep. While other roofing systems deteriorate over time and require a complete replacement at the end of their lifespan, spray foam assemblies only require a reapplication of the elastomeric outer membrane every 20 or so years, at a cost of about half the original roof installation. Additionally, repairs are easy to do without having to call in specialized companies. In the unlikely event of the roof getting punctured or cut, maintenance staff can provide the fix by filling any fissures with polyurethane exterior caulking.
Green roofs and solar panels
As the frequency of storms and the volume of precipitation increases, experts are beginning to realize optimizing roof drainage might not be enough. Entirely new approaches might be needed.
Gerry Saunders of the United Kingdom's Building Research Establishment says, "At the moment, buildings and roofs are designed to shed water as quickly as possible. Maybe to avoid more flooding, it would be best if buildings retain water, perhaps by an increase in roof gardens, which would absorb some of the precipitation." Something like a visible low roof can be turned into a green roof. Rooftop rainwater harvesting methods, like catchments, can also be installed.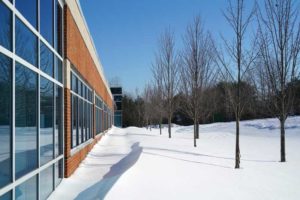 If roof gardens are seen as a viable solution and adopted widely, spray foam is flexible to allow for greater sloping or other changes to mitigate flooding and drainage. Since it is applied in a single layer it is possible to vary the foam's thickness to support structures like roof gardens and solar panels. There are no overlapping materials or tripping hazards common to other roofing solutions, so a smooth and even roof becomes a safe and inviting place for workers or visitors. Also, as part of the overall coating system, walk pads can be put down to create a non-slip, low-wearing surface. The material is safe and durable and holds up well to foot traffic, so access to all rooftop installations, vents, air-conditioning units, and storage can be maintained without worry.
As the commercial building industry moves toward renewable energy there is a greater demand for solar panels on roofs. Solar panels with the installation of SPF make for a renewable and efficient solution for building owners and occupants. SPF and solar panels are both complementary systems and are now being designed for seamless installation. According to an article in Solar Builder[9], if there is a long-term plan to add a solar array to a roof, SPF allows builders to prep for the positioning of solar panel roof mounting stanchions.
New, greener blowing agents
Canada is introducing new regulations to eliminate greenhouse gas (GHG)-emitting hydrofluorocarbon (HFC) technology and plans to make the full transition to hydrofluoro-olefins (HFO) by early 2020. HFOs have lower global warming potentials (GWPs) and are fast becoming the preferred fourth generation blowing agents for spray foam. In the United States, the first ban on HFC blowing agent is set to take effect on January 1, 2020. In October 2016, delegates to the Montréal Protocol agreed in Kigali, Rwanda, to a historic amendment establishing a schedule for the phasing out of high-GWP HFCs in developed and developing countries. Canada supports the accord, and will soon be seeing low-GWP alternatives in the market.
Building envelope
A building's performance depends on its envelope. The best envelope is created by continuous insulation (ci) forming an unbroken seal. The issue with most roofing and cladding systems is they are not 100 per cent effective against water intrusion. Severe storms, hurricanes, and tornadoes can overwhelm them if they are not able to divert the rain and keep it outside. Some materials have physical limitations in terms of keeping out moisture. Concrete blocks or bricks and mortar are inherently porous and can let water in. SPF in its medium-density, closed-cell form can be used as an exterior ci and can act as a water-resistant barrier (WRB). It also provides an air barrier, keeping moist air from getting through and into the building. This is vital in some climates because warm moist air coming into a building hits cold surfaces and creates a condensation problem on the interior of the structure. Installing a vapour barrier is important in those applications, and SPF is a three-in-one application to form an effective envelope: it insulates and creates an air as well as a vapour barrier.
As a product, SPF technology is over half-a-century old. By the late 70s, SPF evolved into a legitimate roofing application solution. Today, more than ever, the product is a critical component in the fight against skyrocketing energy costs.
In the author's experience, it is not an exaggeration to say whatever the future may bring, spray foam provides an effective solution for flat roofs, and could be the last roof a building ever needs.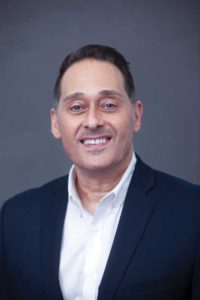 [10]Doug Kramer is the president of Icynene-Lapolla, a manufacturer and supplier of sprayed polyurethane foam (SPF) and coatings. He has almost 30 years of experience in the manufacturing, operations, sales, and marketing of a broad variety of elastomeric coatings and polyurethane foam for construction. Kramer is a member of the Center for Polyurethanes Industry's (CPI's) Spray Foam Coalition (SFC) and a former board member of the Spray Polyurethane Foam Alliance (SPFA). He can be reached via e-mail at dkramer@icynene-lapolla.com[11].
Endnotes:
[Image]: https://www.constructioncanada.net/wp-content/uploads/2019/11/101_0315-EDITED.jpg
Canada's Changing Climate Report: https://www.canada.ca/en/environment-climate-change/news/2019/04/canadas-climate-is-warming-twice-as-fast-as-global-average.html
new guidelines: https://www.theweathernetwork.com/ca/news/article/canadas-building-code-is-getting-climate-change-rewrite-is-your-home-ready
[Image]: https://www.constructioncanada.net/wp-content/uploads/2019/11/DSC00099-Edited-2.jpg
[Image]: https://www.constructioncanada.net/wp-content/uploads/2019/11/joes-roof.jpg
spray foam is an effective insulator: http://sprayfoammagazine.com/spf-sls-help-nasa-explore-deep-space
[Image]: https://www.constructioncanada.net/wp-content/uploads/2019/11/bigstock-Modern-Commercial-Building-2689195.jpg
[Image]: https://www.constructioncanada.net/wp-content/uploads/2019/11/bigstock-Company-Building-Exterior-Afte-235973668.jpg
Solar Builder: http://solarbuildermag.com/mounting-solutions-guide/barrier-entry-standard-solar-shares-latest-commercial-rooftop-solar-success
[Image]: https://www.constructioncanada.net/wp-content/uploads/2019/11/Doug-Kramer.jpg
dkramer@icynene-lapolla.com: mailto:dkramer@icynene-lapolla.com
Source URL: https://www.constructioncanada.net/protecting-flat-roofs-from-extreme-weather-conditions/
---