Maximizing Building Facade Sustainability – Uniting Design with Construction
Presented by:  Jeff Ker, Senior Technical Director
In-Person or Zoom – Thursday January 12, 2023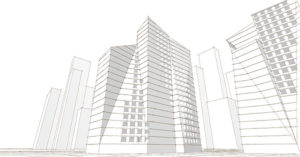 This presentation will be an interactive session to take the audience through the challenges we face as an industry on our quest to achieve a sustainable future for building façade design and installation in our rapidly evolving Canadian climate.  Sustainability of buildings should start at the façade.
The session will dig into the key design principles that help avoid failures in performance to better equip those working in the field installing the facades as they face unexpected challenges not addressed in drawings.
The interactive nature of the presentation will have the audience view shop drawings from a live case study to comprehensively address common oversights.  Through education, our desired outcome is a deeper understanding of the fundamental high performance rear-ventilated rainscreen (RVRS) design principles that can ultimately save the clients from premature failure of the façade material.
LEARNING OBJECTIVES
Apply learning to countless situations and challenges that arise during all stages of design, drafting, and installation of a ventilated rainscreen façade to maximize the lifespan and contribute to a sustainable future.
Identifying potential errors in installation and collaboratively addressing them in real time.
Ensuring through proper design and installation transparency that manufacturers' fundamental installation requirements are met to maximize material lifespan and secure warranty approval.
Practicing the correct selection of material and best practices for sustaining the maximum performance of the façade material.
SPEAKER – Jeff Ker
Jeff Ker's 28 years of technical facade experience with the Ontario Architectural and Design community benefit each project he undertakes. His experience includes two years in the West-Coast market and over a decade in the Eastern-Canadian market; representing a variety of RVRS systems. With a solid background in technical sales, project management and liaison with the construction community, Jeff enjoys a tireless passion with matters of a technical nature in his personal and professional life. Jeff is a regular technical article contributor to AWARD and Construction Canada magazines.
Jeff Ker is a regular speaker at Construct Canada, including speaking engagements at Contech(Montreal), CEBQ(Quebec), World Design Summit, Toronto CSC Building Expo, Buildex Vancouver, CSC Halifax in addition to various installation seminars.
LOCATION:
Hotel Le Soleil – 567 Hornby Street, Vancouver, BC
AGENDA:     
11:30 – 1:00 pm      Luncheon
12:00 – 1:00 pm      Guest Speaker Presentation
 
COST:        
In Person Option
$40.00 plus GST for pre-registered CSC members / Association Executive Directors
$50.00 plus GST for non-members
Zoom
$20.00 plus GST for pre-registered CSC members / Association Executive Directors
$30.00 plus GST for non-members
PARKING:    
There is a pay parking facility across the street