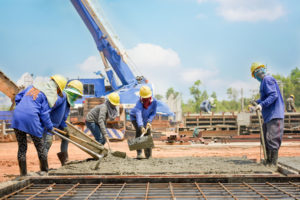 Contractors can cement their concrete knowledge with Concrete North: Alberta Concrete Symposium, headed for the University of Alberta's Donadeo Innovation Centre for Engineering (DICE) Building in Edmonton July 19 and 20. Presented by CSC Edmonton, the Edmonton Construction Association (ECA), the university, and the International Society of Construction Science, the symposium divides its time among certification, seminars, and various hands-on training opportunities.
July 19 will focus on concrete placement and finishing, helping attendees ensure they achieve structural integrity, esthetic appeal, and minimal shrinkage when working with architectural exposed structural concrete (AESC). The training is accomplished by giving students the chance to work with equipment and fresh concrete at the DICE Building.
It will be followed on July 20 with training related to polishing and protection. Attendees will learn how to defend their concrete from various threats, including staining and damage from other trades, and how to meet standards such as those set by Canadian Centre for Occupational Health and Safety (CCOHS) and Occupational Safety and Health Administration (OSHA) for silica content. Gloss, resiliency, and co-efficient of friction (COF) recommendations will also be discussed.
The second day of the event will also feature various seminars, including:
"History of Concrete: Concrete 101," presented by Rae Taylor, PhD;
"Roman Concrete: A History," presented by Carlos Cruz Noguez, PhD, P.Eng.; and
"Healthy Concrete Systems: Defending Design Intent," presented by Chris Bennett, CSI.
A panel discussion will also be led by Bennett, Taylor, Noguez, and Keith Robinson, FCSC, FCSI, RSW, LEED AP. Titled "Changing the Language of Concrete," the panel is based on Bennett, Taylor, and Robinson's Construction Canada article of the same name, and focuses on identifying and clearing up common areas of miscommunication within the concrete industry.
For more information on the symposium or to register, click here.