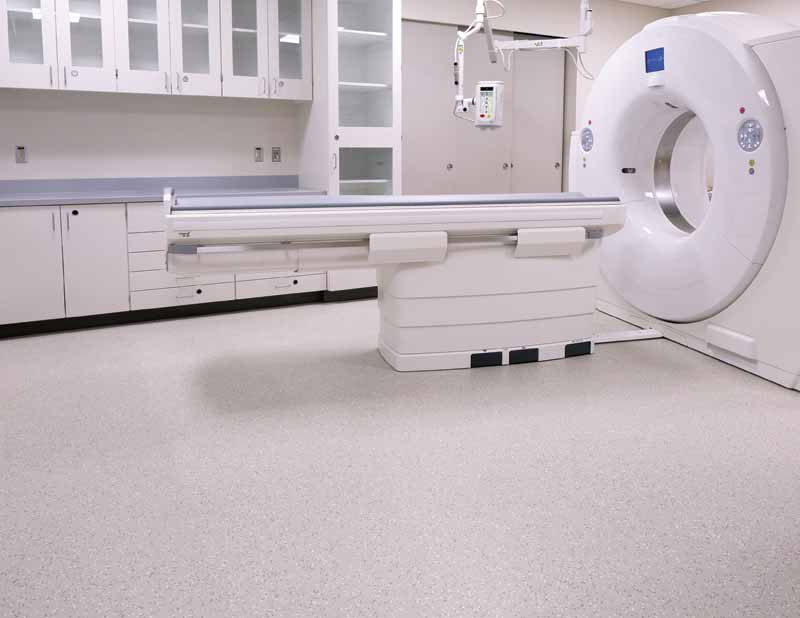 Improving indoor air quality
In addition to maintenance efficiencies, the reduction of harsh cleaning chemicals, coatings, waxes, and strippers may also improve IAQ, which has a direct impact on health and wellness. Flooring selected for healthcare facilities should meet stringent standards for low volatile organic compound (VOC) emissions, including Greenguard Gold certification. This certification tests for 365 chemicals, and includes a total VOC (TVOC) measurement.
Life-cycle costs
An analysis of VCT, sheet vinyl, carpet, rubber, and linoleum flooring conducted by one group of Florida healthcare facilities studied the life-cycle costs of those materials over a 15-year period. (Read more at www.interiorsandsources.com/article-details/articleid/6130/title/rubber-flooring-value-and-beauty-for-the-long-term.)
The study found VCT to be the least-expensive "first-cost" material, but its maintenance protocol costs can still be nine to 15 times the cost of the installed flooring due to finish requirements and the associated maintenance labour. Sheet vinyl and carpet also had high life-cycle cost factor. No-finish sheet vinyl was better.
The same study found of the products tested, rubber flooring had the lowest cost per area over the 15 years. This fact, along with the material's performance characteristics, allows rubber floorcovering to offer excellent return of investment (ROI).
Conclusion
Premium rubber flooring is a solution supporting designers' esthetic design intentions, healthcare administrators' safety and maintenance requirements, caregivers, and—perhaps most importantly—patients and their families. Premium rubber flooring and its inherent attributes offer operational optimization. It also enables better patient/caregiver outcomes, while offering a solution best supporting the link between the physical environment, and patient and caregiver well-being, fostering human-centric needs in a healthcare environment.
Sandra Soraci, EDAC, LEED AP, NCIDQ, is the marketing leader, healthcare solutions, for Nora systems. She has been a healthcare designer and thought leader for more than 20 years. As a designer, Soraci's mission is to collaborate with and support the challenges Nora's healthcare partners are faced with. She can be reached via e-mail at sandra.soraci@nora.com.
Tasha Hughes is a public relations and marketing specialist for Nora systems, an international rubber flooring manufacturer dedicated to developing premium flooring solutions for various commercial markets, including healthcare, education, industry, life science, labs, and public buildings. She can be reached at tasha.hughes@nora.com.

Control the content you see on ConstructionCanada.net!
Learn More.