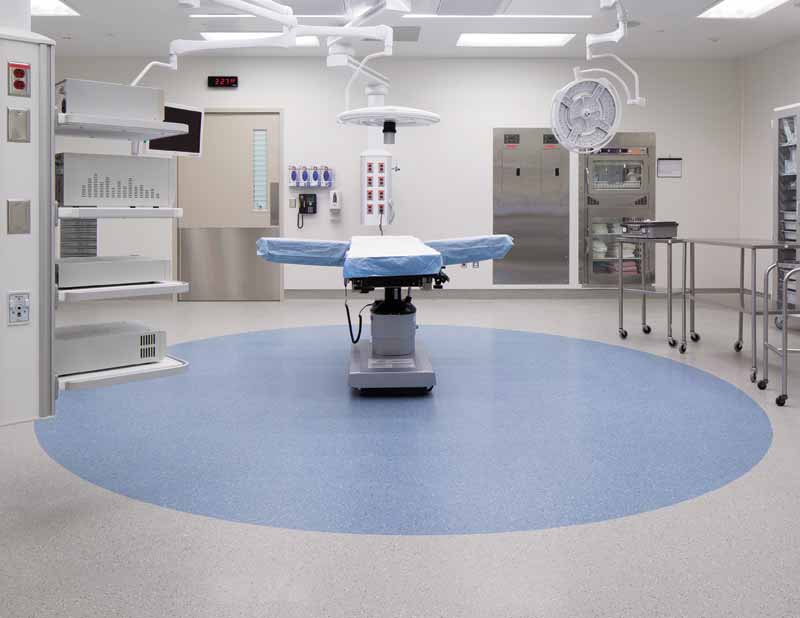 Rubber flooring reduces likelihood of slips and falls
Three flooring-related qualities impact fall prevention: slip resistance, glare, and light reflectance value.
As it relates to patient and caregiver safety, the flooring material, finish, type of maintenance, and CoF should also be carefully considered when evaluating flooring products.
The slip-resistant properties of rubber flooring reduce the likelihood of slips and falls. In the case of premium rubber flooring, the floor may even exceed Occupational Safety and Health Administration (OSHA) recommendations for slip resistance, providing extra traction.
Should a fall occur, the resilience of rubber flooring cushions the fall and can possibly reduce the likelihood of serious injury.
For premium rubber, this goes back to the manufacturing process in the vulcanization and cross-linking of materials, which has resiliency and elasticity. The resulting surface density fosters safety (CoF wet/dry), ergonomics, and acoustics. VCT always has to be waxed and a factory-applied coating on linoleum, sheet vinyl, or LVT will not sustain the useful life of the product.
This feature is most appealing for patients using canes and walkers, as well as orthopedic patients working to regain their balance and ability to walk. Those in wheelchairs (and the nurses who push them) will also find it easier to manoeuvre chairs across premium rubber flooring. In fact, the floor's low resistance to wheeled equipment reduces the possibility of staff over-exertion who regularly move carts, equipment, chairs, supply carts, and patient beds.
Glare and high gloss, often due to layers of wax, can also negatively impact safety. The average age of the typical inpatient population is 65, while a caregiver's average age is 55. Glare can alter cognitive perception for these populations, and visual acuity with the ageing eye can be a trip hazard. This is because when a surface is perceived as slippery, patients may change their gait or walking speed, which modifies the amount of surface contact to the floor. As a result, the non-glare finish of rubber flooring becomes a safety feature.
Rubber flooring reduces noise
Flooring plays a primary role in transferring the noise of hospital alarms, printers, chair casters, rolling equipment, footsteps, and cleaning equipment. All contribute significantly to sound levels in the healing environment, which have long been a source of complaints.
Evidence-based research studies show noise also has a direct, measurable, and negative impact on healing. (For more, visit www.sciencedirect.com/science/article/pii/S0360132312001758 and www.interiorsandsources.com/article-details/articleid/20950/viewall/true?title=the%20art%20of%20healing%20spaces%20that%20perform.) Noise can cause sleep disruption, which slows wound healing and increases the need for medication. So pervasive is the issue of noise, the Hospital Consumer Assessment of Healthcare Providers and Systems (HCAHPS) patient satisfaction survey asks, "During this hospital stay, how often was the area around your room quiet at night?" This question consistently receives the lowest patient scores in health systems. (For more on acoustics in hospitals, visit www.healthcaredesignmagazine.com/architecture/quiet-design-exploring-hcahps-findings.)
Noise has also been associated with undue stressors negatively impacting caregivers and can be error-provoking. It can irritate nurses, increase cognitive fatigue, hasten emotional exhaustion and burnout, and contribute to retention issues and communication difficulties.
Evidence-based research suggests among common healthcare flooring surfaces, rubber generally produces the least impact noise. (This research can be found in B. Davenny's January 2010 piece, "Auditory Assistance: Strategies to reduce hospital noise problems" in Health Facilities Management.) Absorbent, acoustic rubber flooring can reduce footfall sound. Those tasked with specifying a floorcovering should properly compare impact insulation class (IIC) and delta impact insulation classification (ΔIIC) values among various resilient flooring manufacturers.

Control the content you see on ConstructionCanada.net!
Learn More.