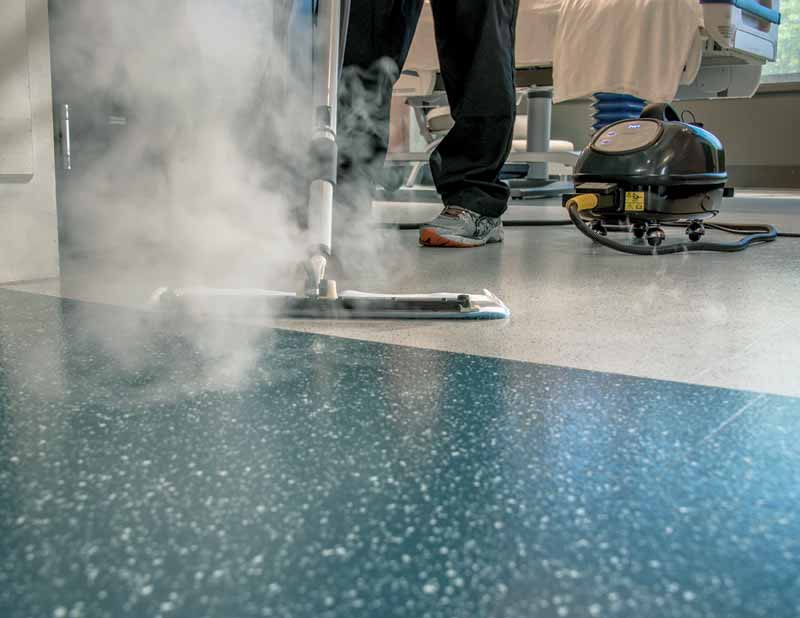 Flooring contributes to performance improvement goals
In a 2012 research study, the Center for Health Design in Concord, CA, identified eight performance characteristics defining the impact flooring has on operations, health, safety, and wellness. (For more, see 2012's "Achieving EBD Goals Through Flooring Selection and Design" by U. Nanda, E. Malone, and A. Joseph with the Center for Health Design.)
This evidence-based design approach defined how flooring can reduce:
slips, trips, and falls;
patient and staff injuries associated with falls;
noise levels;
staff fatigue;
surface contamination and potential risk of healthcare-acquired infections (HAIs); and
complaints about IAQ.
Falls impact recoveries
Premium rubber flooring can offer actionable solutions addressing these performance goals as they contribute to the creation of safer spaces. In terms of reducing slips, trips, and falls, the Centers for Medicare and Medicaid Services (CMS)—a federal agency within the United States Department of Health and Human Services (HHS)—identify falls as preventable events that should not have occurred. Nevertheless, they are common adverse events in hospitals. Between 30 and 35 per cent of patients who fall sustain an injury, resulting, on average, in 6.3 days tacked on to the hospital stay. (More information is available at www.centerfortransforminghealthcare.org/assets/4/6/CTH_Prev_Falls_Fact_Sheet_072815.pdf.)
This results in a direct cost to the health system and also affects its safety rating. According to The Joint Commission's (TJC's) Preventing Falls with Injury project, the cost for a fall with injury in U.S. healthcare facilities is about US$14,056. (See "Preventing Falls and Fall-related Injuries in Healthcare Facilities" at www.jointcommission.org/assets/1/18/SEA_55.pdf. More information is also available in "The Cost of Serious Fall-related Injuries at Three Midwestern Hospitals," by C. Wong et al in The Joint Commission Journal on Quality and Patient Safety.)
To assess slip-related safety, one needs a slip-resistance test method, and a minimum numerical safety criterion, to apply to the results. If the floor is likely to be lubricated with water or grease it needs to be safe (i.e. anti-slip or non-skid) under the expected conditions of use. Dry slip-resistance is not an indicator of wet slip-resistance—in fact, they often vary inversely—so valid wet slip-resistance testing is often needed. Most resilient systems are not defined as non-slip, slip-proof, or anti-skid. Industry guidelines require a 0.5 coefficient of friction (CoF) per ASTM D2047, Standard Test Method for Static Coefficient of Friction of Polish-coated Flooring Surfaces as Measured by the James Machine. Every floor meets the criteria; however, the CoF can be compromised when the floor is coated or waxed. At that time one is no longer walking on the floor but on the coating. For premium rubber, a never-coated floor, the CoF goes up to 0.76 to 0.95 when wet, which is one of the best CoFs attained for a resilient floor supporting overall safety and the four factors of slip, trip, fall, and resulting injury.

Control the content you see on ConstructionCanada.net!
Learn More.