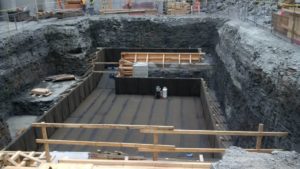 by Ibrahim El-Hajj, MRAIC, OAA
Is water penetration in the below-grade structure an inevitable phenomenon?
Not anymore. Shop drawings are proving extensive design, coupled with project-specific information, can help turn the tide.
Below-grade waterproofing systems (BGWS) are a significant scope of work in any project, especially condominiums. The BGWS can extend several storeys below grade. Major issues can arise if not dealt with appropriately and proactively.
Extensive shop drawings are helping mitigate latent issues with below-grade water and moisture penetration, but are they required? Employing exhaustive BGWS shop drawings can, in fact, solve potential problems before they start.
An advanced BGWS not only enhances building efficiency and promotes the structure's durability, but it also reduces hydrostatic pressure on the foundation walls and under-slab. As such, a well-designed BGWS includes foundation walls as well as the under-slab waterproofing and drainage systems.
Additionally, it decreases the risk for:
crack development;
water penetration;
underfloor ground water seepage;
premature deterioration;
radon gas infiltration;
sinkhole development;
interior damage;
moisture accumulation, excessive humidity, and dampness;
poor air quality and contamination;
soil disturbance and foundation settlement;
silt and sand migration as well as blockage of drainage system; and
uplift and upward forces.
When a high water table is encountered or anticipated, there is a potential risk of ground water pressure and uplift forces. Proper design of foundation/under-slab waterproofing and drainage systems should be capable of alleviating the pressure and diminishing the heaving forces against the slab-on-grade, foundations, and footings.
One may have the best BGWS for foundation walls, but problems can arise if it is not designed in conjunction with the under-slab waterproofing/drainage and collection systems to mitigate ground water pressure.
A consensus on the appropriate design of waterproofing/drainage systems for foundation walls and under-slab/perimeter is critical to ensure compatibility and efficacy of the filtration system for relieving upward hydrostatic pressure and maintaining structural stability.
Importance of scope
Treating water penetration or cracks is an unpleasant exercise. Additionally, treatment or injections can be very costly.
Lack of accessibility for repairs makes this scope critical and complicated. Once complete and in place, it should last the entire service life of the building because it is very hard—or impossible—to conduct any remedial work from the outside of the foundation walls if the system fails.
The costs associated with BGWS range from thousands to millions of dollars. From an insurance perspective, this is a warrantable risk area and the number of claims may be on the rise. In 2016, the value of claims (not including administrative and other processing costs) paid by Tarion, the new-home warranty program in Ontario, was $13.1 million in overall warranty claims. Of this, $5 million was paid for water penetration and major structural defects.
Design responsibility
Although designing the BGWS is a critical part of the building envelope, questions still swirl around whose responsibility it is to take on this scope of work.
In the author's experience, contractors usually print typical details and generic material data sheets of the products from the manufacturer's websites to execute the BGWS. This raises numerous questions, including:
can one rely on those nominal data sheets and standard details;
can generic data sheets explain and address job-specific details; and
do they contain all the required information to meet job-specific requirements?
Most specifications call only for submittals of manufacturer's product data sheets, literature, and/or samples, and not below-grade waterproofing shop drawings. As such, information provided about the system is typically limited to the product's physical properties, compliance with applicable standards, and storage and handling requirements. This conventional approach appears to omit an important part of designing a BGWS.
Shop drawings
By definition, and according to the Canadian Handbook of Practice of Architects, the shop drawing is "a drawing, diagram, schedule, or data prepared on behalf of the contractor to indicate precise details of the construction materials, products, and installation. It is usually prepared by the (shop), trade, manufacturer, supplier, or fabricator responsible for the particular product."
In fact, shop drawings can provide more in-depth, job-specific planning for designing reliable BGWS. Sole use of manufacturer's product data sheets does not allow for elaboration on compatibility with existing site conditions, nor can data sheets provide comprehensive information about the various details, required materials, or systems. Lastly, material data sheets do not interpret the environmental conditions that may affect the performance of the individual system.
Below-grade waterproofing shop drawings may include details of the interfaces between components, obstructions, and existing structures or facilities, as well as incorporate information about:
sewer discharge permit and agreement with the city;
dewatering and local conditions;
tubing or tanking requirements;
drainage transfer ports, weeping tiles, and solid pipes;
under-slab/perimeter drainage;
trenches, granular matt, filter fabrics, or raft slab;
sump pits, pumps, catch basin, sand pits/traps;
inlet/outlet pipes;
self-cleaning pumps;
water table;
ground/storm and surface water, flow, volume, and velocity;
elevator pits;
clean outs pits and collection chambers;
control and expansion joints;
water stops;
accessories;
wet/dry tiebacks or encroachment details;
acoustical or contamination requirements;
caisson walls vs. wood lagging applications;
raft or transfer slabs;
treatment of service penetrations at sumps, catch basins, or sand traps; or
watertightness at the utility services and municipal connections.
Extensive shop drawings can also indicate field erection techniques, including where to apply vertical and horizontal drainage—faceside vs. blindside—and how they interface and overlap. The documentation will specify the appropriate method of securement required for each system/type echoing the substrate conditions and designate the accurate size of the dimples at different height/location, while also clarifying configurations, options, and applicable combinations.
Below-grade waterproofing shop drawings can integrate the design and take into consideration geotechnical and hydrogeological investigations, architectural and mechanical design requirements, structural considerations, site and environmental conditions, subcontractor input, manufacturer recommendations, city requirements, and even bylaws.
Additionally, the shop drawings interpret the contract documents, and take into account all the applicable surveys/studies as well as topographical and subsurface information of site development.
Assessment of site conditions
Every project has its unique conditions requiring inclusion of critical details and special attention.
An exhaustive shop drawing could ensure early detection of unforeseen issues, limit exposure, and reduce rates of failure as well as minimize disputes and mediation or even unnecessary litigation. This approach has proven to promote clarity, and has contributed to sustainable and high-performance buildings.
Ambiguity among players
Developers, architects, specification writers, and consultants acknowledge the contractor's role and responsibility, but then fail to mandate shop drawings as part of the BGWS design.
On some occasions, developers and primary consultants request a third-party testing and inspection agency to provide the shop drawings and details, which is contrary to their role, involvement, and contract documents. In other instances, manufacturers are asked to provide the documentation for below-grade waterproofing. Once again, this is outside of their role because they do not have any contractual obligation with the developer.
Should below-grade waterproofing shop drawings be required? Should the architect, an independent consultant, contractor, or manufacturer be the responsible party? The question remains to be answered.
The need for change
When analyzing the below-grade waterproofing segment, an image begins to emerge with two powerful messages—a lack of design responsibility and missing shop drawings.
Shop drawings should be considered essential for BGWS. Mechanisms should be developed to provide the drawings, and procedures must be allocated, made clear, and simplified. The procedures should not be limited to the integration of primary consultants' design, recommendations, reviews, sequences, circulations, and delineation of responsibility.
Design responsibility is a critical risk area. Below-grade waterproofing shop drawings are crucial and effective tools with the potential to solve a lot of issues and pay enormous dividends for all participants.
An earlier version of this article appeared in the December 2017 issue of Ontario Building Officials Association Journal.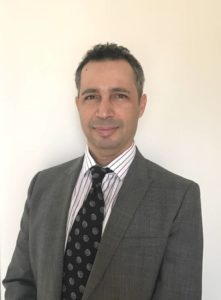 Ibrahim El-Hajj, MRAIC, OAA, is the director of building quality assurance at McIntosh Perry. For more than 20 years, El-Hajj has been involved in a range of work pertaining to maintaining building envelope elements, from detail, design, and documentation review of new construction to system failure investigation. He is well versed in all aspects of building and site construction including cladding, curtain walls, window walls, thermal performance, fire safety, air leakage, and waterproofing. El-Hajj can be reached at i.el-hajj@mcintoshperry.com

Control the content you see on ConstructionCanada.net!
Learn More.