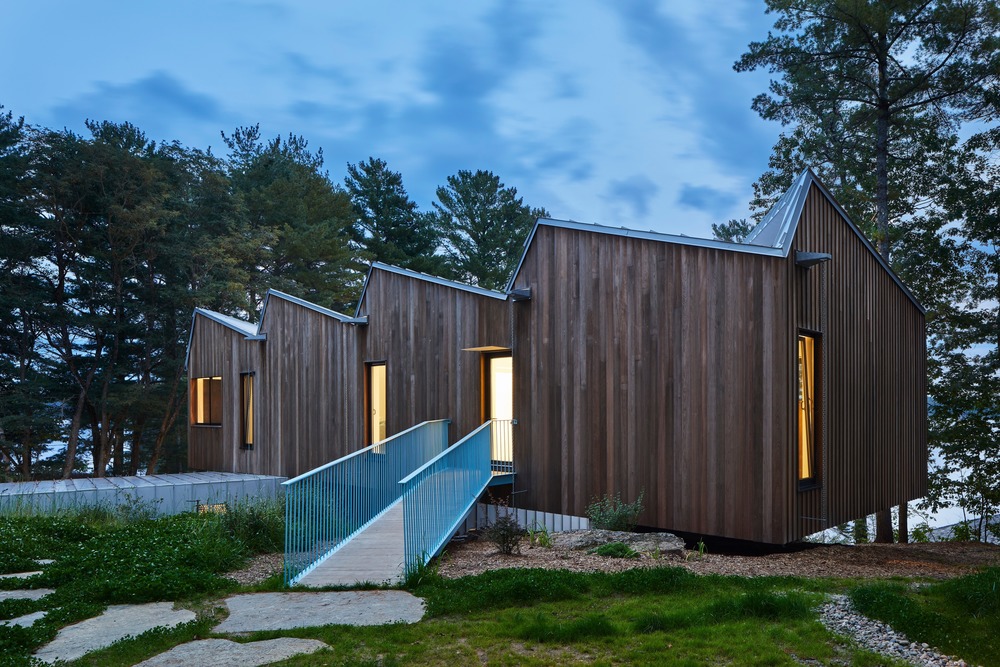 Designed by Julia Jamrozik and Coryn Kempster, Sky House, a 290-m2 (3100-sf) holiday home on Stoney Lake in Ontario's Peterborough County, effectively blends into its natural surroundings.
Completed in 2017, the building's façade comprises low-maintenance, long-life materials—including a reflective standing-seam metal roof and a lapped, heat-treated (petrified) wood cladding—while the interior is lined with formaldehyde-free plywood. The lower-level of the two-storey home is nestled into the landscape, while the upper-level rests atop it and on a concrete pier, forming a bridge. This massing strategy allows for increased access and permeability of the site.
While the enclosed lower-floor houses bedrooms, the home's lake-facing upper floor contains entertainment space. In response to the clients' need for accessibility, designers included a study/bedroom and bathroom on the main level. The exposed roof of the home's lower-level serves as a terrace, allowing elevated views and a direct connection to the living spaces.
The building's vertical skylights are rotated to allow north light without heat gain, while solar panels are oriented south to generate power. The strategically placed windows, combined with a fully glazed south-facing façade, create a day-lit interior. A covered walkway shades the main wall of glass from the summer sun, while also admitting low winter sun to passively heat the dark concrete floor.
To read more, click here.