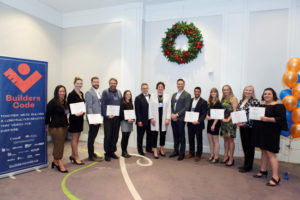 The B.C. Construction Association (BCCA) and Minerva B.C. have opened nominations for the 2nd annual Builders Code Champion Awards, which celebrate B.C. companies that are proactively addressing the issues of equity, discrimination, and harassment in the province's construction sector.
The Champion Awards recognize companies that are taking proactive measures to increase equity, diversity, and inclusion in their workplaces, while also working to eliminate discrimination, hazing, bullying, and harassment. Nominated individuals and organizations must also demonstrate their commitment, leadership, and action toward advancing and retaining women in their company as part of the provincial goal of achieving 10 per cent tradeswomen by 2028.
"We want to recognize the efforts of industry innovators that are creating safe and healthy environments for all on site, regardless of gender, race, religion, or ethnicity," said Chris Atchison, president, BCCA. "They serve as great examples to companies of all sizes that there are easily implemented and effective measures they can take to increase worker retention."
The nomination process will be open from June 4 to October 28, featuring a new streamlined, easy-to-use, online application process and form available here.
"Winning a 2019 Champion Award really motivated Chinook Scaffold to find additional ways to promote the inclusion of women in the workplace," said Wendy Gaskill, corporate safety management team, Chinook Scaffold. "It has opened doors for us to partner with training institutions and provided collaboration opportunities with other forward-thinking companies. We commend the BCCA and the Builder's Code for recognizing and addressing the under-representation of tradeswomen in BC."
The award categories include:
Recruiting and Hiring Champion;
Workplace Culture Champion;
Community Champion;
Initiate of the Year; and
Contractor of the Year.
The awards will be judged by a panel comprising Minerva B.C., BCCA, and the Builders Code Governance Committee, with the celebration event tentatively scheduled for December.