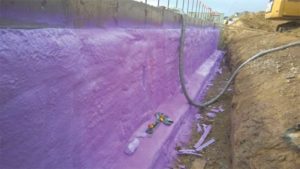 Action 2: Update R-value calculations
Spray foam manufacturers successfully replaced HFC blowing agents with the new generation HFO while maintaining the quality of the end product. There are also no changes to the installation equipment or process.
It must be understood that due to the inherent properties of the HFO molecule, the R-value of the HFO-blown foam will be less than that of the HFC version in every formulation by every supplier. It is not a large change, but specifiers must be aware of it to maintain the target R-value. In practice, this could mean specifying 55 mm (2.16 in.) of HFO foam where one would have specified 50 mm (2 in.) of HFC foam to achieve the same target R-value. It is not difficult to accommodate this difference, but awareness is important. Specifiers must be sure to change master and project specifications and designs using the R-values of the HFO foams.
More than just chemistry
There is more that architects and engineers need to know regarding changes in the R-values of spray foam to optimize the accuracy of their specifications. Completely separate and coincidental from the Montréal Protocol, the second printing of the 2015 National Building Code (NBC) now includes an updated version of the material standard describing spray foam—the Underwriters Laboratories of Canada (CAN/ULC) S705.1-15, Standard for Thermal Insulation – Spray Applied Rigid Polyurethane Foam, Medium Density – Material Specification. This new version includes tighter limits on dimensional stability, a test for fungi resistance, and an updated version of the test method required for measuring the R-value or long-term thermal resistance performance (LTTR). This updated standard is CAN/ULC S770-09, Standard Test Method for Determination of Long-term Thermal Resistance of Closed-cell Thermal Insulating Foams. By now, these new reference standards have been adopted by most provinces, including Ontario where it became effective for all projects receiving a permit January 1, 2020, or after.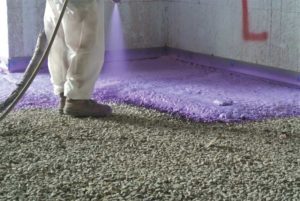 In summary, the new CAN/ULC S770-09 LTTR method is a more complex way of measuring and reporting the R and RSI values. What is the impact of this? The R-values of products previously used and stored in current spreadsheets and specification software will need to be updated. It is important to confirm foam suppliers are providing updated numbers based on the proper version of the CAN/ULC standards.
The reference standard to use depends on the edition of NBC adopted by the province where the project is located. Most provinces have adopted the 2015 NBC while a few are still using the 2010 version.
Action 3: Carefully choose the manufacturer and installer
Spray foam, unlike other insulation products, is manufactured at the construction site in accordance with CAN/ULC-S705.2, Standard for Thermal Insulation – Spray Applied Rigid Polyurethane Foam, Medium Density – Application, as referenced in NBC.
With a site-manufactured product, the quality of installation is important. With this in mind, the CAN/ULC-S718, Standard for Site Quality Assurance Program (SQAP) for Spray Applied Polyurethane Foam, was developed. Both the manufacturer and the installer have requirements as outlined in this standard.
At the company level, only registered contractors can purchase spray foam products. These are organizations that have proven to be properly trained and tested. Additionally, they must also have demonstrated business quality through such assurances as having proper insurance, maintaining workers' compensation programs, being in good standing with consumer agencies, and many other industry-specific considerations.

Control the content you see on ConstructionCanada.net!
Learn More.