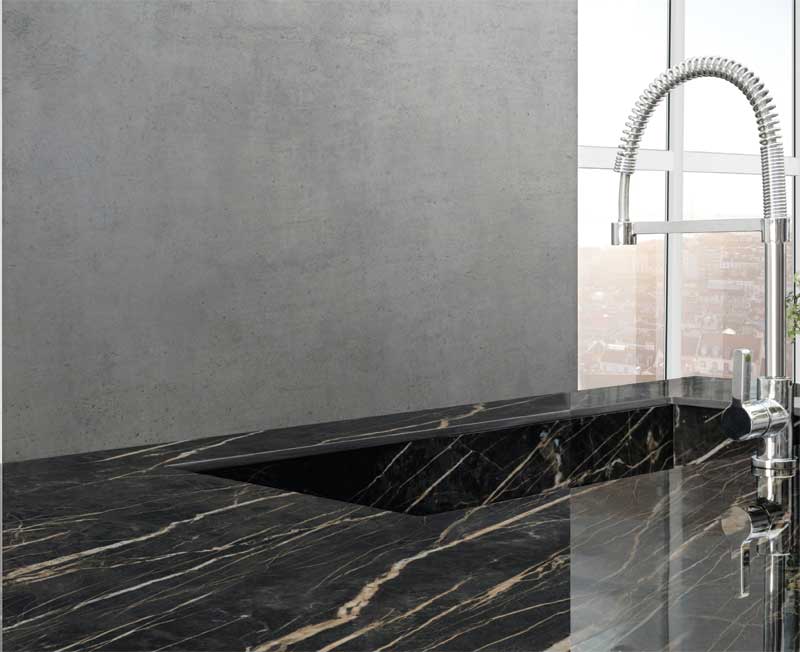 Resisting heat, shock, scratches, and abrasion
Sudden temperature changes can cause problems with some natural stone products in countertop applications. For example, placing a hot cooking pot directly onto a granite slab may cause pitting in the granite. Similarly, several manufacturer websites for the most popular quartz brands often state using the material as a fireplace surround, or putting hot pots directly onto it, can cause cracking. Examples of external forces or interactions that can make engineered quartz crack include:
impacts;
uneven cabinets or flooring;
structural settling or movements;
thermal shock from contact with hot items; and
improper installation.
Therefore, cracks are not covered by the warranty. A sample manufacturer clarification states, "Caution: Do not use crock pots, skillets or other hot items directly on [the surface] … Always place them on a trivet or cutting board to protect … from thermal shock."
Porcelain, on the other hand, can be safely used for a fireplace surround, and hot pots can be placed directly from the stove onto a countertop without causing damage. Further, fruits and vegetables can be cut directly on a porcelain countertop without marring the surface. This practice is not advised with granite, as the surface will take on a dull look over time. With manufactured quartz, the surface will similarly suffer damage and the finish will be degraded.
Stains and ultraviolet
Porcelain tile and, for a much longer time, granite have been used as exterior building cladding materials in projects
around the world. Architects and building owners have long recognized the inherent timeless qualities both materials have in common. These qualities include resistance against ultraviolet (UV) light, permanent colour-fastness, a very low absorption rate, high heat and frost resistance, and durability. Quartz, on the other hand, is not recommended for exterior applications or direct sunlight, as the colours can fade with prolonged UV exposure.
Resistance to UV has become a more-important characteristic in recent times—restaurants and hotels are exploring new opportunities with patios while, in the residential market, backyards are increasingly becoming extensions of living and entertaining spaces.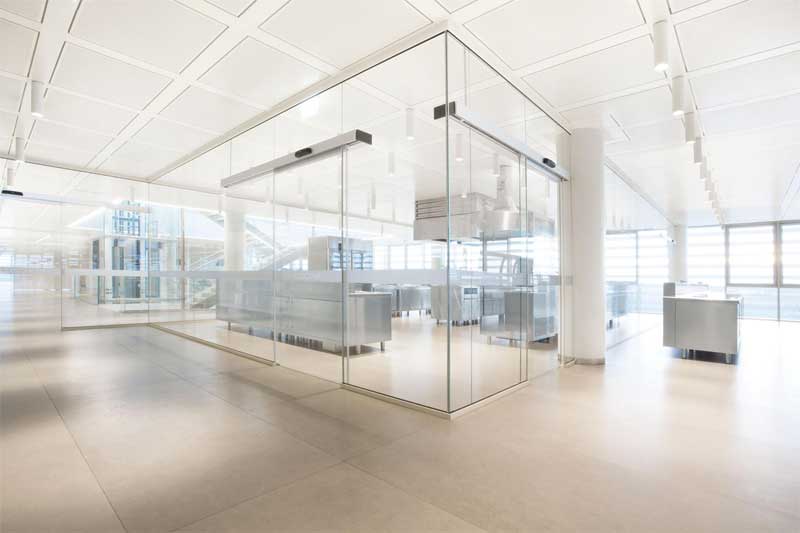 Spills are inevitable where food is being served or prepared, so stain resistance is certainly an important feature for countertops. Granite can perform well, but it may need to be sealed to improve stain resistance. Porcelain slabs are so dense they are stain-resistant without the need to take any additional measures.
Quartz is a non-porous material and highly resistant to stains, scratches, and heat, but it is not completely invulnerable. This might be surprising, as the term 'non-porous' would seem to indicate it cannot be stained if nothing is absorbed. With quartz, stains usually occur due to chemical reaction with the resin—the chemical, food, or drink discolours the resin, but nothing is absorbed. However, a red wine stain or coffee mug's ring mark stands out on bright white background. Using penetrating sealers is not recommended for quartz.
Generally, most manufactured quartz products are not recommended in areas where they will be exposed to abnormal use or abuse. This includes excessive heat, scorching, or exposure to weather conditions, along with exposure to UV light, physical or chemical abuse, acid etching, staining, or damage from chipping, cracking, or impact damage.
For these reasons, quartz products are also not recommended for commercial applications like retail stores, restaurants, offices, hotels, or apartment complexes—all projects in which porcelain can be successfully employed.
Edge details and fabrication
Porcelain, quartz, and granite slabs can all be fabricated using automatic machinery, such as computer numerical control (CNC) equipment, water jets, or bridge saws. Fabricators must take care to use the proper cutting tools and correct machine speed for their chosen method and material. Porcelain, quartz, and granite all require different tools and machine speeds for production. The fabrication times also vary for each material. For example, it may take slightly longer to fabricate porcelain slabs. As the material is so hard and dense, the cutting machinery may need to run at a slower speed. Engineered quartz and granite are softer materials and can be cut more easily, so the cutting process may be faster.
Several local fabricators have told this author the most common edge detail in porcelain, granite, and quartz is the same—the square edge detail. This edge is fabricated using two 45-degree mitered edges.
As always, the design/construction professional should refer to the product manufacturer's fabrication guidelines for cutting processes and edge details. These guidelines will often outline other important information, such as the maximum unsupported spans, the preferred cutting plan layout, and the proper sink and tap-hole placement for the product.

Control the content you see on ConstructionCanada.net!
Learn More.